With over 40 shows up and running during the time we were in town, we raced from show to show, looking for minerals and trying to get first choice of as many things as possible. So, no sooner than we had stepped off the plane, grabbed our suitcases from the carousel and picked up our rental car then we were off to our first stop: Jewel Tunnel. Though Rock Currier is no longer with us, his massive collection goes on and on, this year set up in a new location in the parking lot of the now-closed La Fuente restaurant on Oracle Drive.
There we found some amazing daylight fluorescent hyalite opal from the still-secret local in central Mexico, very nice, but unrealistically priced (for our budget) in the thousands. Fortunately, we knew another dealer who we visited later, who had similar material for a much more reasonable price.
Right across the street was another new venue – a one story self-storage unit building that houses half-a-dozen wholesale dealers, most notably Collectors Edge's wholesale operation and Henry Ospina's Pachamama Minerals. There we picked out half a dozen specimens of the new "chrome fluorite" from the Pena Blanca emerald mine in Colombia. These intriguing specimens were one of the few new arrivals in Tucson, and feature sharply defined, bright green phantoms inside colorless cubic fluorite crystals (and they fluoresce!).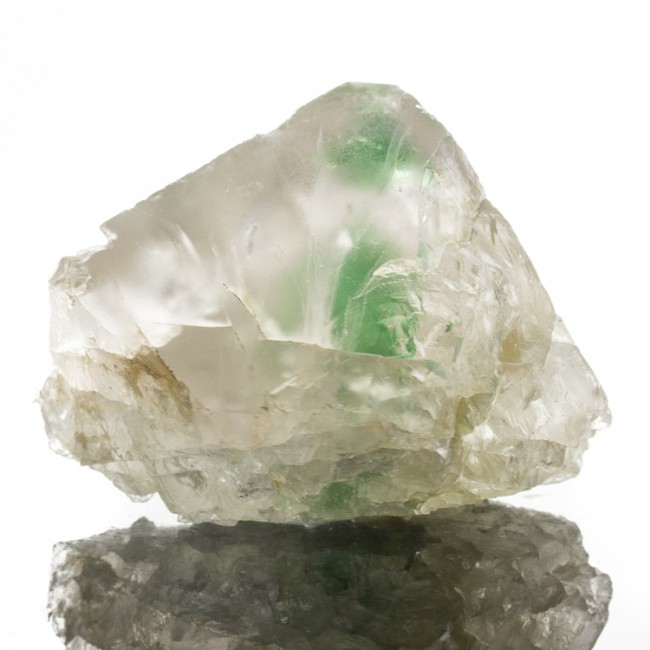 We then went across the street to another storage unit show, the one across from TopGem. This one featured Minerama, Lehigh Minerals, Red Metal Minerals, Minerama, and several other dealers, where we picked up a few nice things. Next we headed south and made a stop at the Mineral/Fossil Marketplace, where most of the dealers were still unpacking and setting out their inventory. French wholesale dealer Dominique Mauduit had some multi-piece collections of clear quartz crystals from Brazil spread out on tables, and we bought a 39 kilo lot that included 15 specimens, the largest weighing 10 pounds and 10" long, all with remarkably pristine terminations.
Thence south again to the Tucson City Center (formerly Inn Suites). It has gone through a partial renovation, with a new modern lobby being the focal point. Unlike last year, when the grass in the inner courtyard was dried up and brown, this year it was fresh and green due to 10 days of rain that preceded our arrival (certainly not due to the management running the sprinklers!). Unfortunately, many dealers complained about the condition of the rooms, reporting they had no electricity, toilets that backed up, etc. The other big change was that the hotel had erected a 5' tall wall around the building, which was intended to keep the homeless from breaking itnto the rooms, but also made access to the parking lot and nearby dealers' showrooms awkward. The big story here was the impending parking crunch. For years the show has been able to use the big dirt parking lot in front of the hotel, but this year appears to be the last, as the space is now slated for construction in 2017. It looks like parking in 2018 will be at a remote lot, with shuttle bus service.
Almost immediately we ran into show manager Laura Delano, our old buddy from when she was a neighbor here in Western Massachusetts. After making a date to get together with her and husband Bob for dinner, we headed on to see Adam Wright, the miner who operates the Adelaide Mine and brings his crocoite finds to Tucson every year. Alas, unlike the bumper crops of the last few years, he had hit only one pocket in 2016, and that wasn't until October. Though his stock was a bit limited, we still managed to pick out some gorgeous crocoite specimens to bring home. We also made a dinner date with Adam and his wife Erica, plus her parents, all of whom make the annual trek to Tucson.
The next day we were off to the Top Gem show for their 10 AM opening. As usual, there was a line of several hundred people waiting outside, some having waited since 8:30. As ususal, we saw many old friends while waiting in line. No shorts or t-shirts in this year's weather; warm jackets and long pants were the rule.
Once inside, we fought our way through the hordes and jostled and maneuvered to grabbed specimens off the shelves. Jeanne and I have our system perfected here, with me picking out crystals and putting them in boxes, while she ferries full flats to the back (to be invoiced and picked up a few days later). While we were there we picked out about 10 flats of wonderful specimens, including some new prehnite & epidote from Mali, Iceland spar from Mexico in clear, pink and yellow colors, skeletal (fenster) quartz from Mexico, carnelian carved into flame shapes from Madagascar, and much more. You can work up quite a hunger doing this shopping, and luckily TopGem puts on a Mexican luncheon at noon, complete with enchiladas, burritos, refried beans, Mexican rice, and guacamole, all to the sounds of a Mariachi band dressed in full regalia.
As a bonus, while waiting in line we got a flyer from a local shipping company who specializes in shipping minerals, who we later used to send home our hundred-plus boxes of specimens by truck.
From Top Gem it is just a couple of blocks to the Midwest Minerals Warehouse, which opened the same day at 1 PM. Owner/entrepreneur Stan Esbenshade was out front, glad-handing friends in the crowd of about 30 people who were waiting for the door to open.
Inside the warehouse we helped ourselves to specimens from the wide assortment of minerals available. There was some great (but pricey) calcite and sphalerite from Elmwood, TN – leftovers from last year, as the mine had not reopened. (The rumor we heard is that sphalerite commodity prices are up again, and the mine will re-open in March or April; we'll see about that!). Stan also had some affordable and very colorful rainbow chalcopyrite from Missouri's Brushy Creek Mine, calcite from the same locality; Sylvania, Ohio celestite from a 2016 find there; shiny stibnite crystals from China; and much more.
Later that day, and over the next few days, we practically lived at the Tucson City Center Hotel. This is Tucson's main venue for mineral specimens, with more mineral dealers than anywhere else in town (including the big Tucson Gem & Mineral Society Show). This year there were 300 dealers set up, which is a lot, but down over 10% from last year''s record 340 dealers. This was clear evidence of an overall decline in the mineral market.
We picked out some great agatized fossil coral from Georgia, at John Whitney's room, including some great pieces with dripping stalactite formations inside hollow geodes. The Russian dealer contingent was there in force, with many interesting specimens. Aleksey Vinograpol had a fine collection of sparkling green uvarovite garnet specimens to choose from, while next door Victor Ponomarenko was displaying a new find of blue-green datolite, plus some stellar axinite specimens, all from Dal'negorsk. Also from this classic locality were some terrific growth-interference quartz crystals in the room of Pavel Bantsekov. These fascinating crystals have dozens of razor-thin parallel "cuts", the result of calcite interfering with the growth of the quartz, then dissolving away later.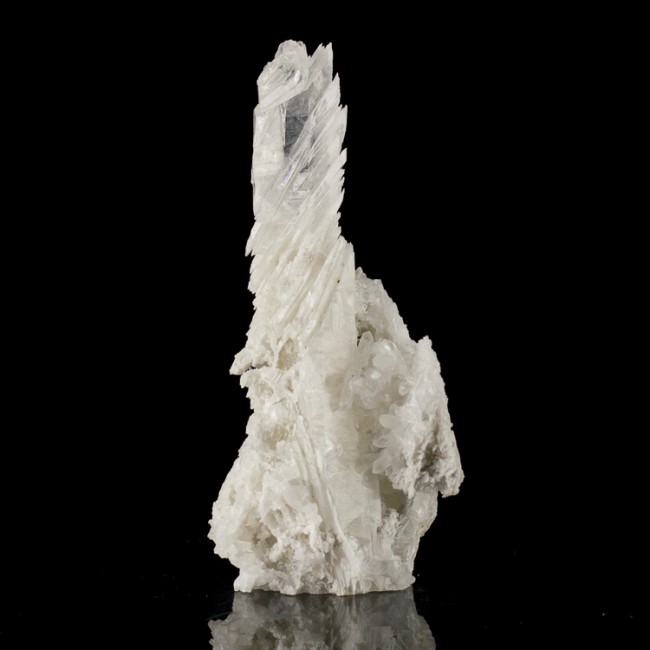 In the Karp Minerals room, our friend Vaclav Budina had been to Myanmar, where he was able to get a new supply of phenakite crystals from the Palelni mine in Khetchel. He had these a few years ago, but his supply ran out, so I was happy he had a some from the newly-opened pocket to pick from, with many great examples of this world-class phenakite.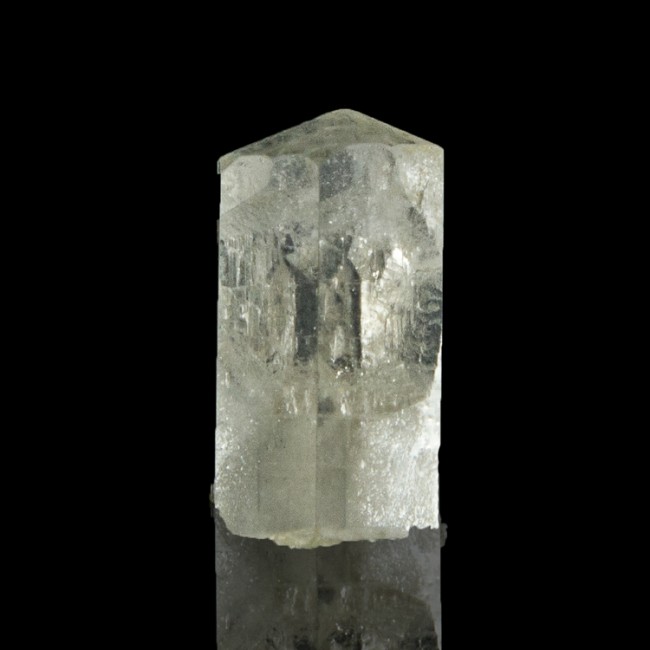 He also had a few more platinum crystals from Konder Massif, so we picked out a dozen new examples of this rare material. In a nearby room, Zdenek Prokopec from the Czech Republic was offering both orange kyanite and color change alexandrite crystals from Tanzania, so we high-graded some great examples from his selection. Also back with some great new material was Joe Dorris, with his daughter Krystal, who were selling smoky quartz with amazonite specimens from the successful 2016 season at the Smoky Hawk Claim in Colorado.
Luisa Menezes, wife of the late Luis Menezes, was displaying some newly-mined cathedral quartz citrines, along with the usual assortment of goodies from Brazil, including lightning-struck quartz crystals, Sapo Mine apatites, and more. Upstairs, in the Menezes' former wholesale room, Luis' little brother Carlos had some interesting things, including blue quartz crystals with inclusions of indicolite tourmaline that turn them a rich navy blue. We also connected with Vicky Patel of Shree Sai Minerals, who was offering red ball fluorite crystals on quartz, over a basalt matrix. These are arguably the rarest form of fluorite, a must for any serious fluorite collector, and I was able to snatch up half a dozen top-quality pieces.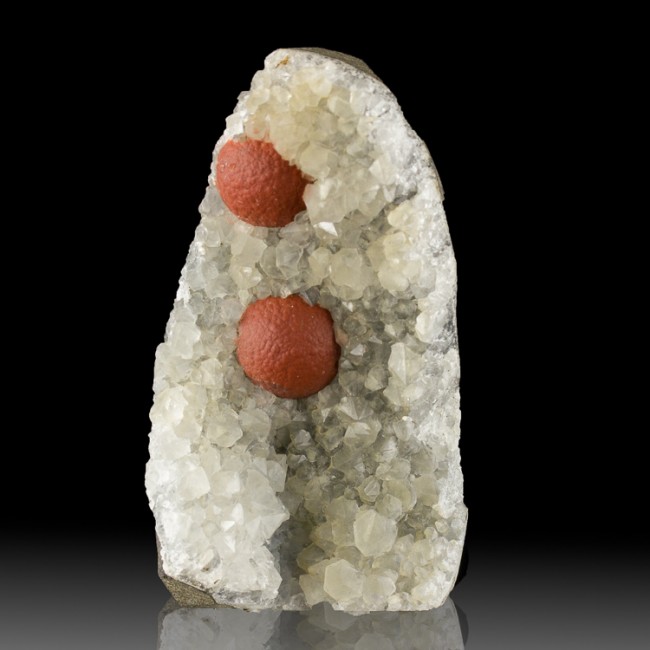 For me, no trip to Tucson is complete without a visit to Pedro Ansorena's room full of cubic pyrite crystals from Spain. He had a great 2016 season, and we were able to purchase 3 boxes full of extraordinary multi-crystal groups, like this one with 14 cubes to 2.9".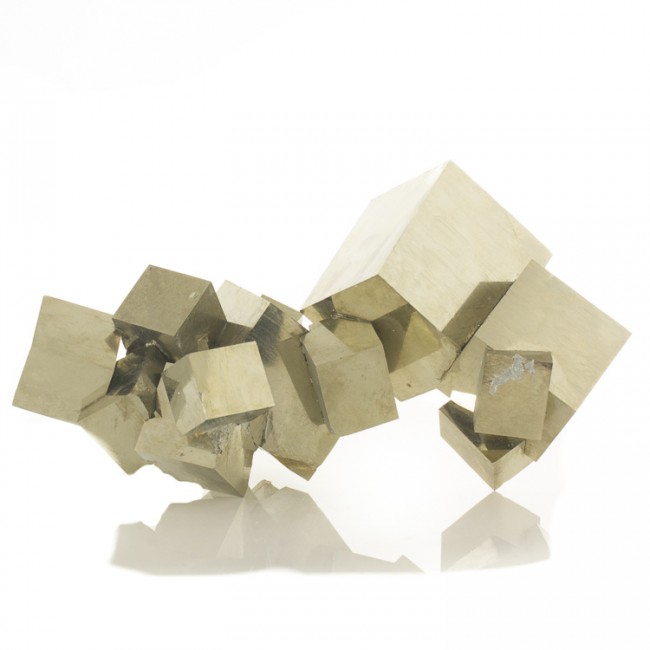 In one of the tents on the north side of the hotel, Ken Flood had several boxes of mohawkite nuggets from Michigan's Upper Peninsula. These are rare, and almost never available, so we stocked up while we could.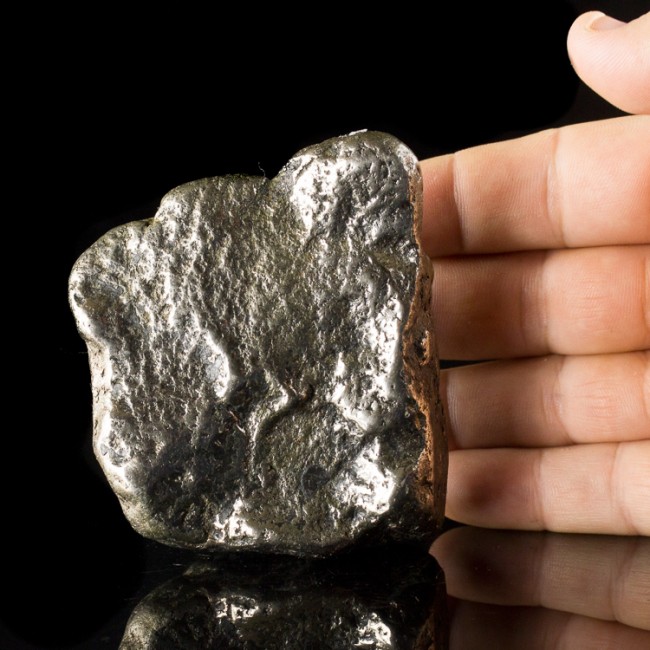 Behind that tent, a 5-foot wall had been erected, so we had to take the walk around to get to Aurora Minerals to see what Harvey Siegel had brought to the show. It proved worthwhile, as he had a good selection of crayon green atacamite from Australia on hand, along with a new lot of amethyst from Uruguay.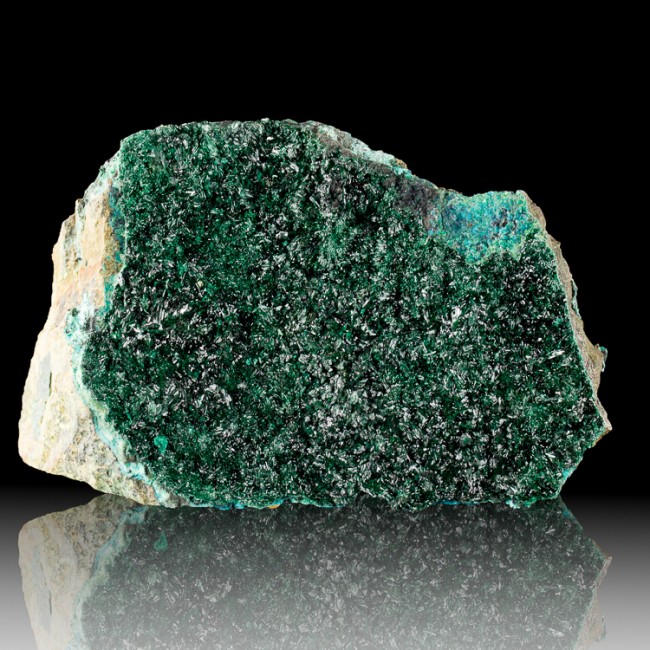 Sunday, Jan. 29 was the grand opening of the Elk's Lodge show off Oracle. This year's exhibitors included Don Olson, Trinity Minerals, Well Arranged Molecules, Leonard Himes, and Dan Weinrich. There was a line of about 50 people waiting to go in when the door opened at 10 AM, and we had to wait patiently at each table for the line of buyers to make their way around the displays. This has become a regular event, and as usual, the wholesale prices made the aggravation worthwhile.
Another big show in Tucson is the 22
nd
St. Show, just off the I-10 at (where else?) 22
nd
St. Though the mineral dealers were outnumbered by the jewelry dealers, there were some good finds here.
Notably, Mmikolo Kabamba from the Congo had polished slices of malachite that were cut from stalactites, with excellent bull's eye banding. Jeanne had fun unpacking a full box of slices, from which we high-graded the best pieces.
In the same tent, Bruce Woods jumped ship at the TCC and moved here this year, and he had a lot more display space to lay out his specimens. Right across the aisle from him was a Peruvian dealer who had wonderful pyrite specimens from Huanzala for sale at bargain wholesale prices. I picked up a very full flat of these sparkling golden goodies.
Up the street from the 22nd St. tent is the JG&M Expo. This is another venue where the jewelry dealers outnumber the mineral dealers, but we ran into some of our old friends here and picked up some good finds. Magic Stones from Colombia had a nice selection of emeralds, from which we picked out some lovely terminated gemmy crystals with good color and no damage. I also picked out a magnificent matrix specimen, with a dozen good emeralds in calcite. Also from Colombia we found half a dozen great specimens of solution (needle) quartz offered by David Milkes. These are intricate fairy-land pieces that are amazingly complex and intricate; fascinating!
As usual, we spent time shopping at all of the other mineral venues. These included visits to the hotels along the freeway (Quality Inn, HoJos, and Days Inn), as well as a productive visit to the Electric Park. There I picked up a box of calcite crystals from Elmwood, as well as some of those wonderful selenite windows from Utah. Good stuff!
Another new show for us was the Miner's Coop Show, north of town in Marana off I-10. This group has done a show in Denver for years, but this was our first time seeing them in Tucson. This is a tailgate show, with dealers selling mostly lapidary material and a few minerals on tables beside their RVs. One Colorado miner had some nice blue amazonite with smoky quartz that he had dug.
Opening day at the Westward Look Show is always fun for us, and this year was a special treat as my stepson Trail had brought his family down to accompany us. Seeing world-class mineral specimens is what brings me back to this show, and seeing them through the eyes of Trails & Lisa's 7, 14, and 17 year olds was a great pleasure. The dealers are set up in rooms at this 4-star hotel, and only about 2 dozen of the world's top sellers are invited.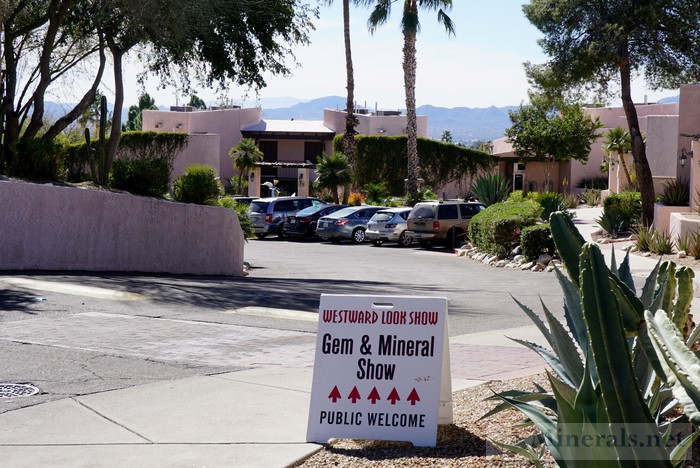 Here are a few of the most memorable specimens we saw:
I will end this report with a review of the newest mineral show in the pantheon of Tucson mineral shows, not-so-imaginatively titled "The New Tucson Mineral Show"! It was held at a now-closed movie complex off of Grant Rd., near the I-10. The show opened on Tuesday, Jan. 31. As usual, we were there early to be amongst the first buyers. Unlike the crowds at TopGem and the Elks Club, there were only about 25 people in line for this show.
There were about a dozen dealers in attendance, including B&L Minerals, Keith Christy, and Mike Shannon. The venue was pleasant enough, and there was plenty of room in what had been the lobby of the theater complex. The lighting was poor, so I was glad I had my pocket-sized LED flashilight so I could see the specimens. Keith had the best selection of grape chalcedony from the new find in Indonesia of any dealer in Tucson, probably 100 flats of material to pick from. If you haven't seen this material, I recommend it highly. The best pieces are completely covered with small 4-6mm balls of purple chalcedony which sparkle and twinkle in the light. Next to Keith, Mike Shannon had been out collecting Arizona minerals again, and from his tables covered with goodies we picked out specimens of papagoite, and ajoite from the New Cornelia Mine, andradite from Stanley Butte, and more.
Finally, our memories of Tucson 2017 include not just the rocks, but also a lively social scene. We got to see and renew friendships with many old buddies, typically over dinner at one of Tucson's many fine restaurants. Our favorites this year were the Silver Saddle Steak House with Laura and Bob Delano; Mariscos Chihuahua with Luisa Menezes and her family; Famous Dave's Ribs with Bob & Lisa Williamson; El Torero with Doug Robinson and Robert Clemens; Mimi's Café with Adam & Erica Wright; and the list goes on!
As I say every year, if you have never been to the Tucson Gem and Mineral Show, then I strongly suggest you put it at the top of your bucket list. Then follow through: book the flight; reserve the hotel room; make a reservation for the rental car; and go to Tucson in January, 2018. I promise you won't regret it!
© Copyright 2017 Treasure Mountain Mining