WHAT'S NEW?
Every year we are asked the same question: what did you see that is new? It's an important question, and we search the town to find the newest mineral specimens. Here are the new discoveries:
NEW! Chrome Fluorite from Colombia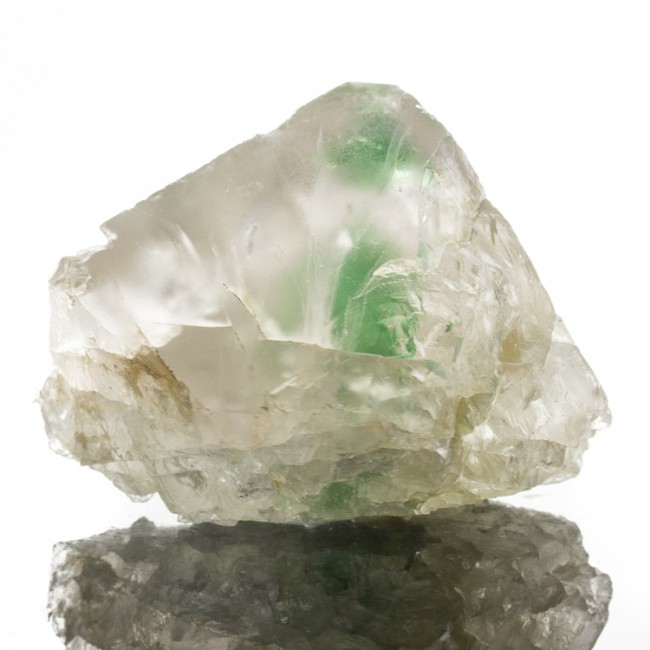 3.2" CHROME FLUORITE Crystal with Emerald Green Phantoms Inside Colombia $160 for sale
Here is a fine specimen of colorless fluorite from Colombia's Pena Blanca emerald mine, which made its first appearance at the 2017 Tucson Show. Inside the colorless cubic crystals are bright emerald green phantoms, which led to the material being called chrome fluorite – no doubt because chrome is the chromophore that causes the green color in emeralds. This mine, which is on the northern edge of the Boyaca emerald bearing belt, is unique for its absence of pyrite and other sulphides and the presence of fluorite. The green phantoms fluoresce a turquoise blue color under long wave ultraviolet light, while the clear fluorite fluoresces pink-purple.

Here is another one: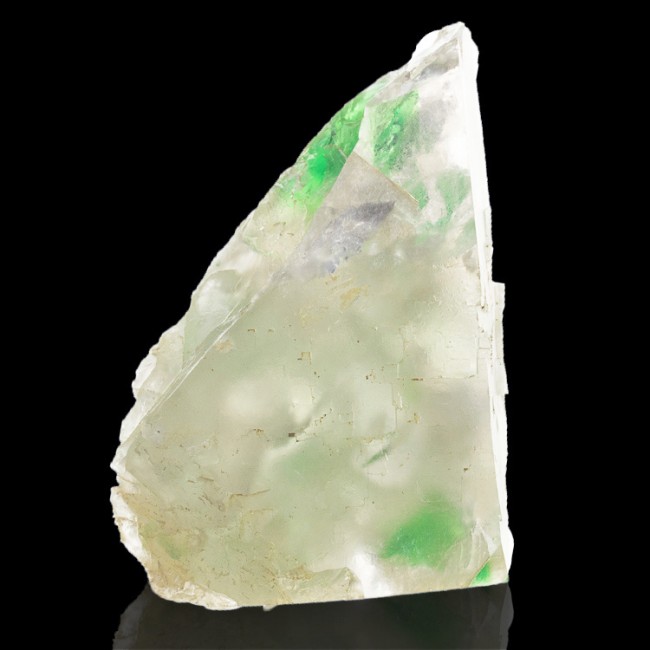 3.4" Emerald Green PHANTOMS in Clear CHROME FLUORITE Crystals Colombia $140 for sale
Colorless, cubic fluorite crystals with green phantoms from Colombia's Penas Blanca Mine made their debut at the 2017 Tucson Show. This is a very good example of this new fluorite, a section of large single crystal that is 2.7" on its longest edge, with sharp cubic green phantoms inside of a clear, gemmy fluorite. The surfaces of the clear fluorite are smooth, with cityscape-like square growth hillocks. Fluoresces under LW UV light.
Here is another one: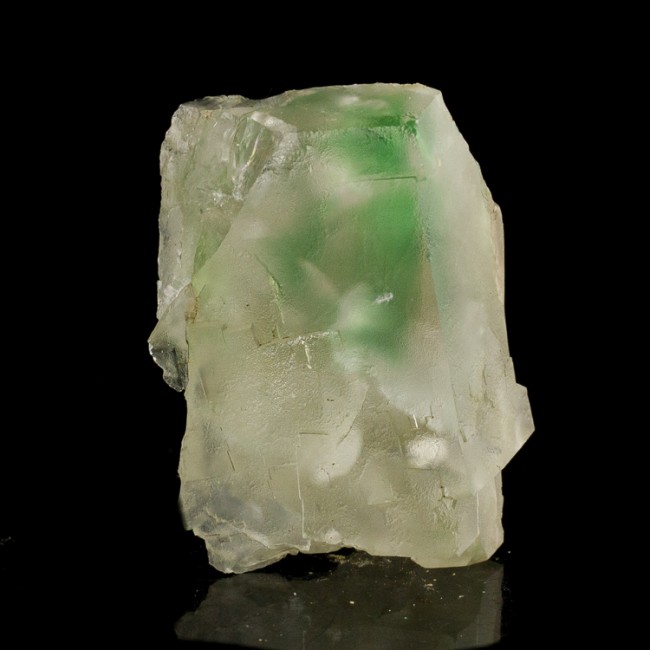 2.2" Clear with Phantom Emerald Green CHROME FLUORITE Crystals Colombia $125 for sale
This fluorite crystal comes from the Pena Blanca emerald mine in Colombia. It is part of a 2016 find that first showed up at the Tucson Show in 2017. The fluorite is formed as a cubic crystal, and it is colorless, with rich green cubic phantoms inside that are the color of emeralds. This fluorite is being called chrome fluorite, after chromite, the coloring element which gives emeralds their green color. Some of the green fluorite has been cut into gemstones. This is a very characteristic example of this new material, with no distracting damage. Under longwave ultraviolet light the fluorite fluoresces.
NEW! Grape Chalcedony from Indonesia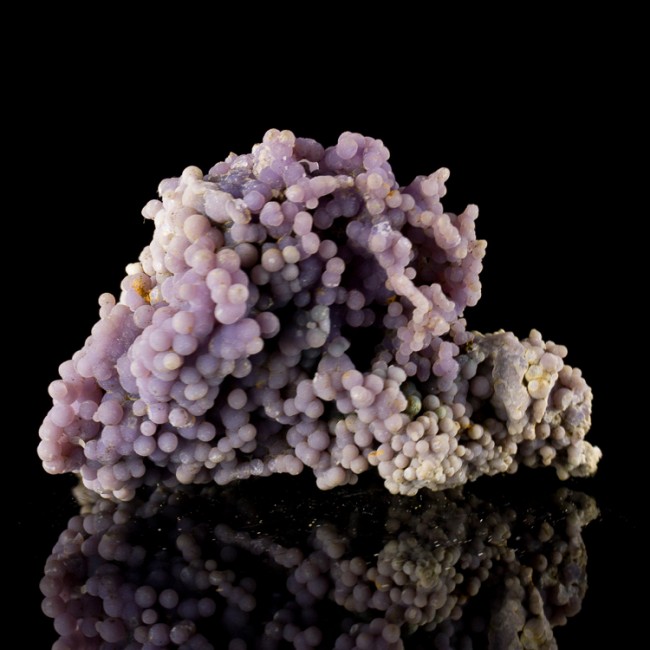 5.6" VeryVividViolet GRAPE CHALCEDONY Sparkling Crystal Balls Indonesia for sale
Though it is being called grape agate, this material is in fact chalcedony. It comes from diggings above a river in Indonesia. It is a combination of fine brilliant purple radial aggregate balls that resemble a bunch of grapes with wonderful three-dimensional cavernous form and notably sparkling luster. Up close each individual ball has tiny crystallized areas. The spheres are up to 6 mm in diameter, which is good sized for this material. A small portion of the piece has celadonite inclusions which give it a lovely green color.
Here is another one: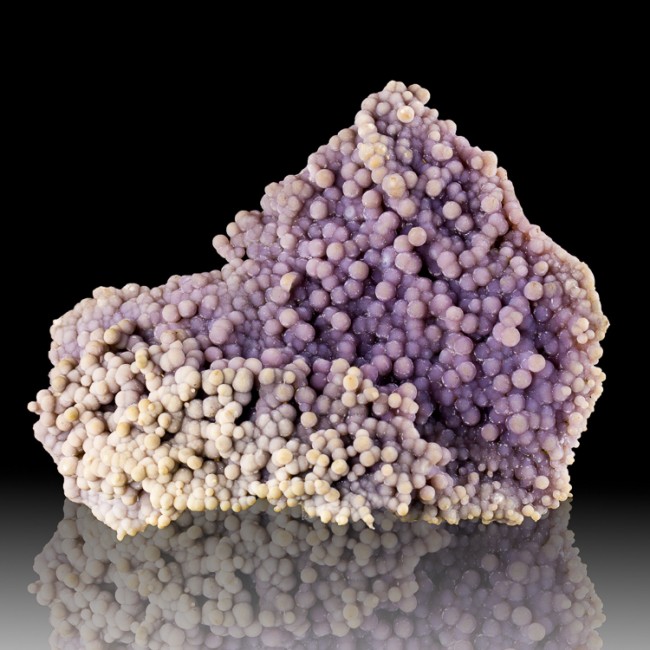 6.3" Purple GRAPE AGATE Chalcedony Balls Crystals NEW FIND! Indonesia $300 for sale
Here is a superb example of the exciting new material from 2016 mining near Manakarra Beach, on Sulawesi Island in Indonesia. The material is actually chalcedony, but is being marketed as grape agate, which is a good description. The colors of this material range from green to blue to purple, but the best pieces are like this one – a rich amethyst purple. The grape-like formation is made up of small balls, here from 3 to 5 mm in diameter. This piece has a bright sparkle to it. The story on this material is that it was discovered years ago, but the Indonesian government would not let it be collected and exported until late 2015. This piece is almost entirely damage free, and is the best of the pieces I purchased at the East Coast show in 2016.
Here is another one, in green: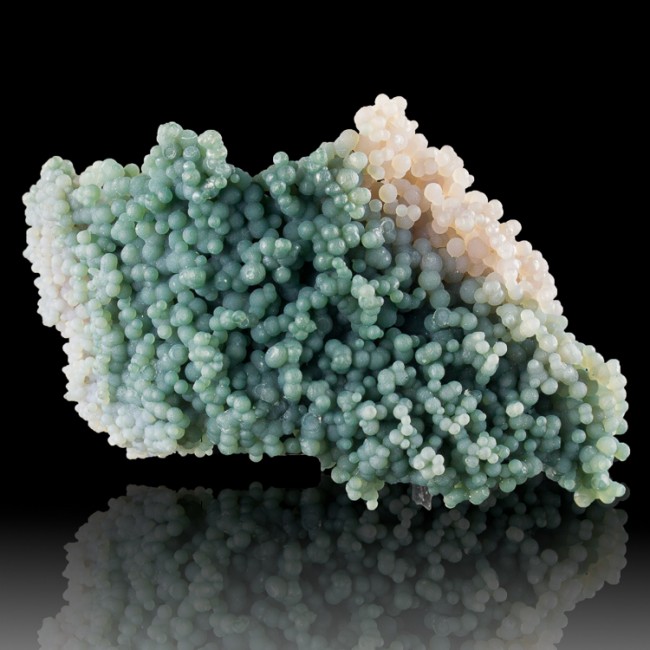 3.9" Colorful Blue-Green GRAPE CHALCEDONY Botryoidal Spheres Indonesia $90 for sale
Most of the grape chalcedony from Indonesia is purple or lavender, but this specimen is notable for the rare bright blue-green color on one side, caused by inclusions of celadonite. This botryoidal chalcedony has excellent spherical form and a microcrystalline surface that gives it a slightly sparkly appearance. The condition is perfect on this very attractive specimen which displays well front and back. This is a high quality example from the new find in 2016.

NEW! 4.9" Tangerose Quartz Crystals from Para, Brazil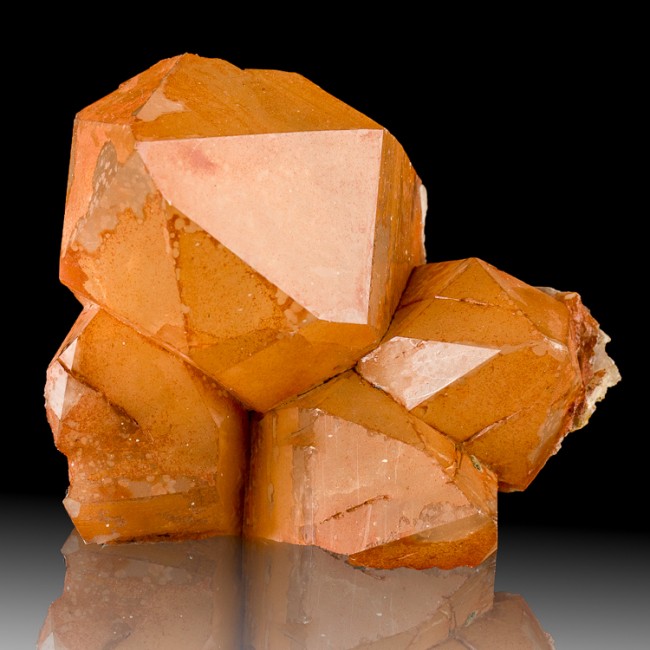 4.9" Red-Orange TANGEROSE QUARTZ Group Terminated Crystals Para Brazil $275 for sale
Here is a fantastic quartz specimen with a phenomenal color: it is a lovely orange, with a reddish overtone (lending this variety the name tangerose quartz). The piece consists of a group of large, fat crystals to 4" tall, with no distracting damage. The crystals are translucent and have good luster, with smooth faces and crisp edges all the way around. I acquired this specimen from a Brazilian dealer in Tucson, who picked it up at a mine in a remote area in Para state in northern Brazil, not far from the Amazon river.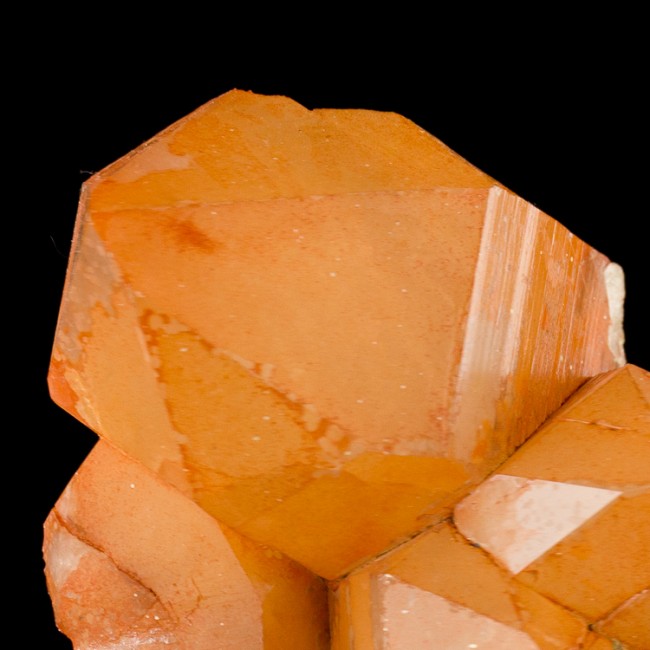 NEW! 4.5" Azurite from Laos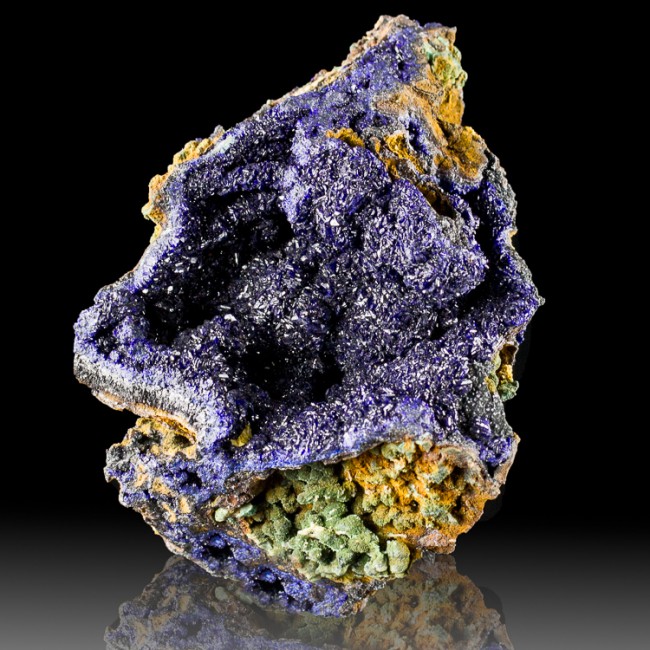 4.5" Brilliant Sparkly Blue AZURITE CRYSTALS Lining Vug with Malachite Laos $185 for sale
Here is a specimen of azurite from a little-known gold and copper mine in Laos. There has been a thin trickle of specimens from this locality since 2015, but they remain scarce. This piece is a highly representative example of this material, featuring extraordinarily bright and lustrous azurite crystals in a very intense blue color. The pristine crystals line a vug in limonite gossan matrix, which is surrounded by botryoidal, spherical malachite crystals in a rich, grassy green color. No damage.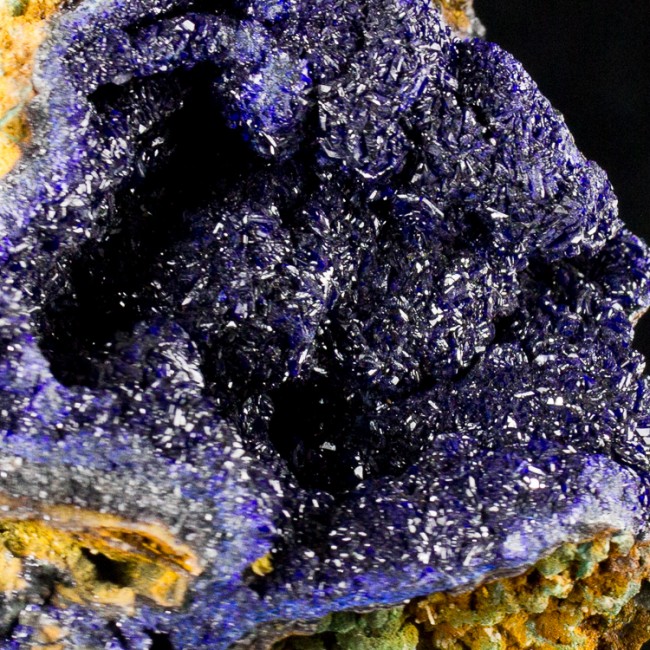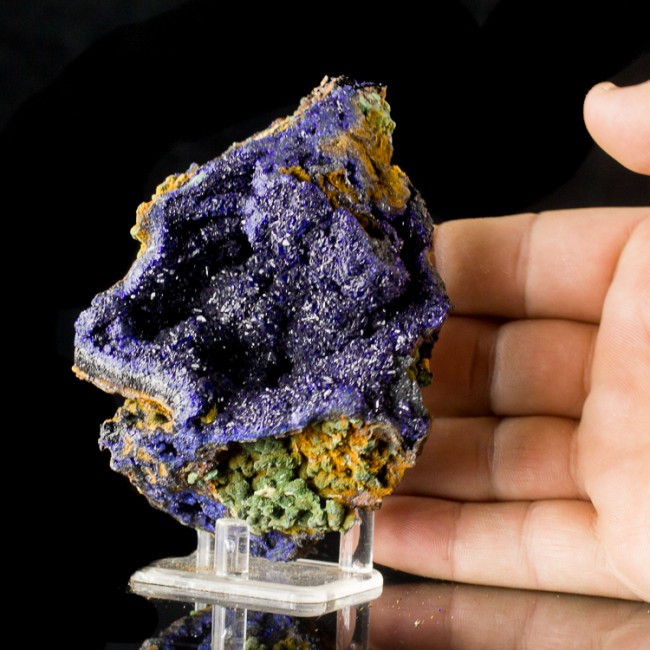 NEW! Polished Carnelian Flame from Madagascar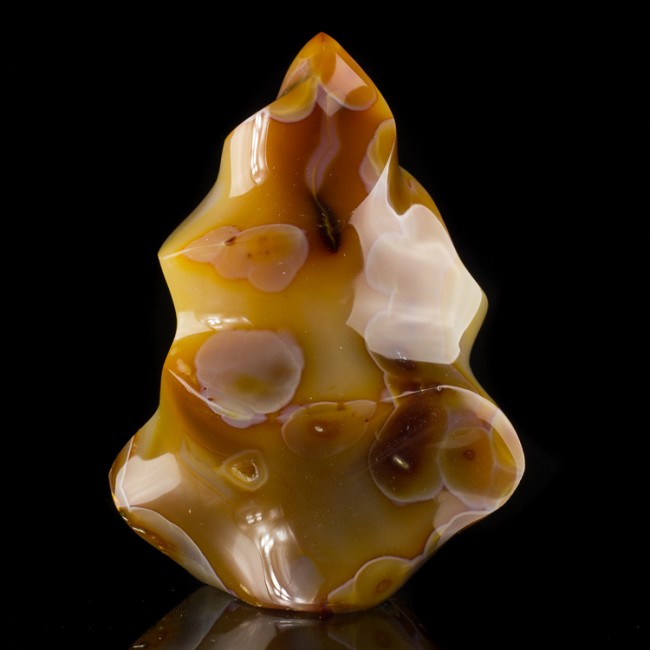 5.1" Orange-Red-Tan CARNELIAN FLAME Carved and Polished Madagascar $125 for sale
This free form flame carnelian carving takes the shape of a twirling, fiery flame. It has been sculpted into this highly recognizable formation, then polished to a high luster to show off its swirls of red, orange, tan and white colors. Carnelian is orange chalcedony, a crypto crystalline form of quartz that has a rich history of use in many cultures. This piece has a flat bottom that makes it a gorgeous display piece.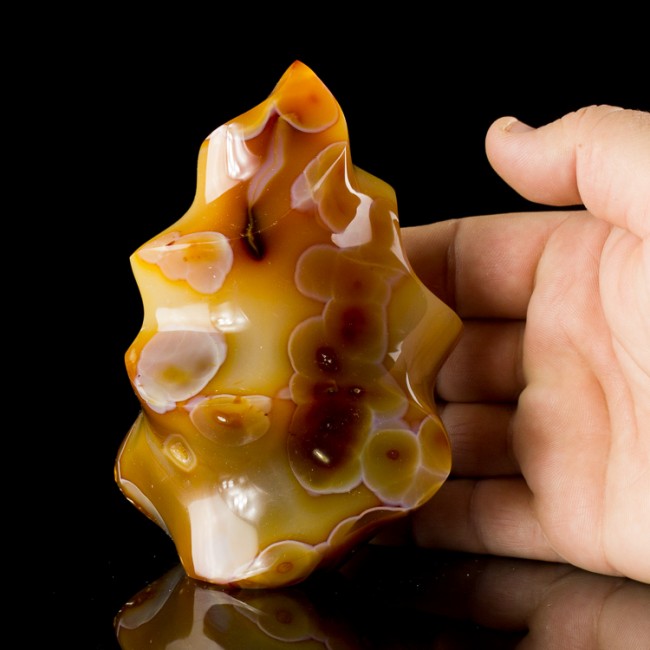 NEW! Sandstone Arch from Arizona

9" Carved SANDSTONE Sculpture Red-Orange-Brown Stripes 4 Corners Arizona $100 for sale
This is a beautifully carved decorator specimen of striped sandstone from the Navajo formation near Four Corners in northeastern Arizona. It has bright stripes of red, orange and brown sandstone that created highly aesthetic patterns in the three-dimensional sculpture. Stands on its own, with thin cork cushions on the bottom surface so it won't damage your display surface.
OTHER FAVORITE FINDS
6.6" Cubic Pyrite Group from Spain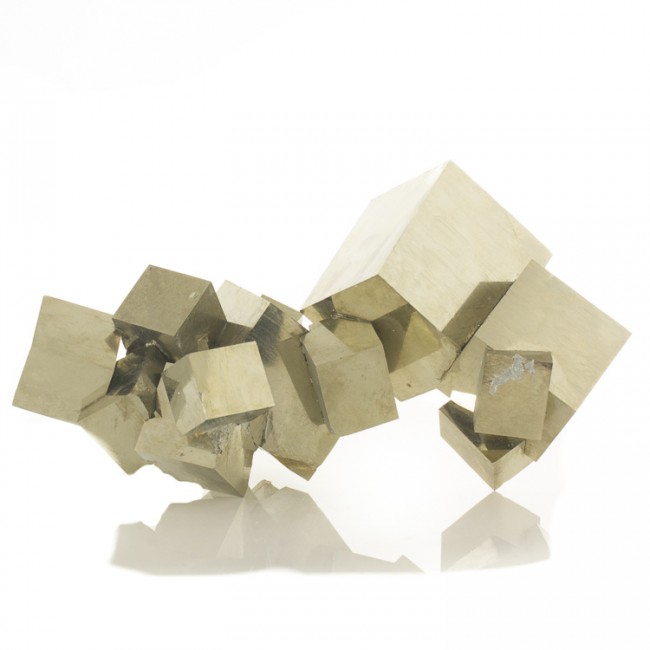 14 Sharp PYRITE CUBES Sharp Flashy Crystals to 2.9" in 6.6" Group Spain $700 for sale
Here is an outstanding, highly sculptural cluster of 14 exquisitely sharp, interpenetrating cubic crystals of pyrite in a light brassy gold color. The pyrite has been formed by Mother Nature into near-perfect cubes with amazingly smooth faces that are as bright and shiny as mirrors. They have grown into a dramatic, interconnected sculptural shape. Complex, multi-crystal groups like this one are prized by collectors, and make an excellent addition to any collection. This is the best and largest group I acquired from the mine owner this year in Tucson, and it is (surprisingly) relatively free of damage.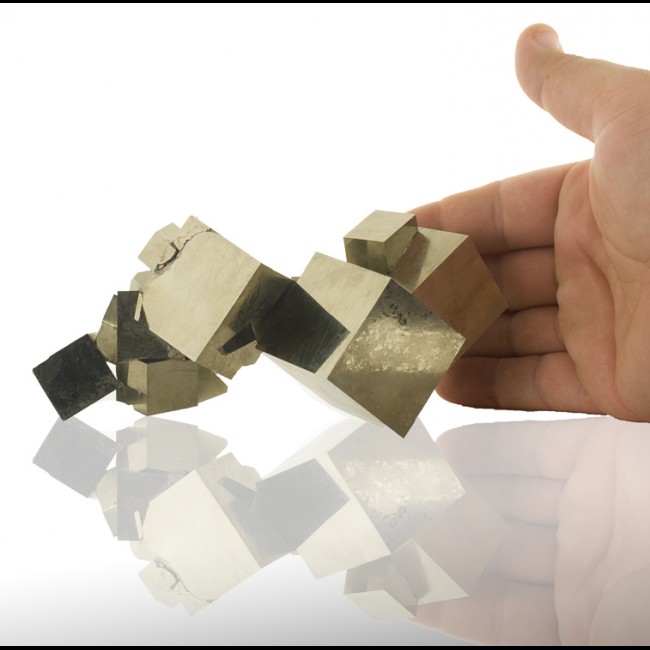 3.7" Emeralds on Matrix from Colombia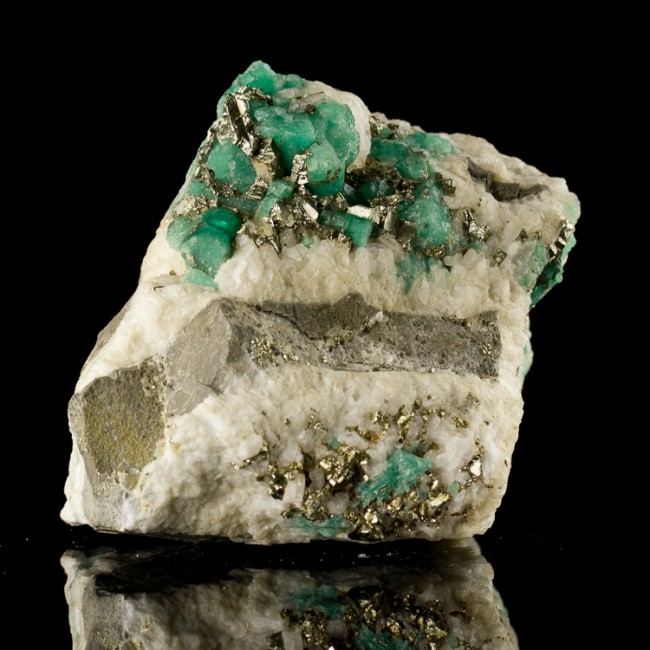 3.7" Mint Green Terminated Gemmy EMERALD CRYSTALS on Calcite Colombia $750 for sale
The untreated emerald crystals on this specimen are colored a gorgeous saturated shade of green that is typical of the color of the best emeralds from Colombia. They are somewhat gemmy, and very sharply formed, and several are terminated. The matrix is white calcite with gray areas. There are several dozen emerald crystals on this remarkable specimen.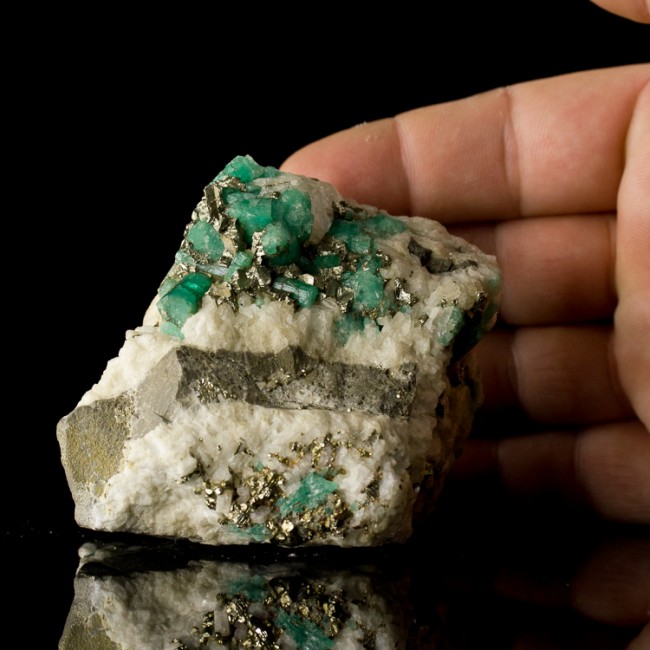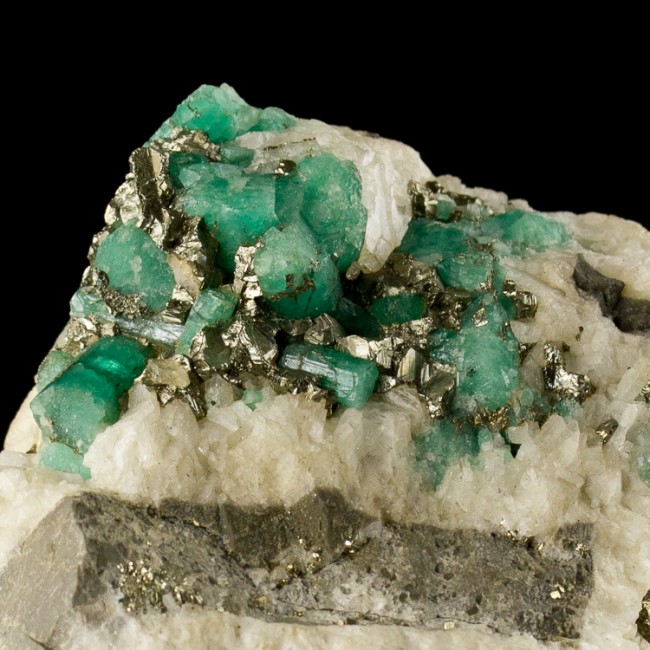 3.4" Red Ball Fluorite from India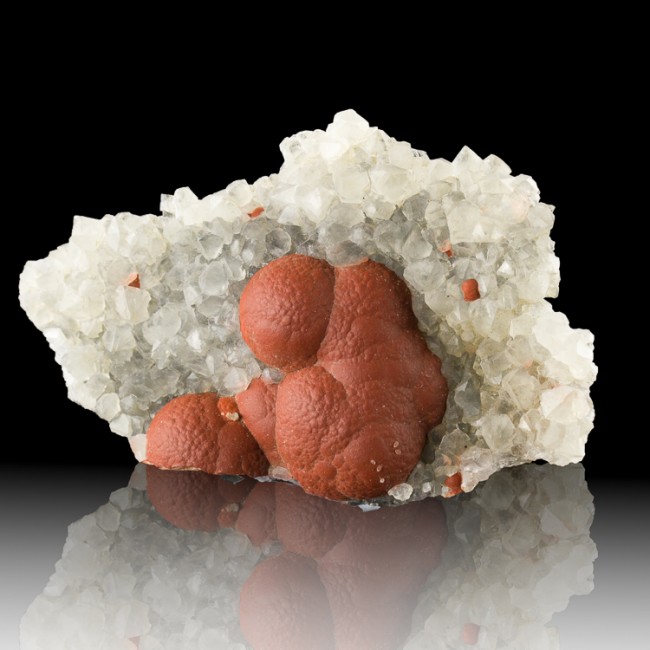 3.4" Bright Hemispheres of RED BALL FLUORITE Crystals on Quartz India $400 for sale
Ball fluorite is rare, and red ball fluorite is the rarest of all. This is a superb example of this highly collectible material, featuring a dozen or so hemispheres of red fluorite, the largest being .8" in diameter. The fluorite is colored a rich crimson red, which contrasts nicely with the clear quartz crystals which cover the basalt matrix. Best of all, there is no damage on this outstanding specimen.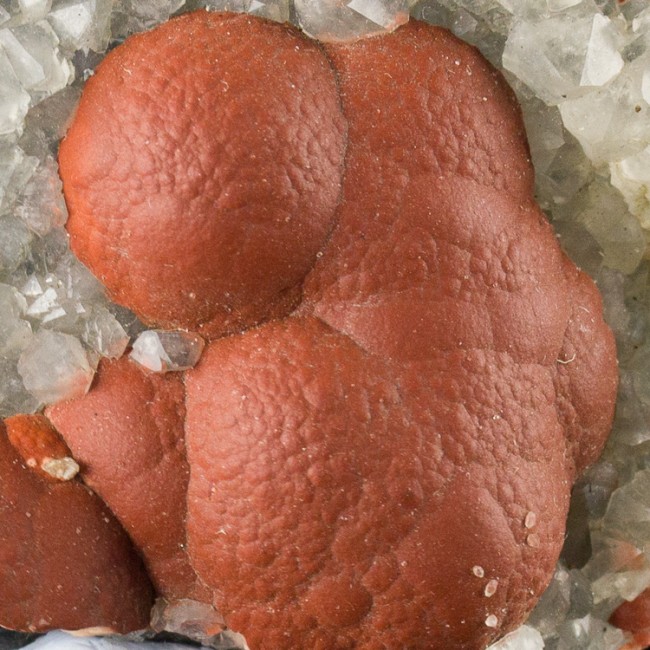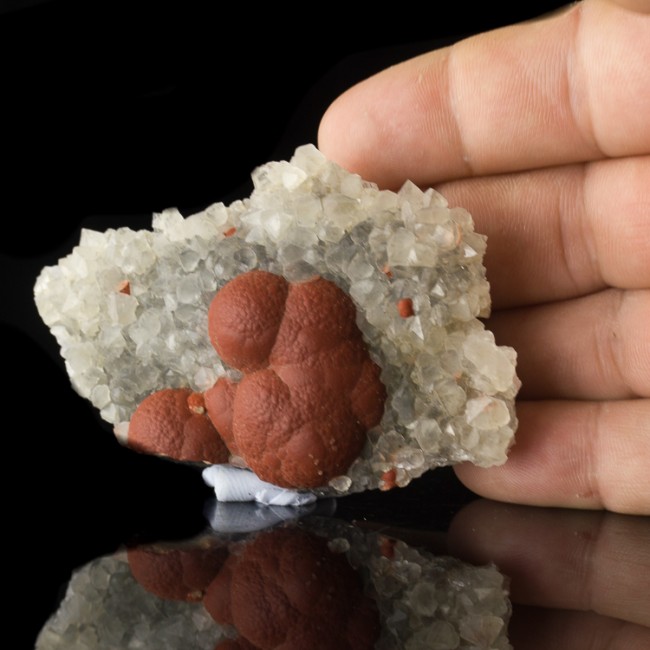 6.9" Prehnite on Epidote from Mali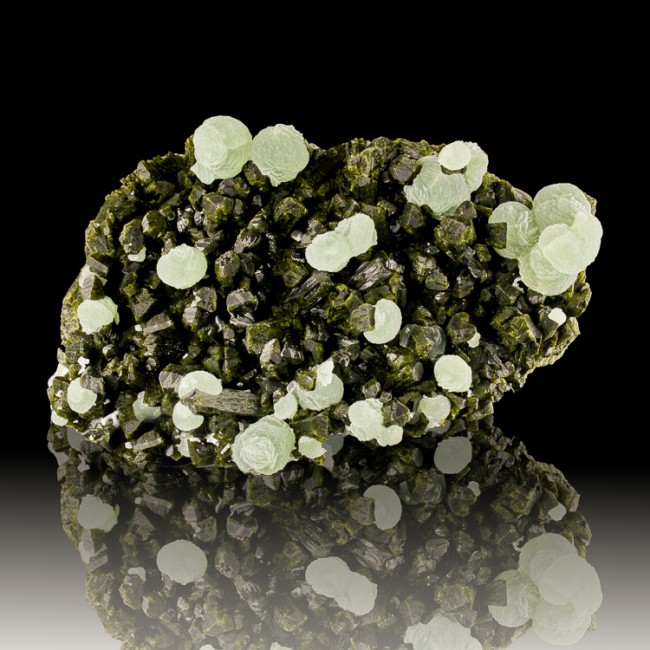 6.9" Shamrock Green PREHNITE BALLS with Lustrous EPIDOTE Crystals Mali $500 for sale
The overall aesthetics of this piece are outstanding, and the color contrast is unbeatable. Especially noteworthy are the rich saturated green of the botryoidal prehnite balls, and the contrast with the black (actually very dark green) epidote crystals on the bottom. The prehnite has a gentle luster, and you can see crystals in all the prehnite balls. This is the finest specimen I have ever offered from the famed diggings in Mali.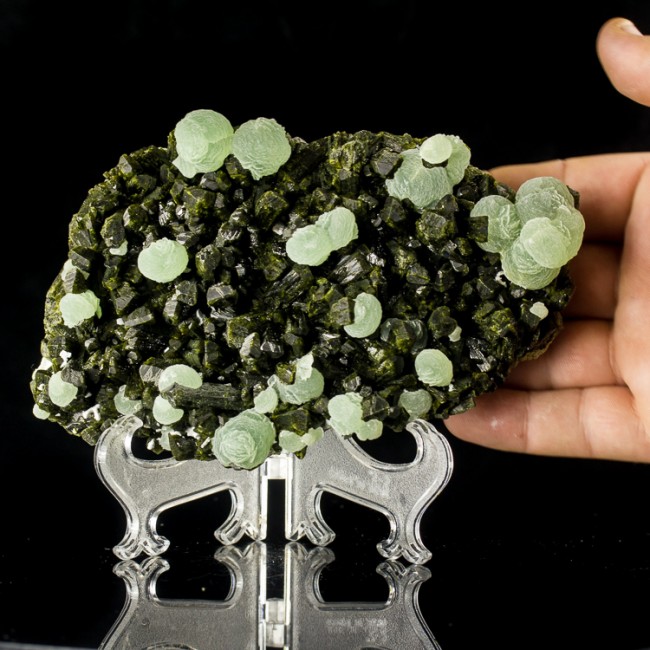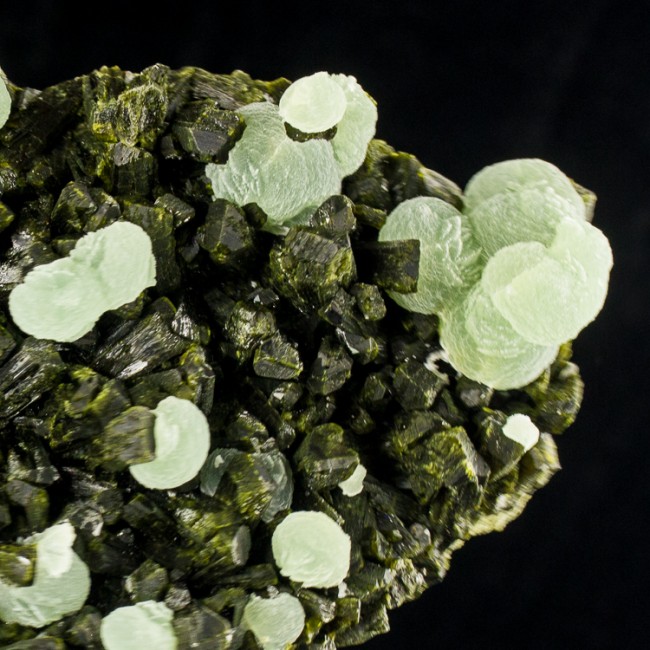 8.4" Lapis Lazuli from Afghanistan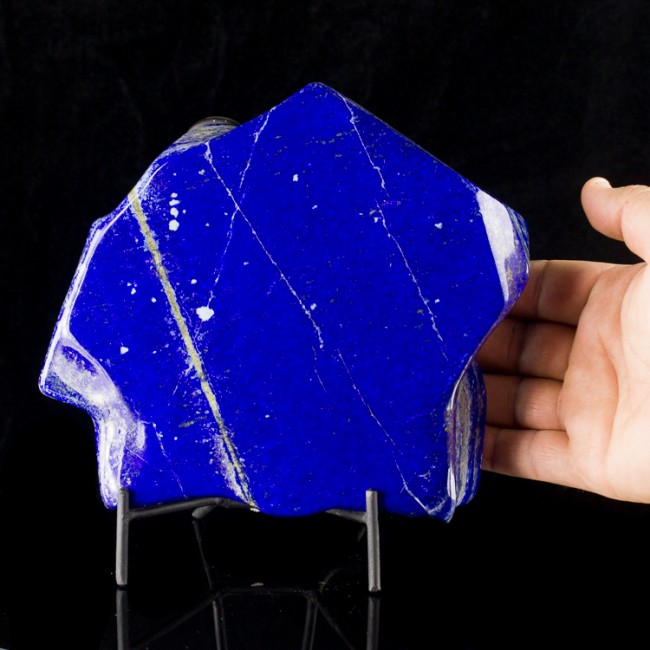 8.4" 6.3LB LAPIS LAZULI Intense Royal Blue Polished Freeform Afghanistan $495 for sale
This polished display specimen from the world famous Ladjuar Medam deposit in Sar-e-Sang is a startling azure royal blue color - as good as you see in any Afghani lapis lazuli. It is a large piece, with tiny sparkling flecks of pyrite and white calcie freckles here and there for contrast. Comes with a free large metal display stand.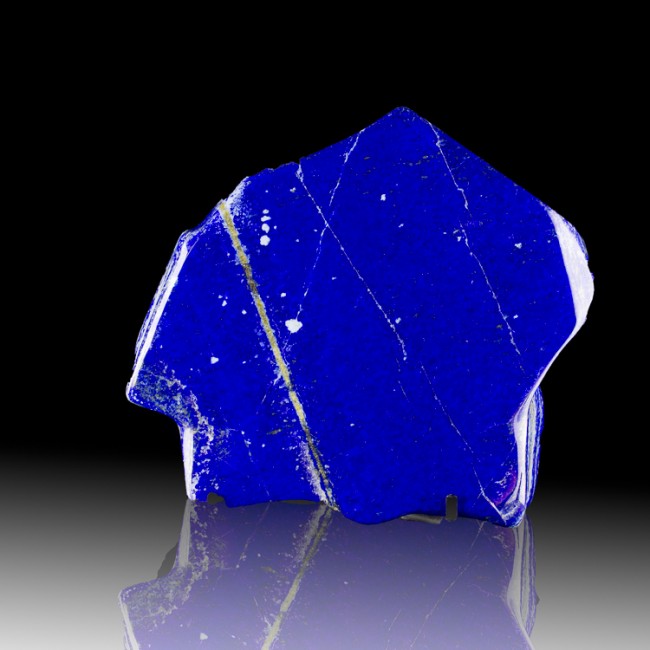 3.5" Lazulite from the Yukon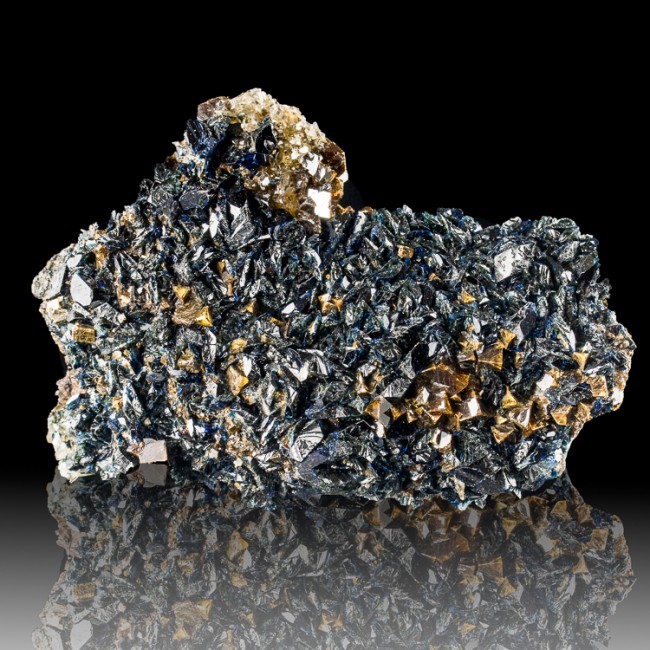 4.4" Flashy Blue LAZULITE Crystals w/Siderite+Quartz Rapid Creek Yukon $750 for sale
Lazulite is the premiere mineral from the now-closed Rapid Creek phosphate deposits. This is a superb quality specimen of this rare phosphate, out of the collection of Don Olson, with numbers on the bottom from 2 previous owners. The crystals have superb, sparkly luster and are colored a dark, inky, indigo blue color. They are sharply formed, monoclinic crystals that look like tabular prisms. Here they are accompanied by gemmy siderite and sparkly quartz crystals. No damage.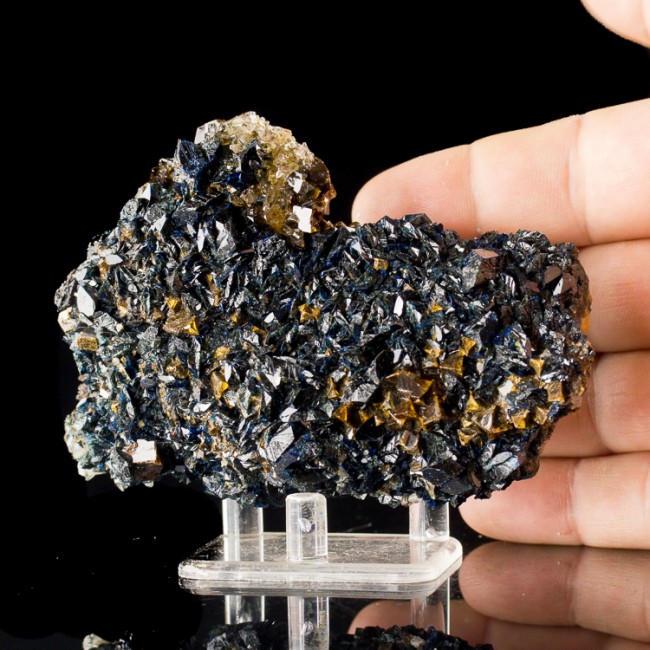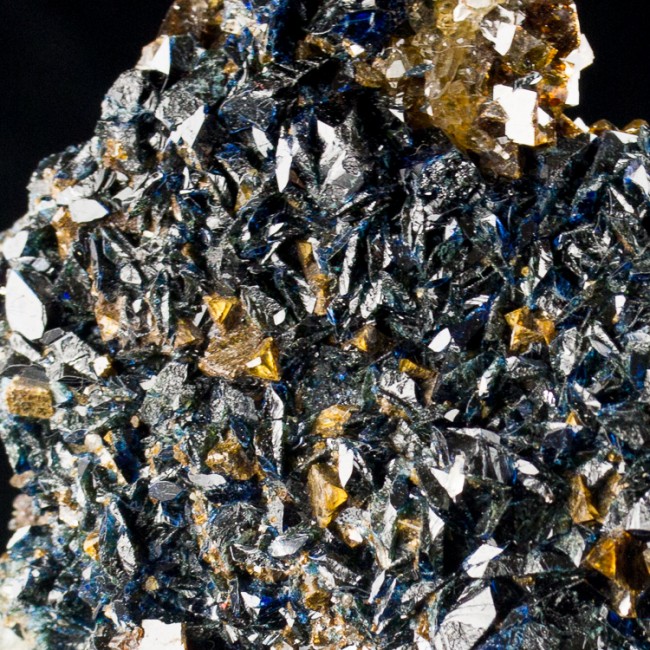 7.4" Historic Copper from Arizona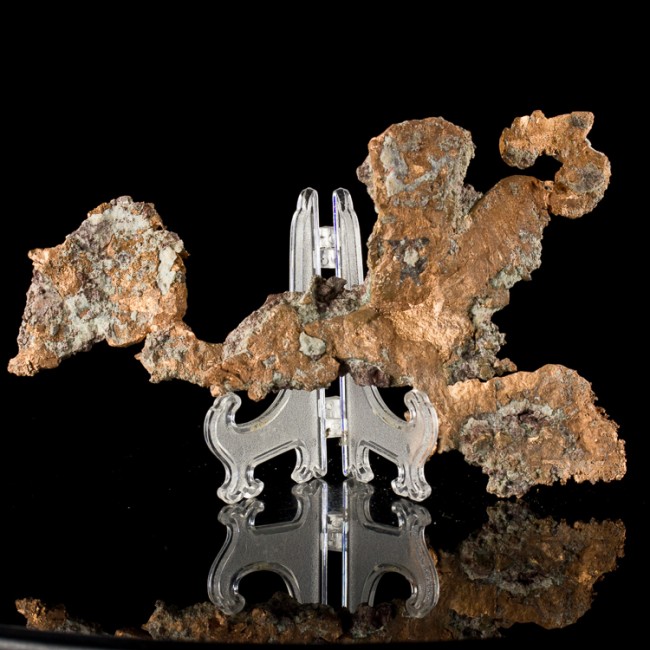 7.4" Historic CRYSTALLIZED COPPER New Cornelia Mine Arizona exJ.Thomas $350 for sale
This specimen of roughly crystallized copper came from the historic New Cornelia Mine in Ajo, Arizona. The mien was first worked in 1750 by Spanish miners, and was worked on and off for 233 years until it closed in 1983. This specimen comes from the collection of Jim Thomas, via Mike Shannon. It is a large, flattened piece that came out of a vein. It weighs almost a pound, and features bright orange copper amidst a whitish gangue material.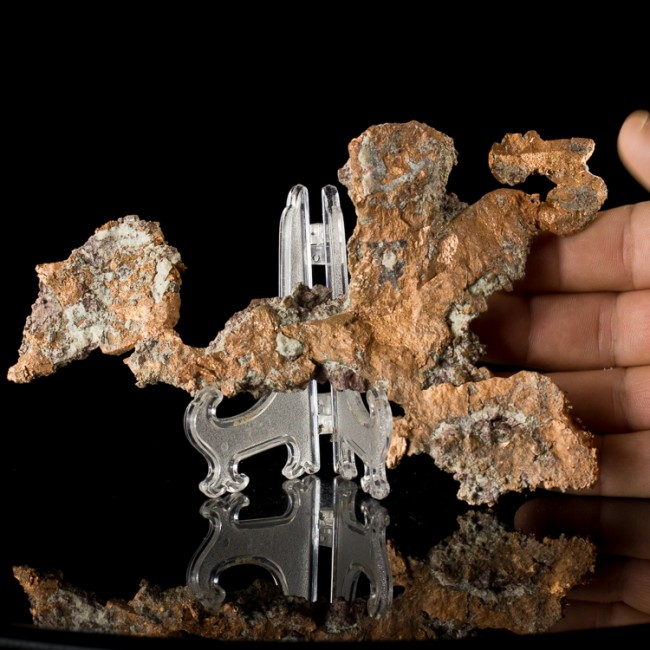 8.9" Chocolate Calcite with Dogtooth Crystals from Mexico

6.2" Navy Blue FLUORITE Curved Crystals on White Quartz Huanggang Mine for sale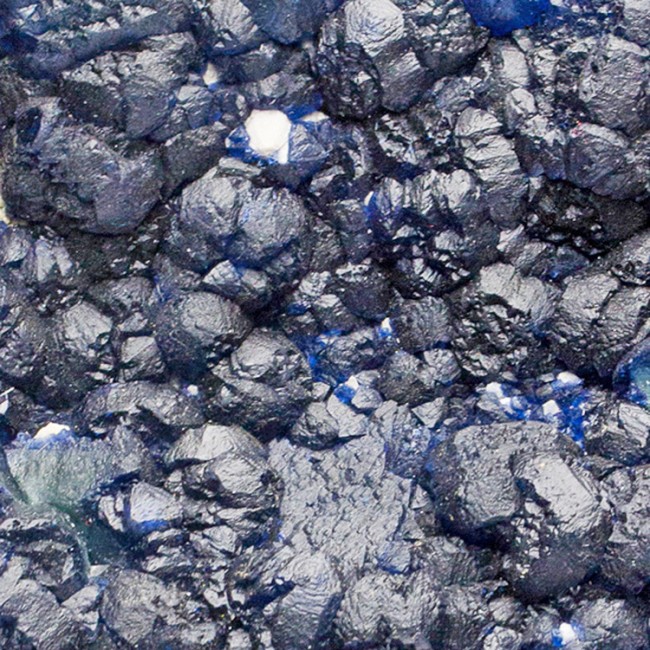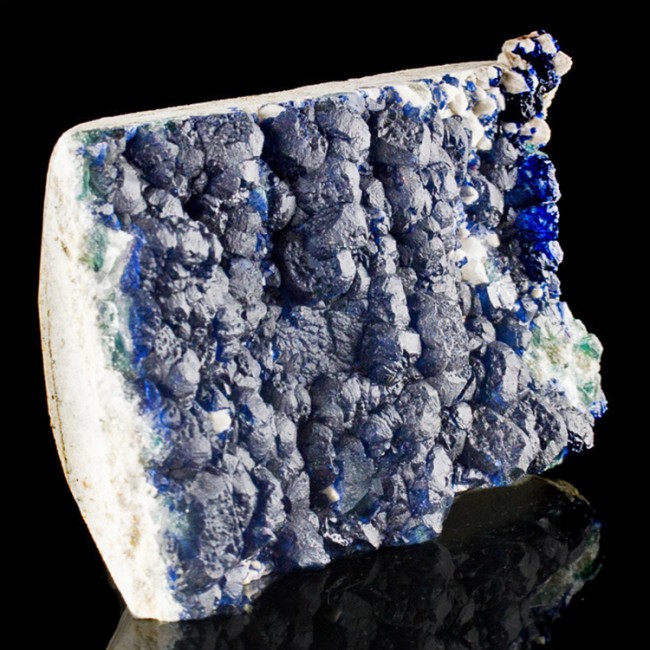 2.2" Ajoite Pseudo Malachite/Azurite from D.R.Congo - NEW!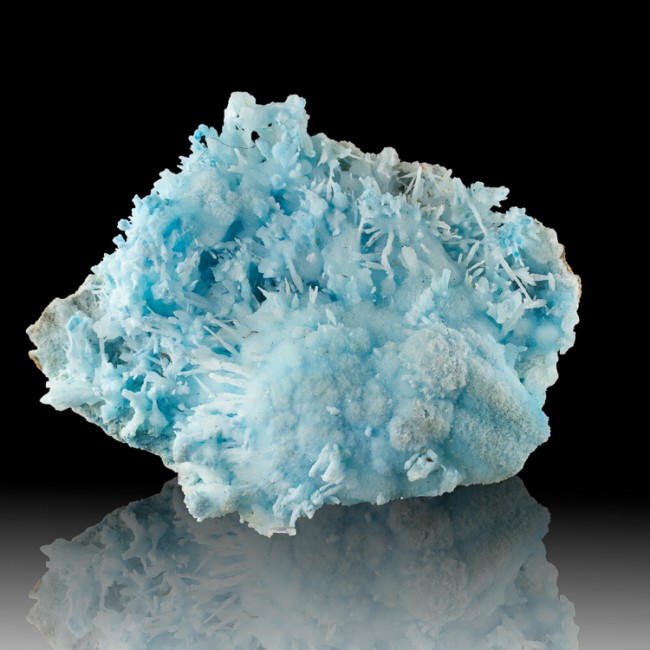 6.4" Turquoise Blue ARAGONITE Fine Coral-Like Flos Ferri Crystals China $325 for sale
Here is an intrirguing, intricate specimen of aragonite that is formed as coral-like turquoise blue stalactitic strands that look a bit like thin, wiggly worms. This unusual formation is called "flos-ferri." The stalactites are amazingly detailed yet surprisingly sturdy, and there is no damage on this excellent example of this rare form of aragonite, which is all the more amazing for its bright turquoise blue color.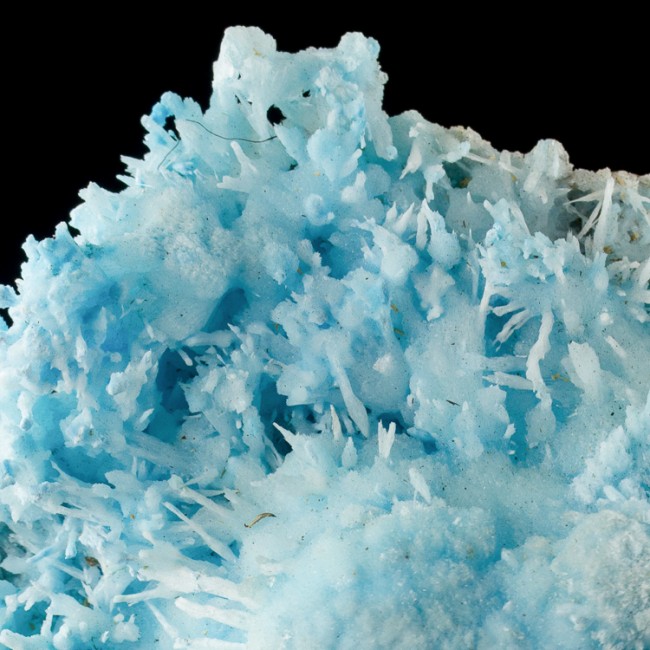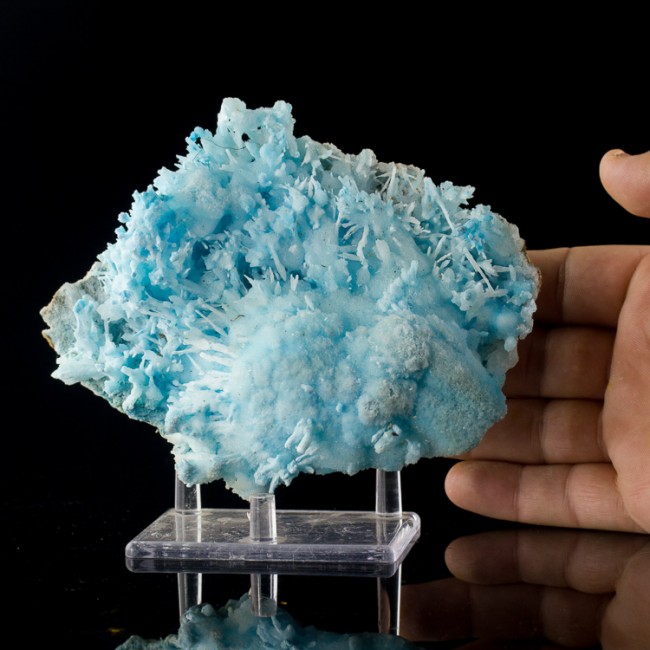 5.5" Alum Crystal from Poland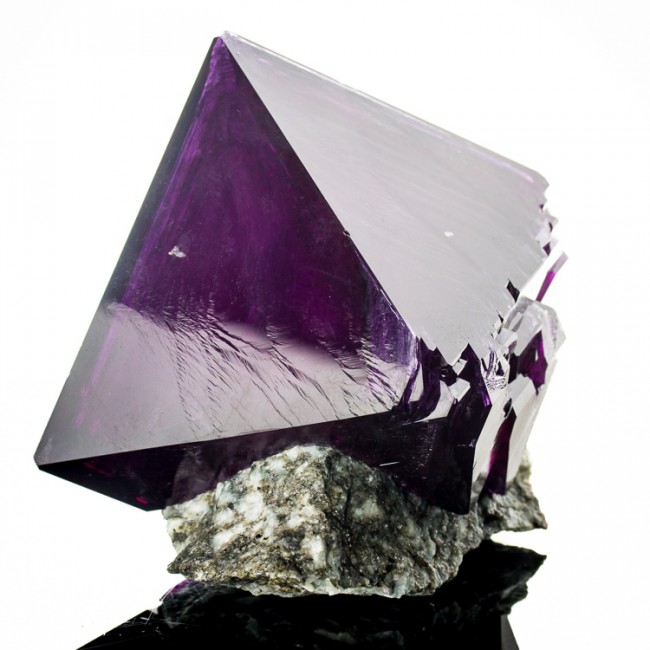 5.5" Grape Purple ALUM CRYSTAL on Matrix Pristine Octahedron Lab Grown $400 for sale
Here is a lab-grown specimen of alum – a breathtaking specimen of ammonium aluminum sulfate NH4Al(SO4)2·12H2O (used for various medical treatments). Here, it takes the form of a pristine, 5.5", sharp and shiny, perfect pyramid on top and nearly a complete octahedron with the lower half. The crystal is complete, and because it was grown under ideal conditions, it is perfect, and free of damage as well. The color is a rich, deep, super saturated grape purple.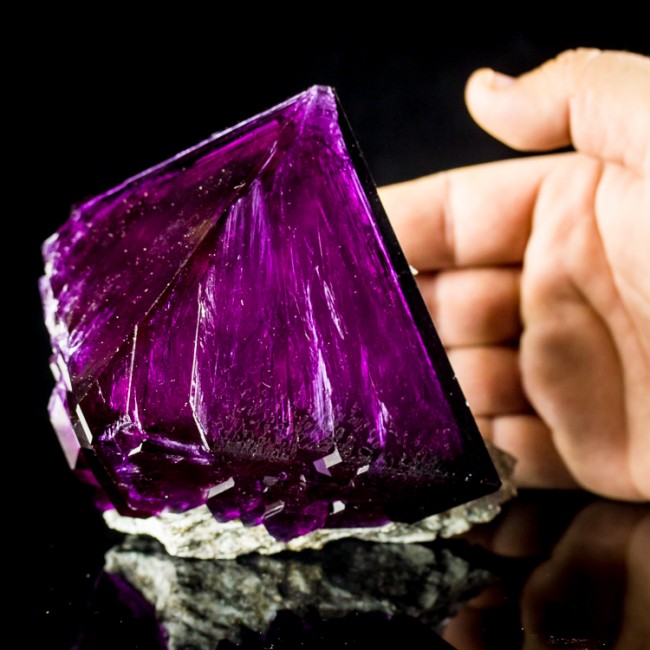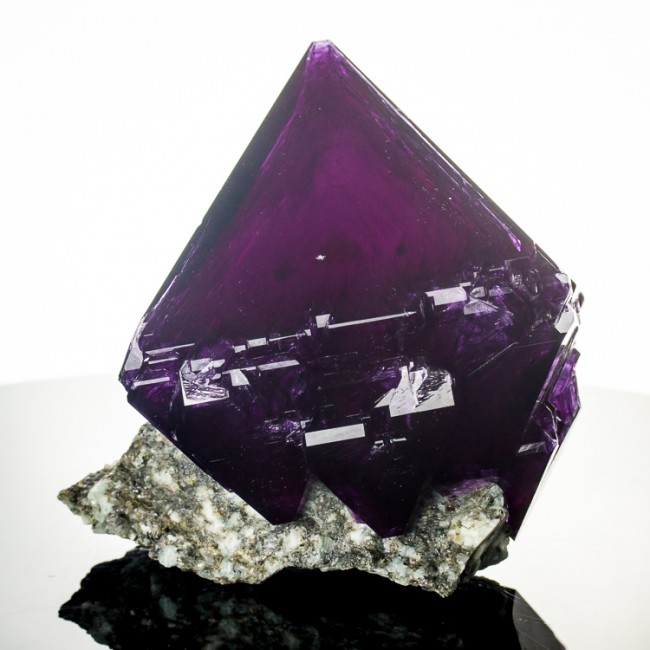 3.9" Glassy Blue-Green Datolite from Dal'negorsk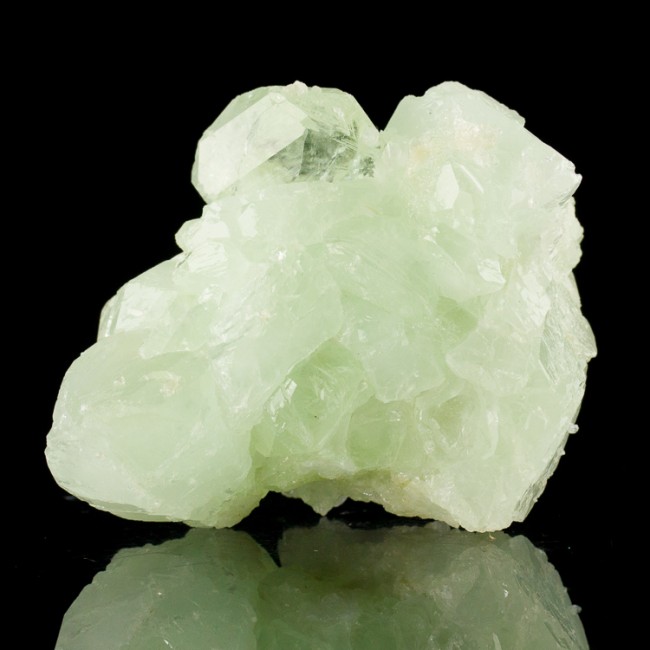 3.9" Brilliant Glassy Blue Green DATOLITE Gemmy Crystals Dal'negorsk $275 for sale
Here is a very fine, classic datolite cluster with sharp, well-terminated, partially gemmy crystals from a 2016 find at Dal'negorsk. The crystals faces are smooth, glassy, and highly reflective, so the piece sparkles and shines. The datolite is a minty blue green and the edges and joins of the crystals are all razor sharp. The color and luster add a lot to the great aesthetics of the piece, which has no damage.


5.1" Spray of Stibnite Crystals from China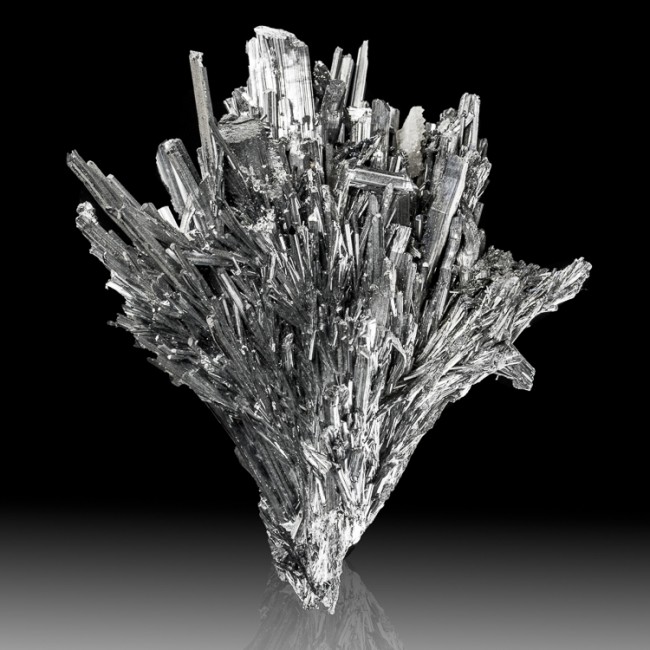 5.1" Complex Interlocking STIBNITE Crystals Flashy Metallic Silver China $450 for sale
This is a highly aesthetic metallic silver stibnite specimen consisting of interlocking sprays of terminated crystals. The crystals are sharply formed and damage free, and the piece is nicely sculptural. It displays nicely in an available 3-peg stand.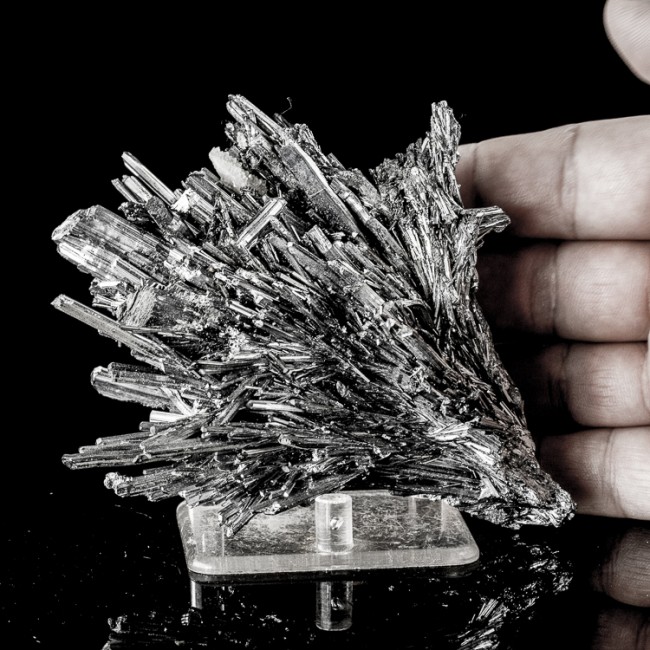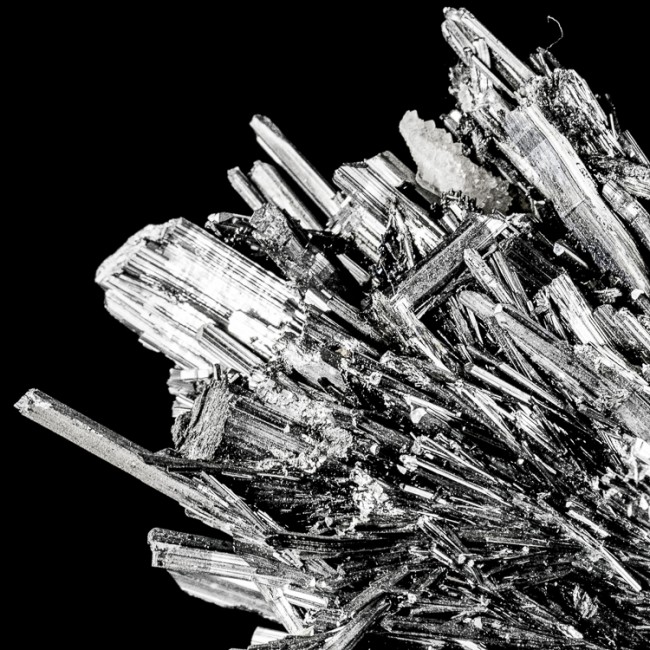 6.6" Radiating Red Quartz from Dal'negorsk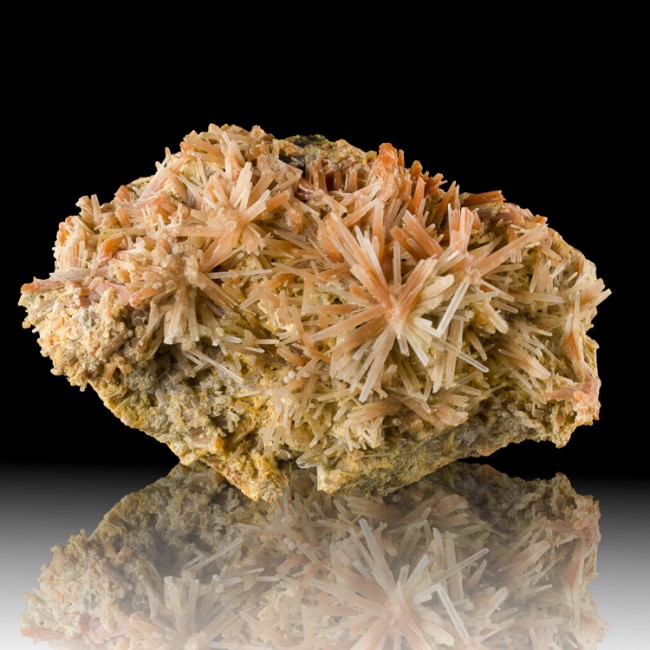 6.6" Radiating Sprays of RED QUARTZ Crystals Dal'negorsk Russia 2007 $350 for sale
This is a stellar museum size specimen from the celebrated find at Dalnegorsk in 2007. The red color is phenomenal and unique, and has the characteristic small white quartz secondary coatings here and there, with radiating sprays of sharp, thin red prisms sticking straight up. The display completely covers the matrix. These specimens have become so rare that they are only available when a private collection is dispersed. Such specimens are usually full of breaks and damage, but this one is in great condition with superb aesthetics, and only a few incomplete crystals.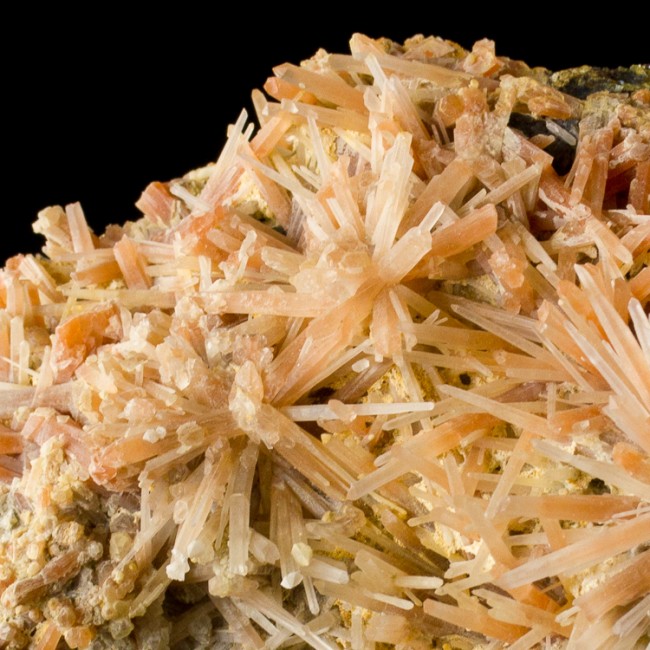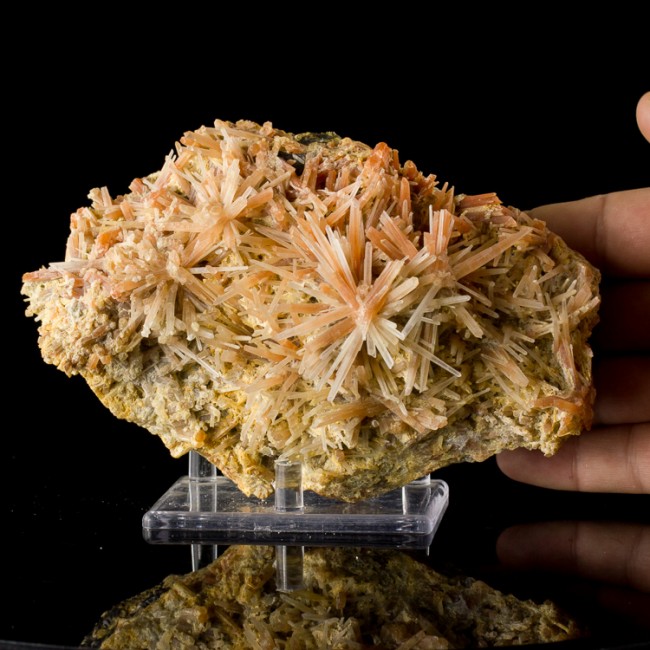 9.4" Chalcedony Fossil Coral from Georgia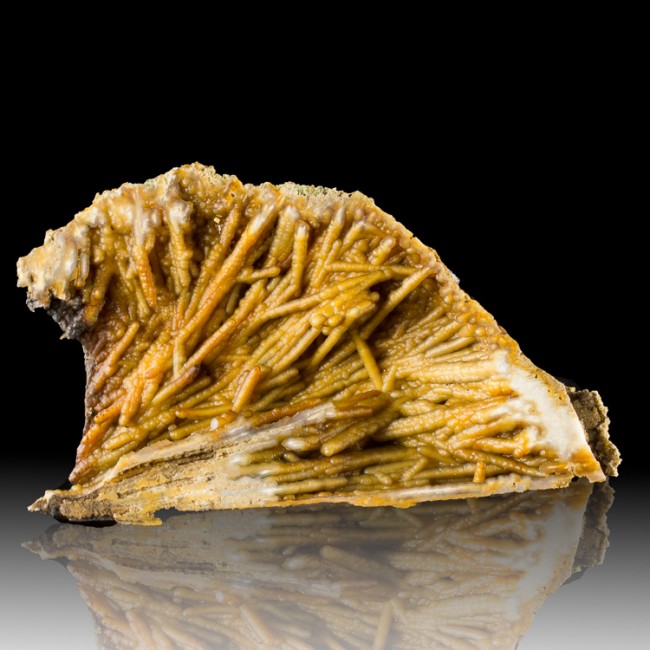 9.4" Iridescent Brown CHALCEDONY PSEUDOMORPH after Fossil Coral Georgia $230 for sale
The Withlacoochee River in southern Georgia is the source for beautiful chalcedony-filled coral fossils. The chalcedony in this piece has formed in long stalactitic fingers, to almost 3". They are colored a golden brown, and shimmer with iridescent highlights. These specimens are found in tertiary marine sediments, but the coral was smothered in volcanic ash about 10 million years ago, leaving cavities which then filled with chalcedony. The specimen has been sawn open so the interior is visible. Collected by John Whitney.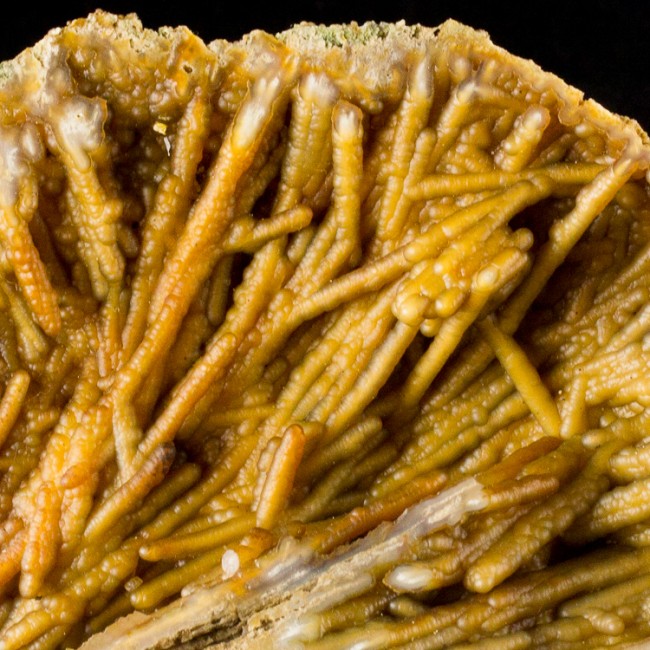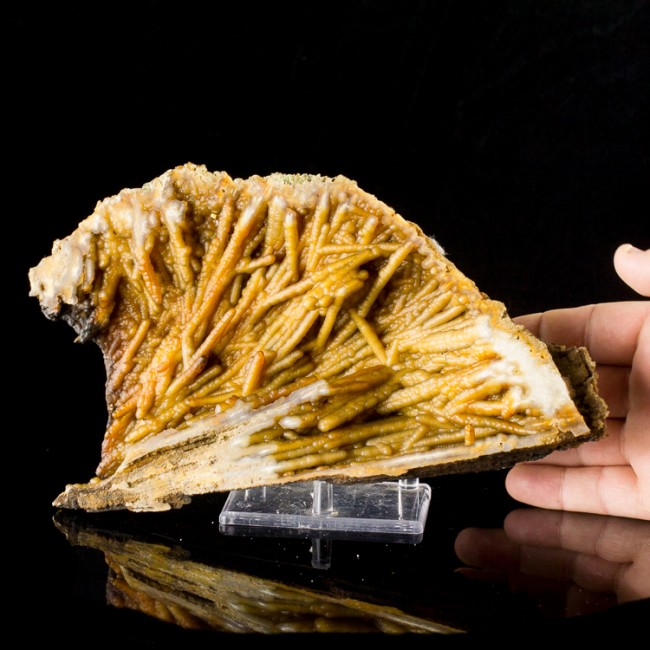 4.1" Pre-1891 CALCITE from Fontainebleu France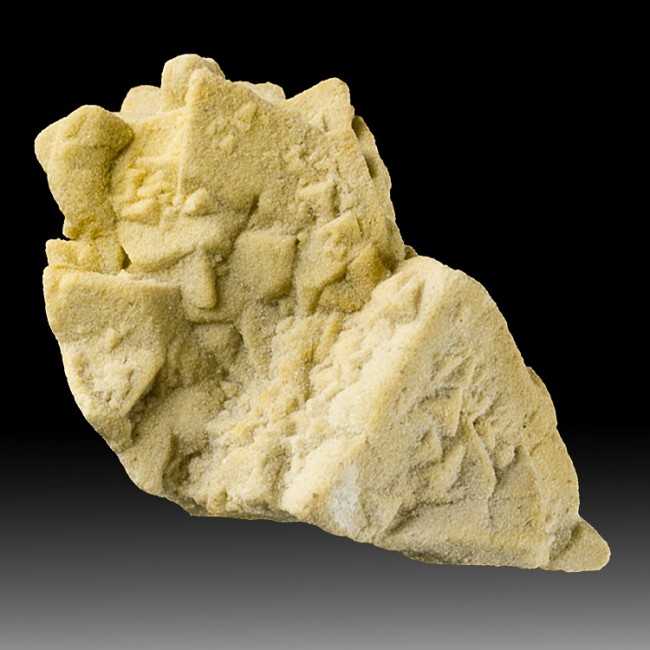 4.1" SAND INCLUDED CALCITE Crystals Fontainebleau France Old Labels $650 for sale
I never thought I would find another of these rare, historic calcite specimens from Fontainbleu, but I stumbled on this one at the 2017 show in Tucson, and it is a beauty! It comes from the famous Bellecroix cave in France, which was first recorded as a mineral locality in 1774, then sealed off with iron bars for protection in 1891. The specimen consists of calcite crystals with sand inclusions, which gives them a sculpted appearance that is characteristic of the locality. The calcite is crystallized in prismatic, acute rhombohedrons to 2.2", tightly clustered around the specimen. Other than a barely noticeable, minor scrape or two there is no damage (not bad for a piece that is at least 125 years old!). There are two old labels with the piece: One is a hand-written label from the Nick Hawes collection, and another from Crystal Classics of England (plus our Treasure Mountain Mining label, of course).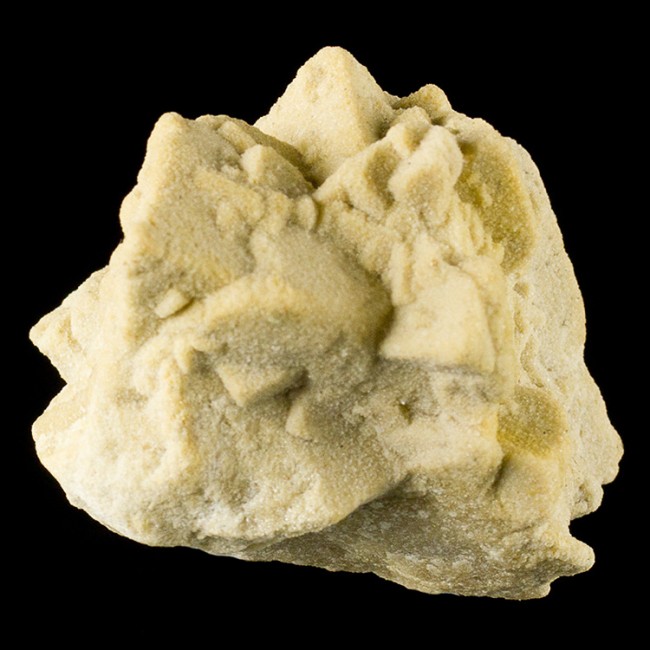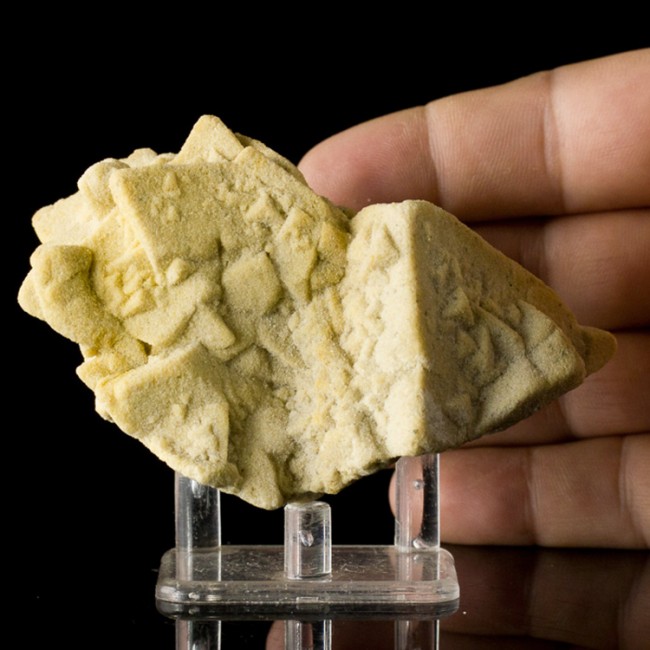 8.8" Double-Terminated "Generator" Quartx from Brazil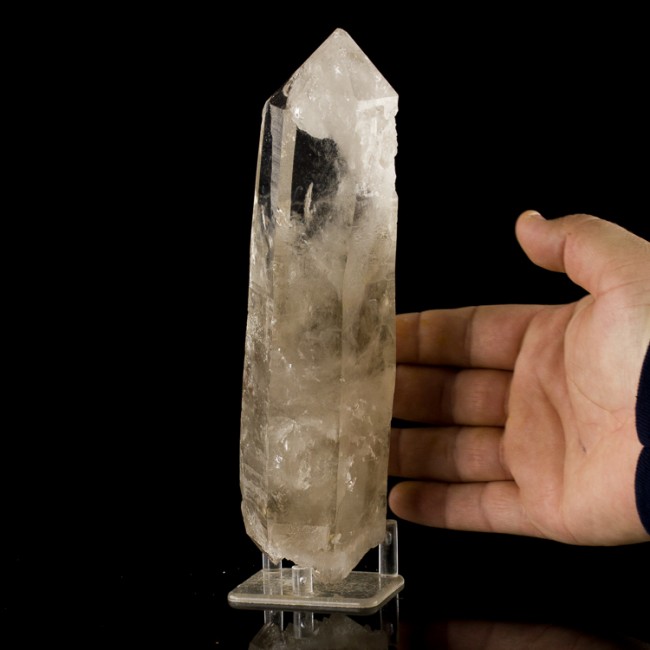 8.8" Double-Terminated Clear Terminated GENERATOR QUARTZ CRYSTAL Brazil $300 for sale
Here is a very large, double-terminated clear quartz crystal with a sharp point and smooth faces. The quartz is bright and clear, and features a symmetrical "generator" termination - a formation where all six faces at the tip join together to form a single point at the apex. Natural, unpolished generators are rare, and clear quartz crystals of this size are uncommon. Generator crystals are in high demand, and this piece is a very good example.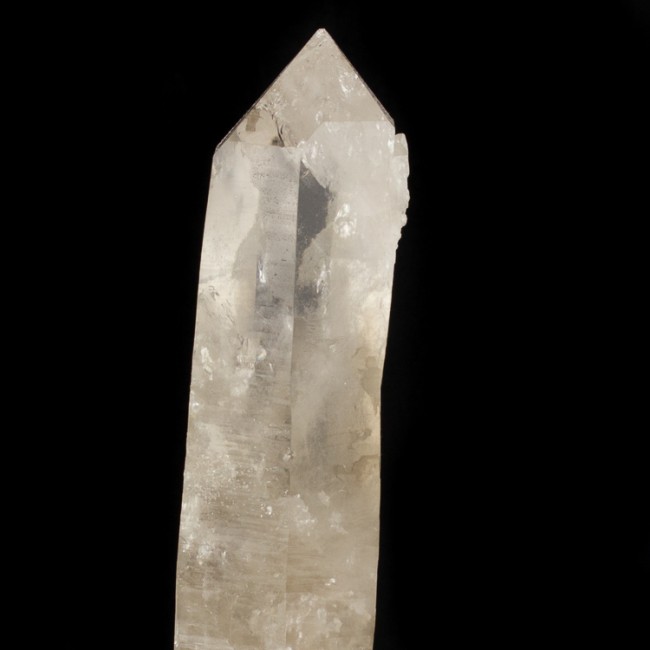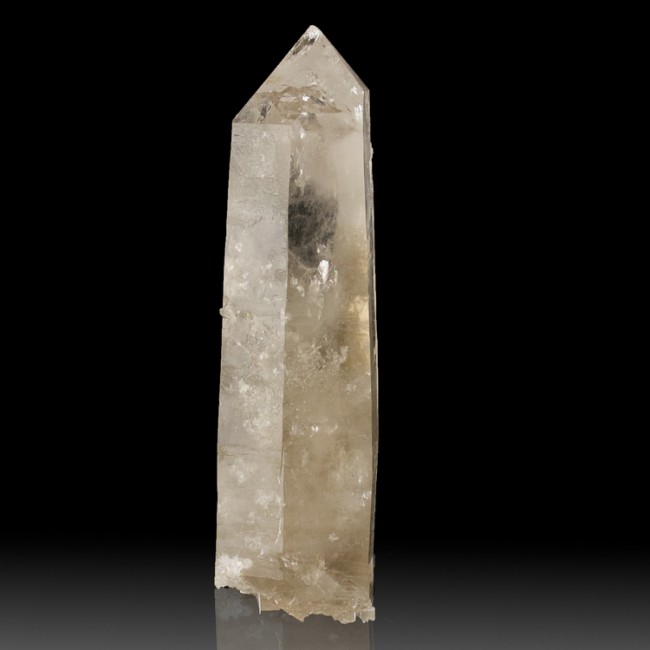 1.8" Amazonite & Smoky Quartz Combo from Smoky Hawk Claim

1.8" SMOKY QUARTZ Crystal +Turquoise AMAZONITE Smoky Hawk Claim Colorado $225 for sale
Here is a lovely cluster of well-crystallized smoky quartz crystals with bright robin's egg blue amazonite crystals attached at the base. The smoky quartz crystals are terminated, and the amazonite is bright, shiny and highly lustrous, and colored a lovely blue. This specimen comes from the highly acclaimed Smoky Hawk claim as featured on The Prospectors on the Weather Channel.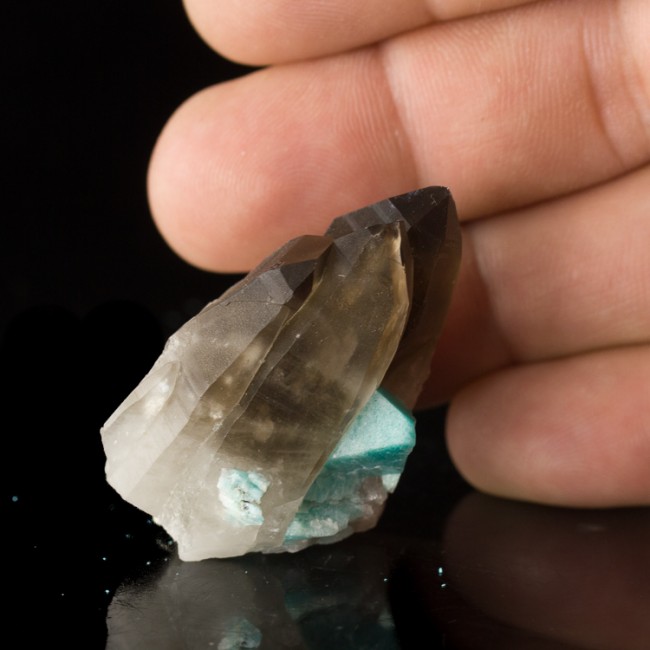 7" Pink Iceland Spar from Mexico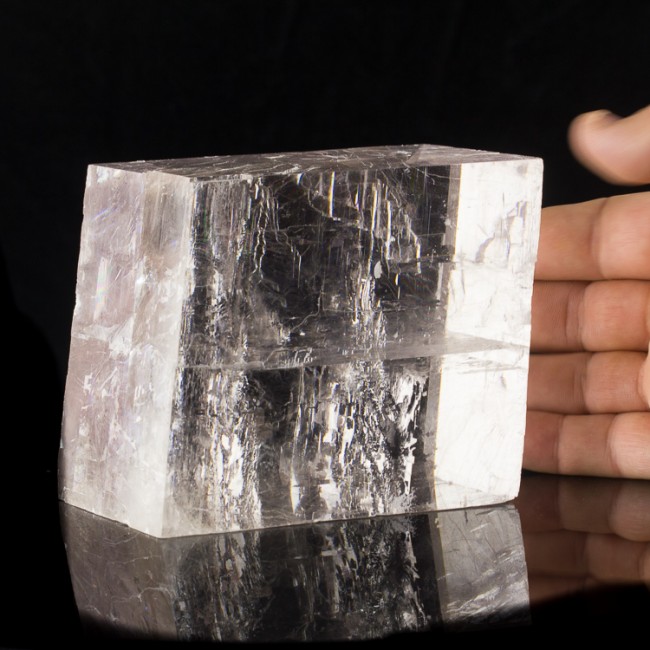 7" Pale LavenderPink ICELAND SPAR Crystal Rhomb See-Thru Gem Clear Mexico $300 for sale
Here is an extra-large, gemmy, clear, cleaved rhombohedron of Iceland spar (calcite) from Mexico. It is large and transparent enough to demonstrate double refration - the unique characteristic of this mineral. Just put a straight line under the calcite and rotate it to see the double image appear and disappear. The color is an attractive lavender pink.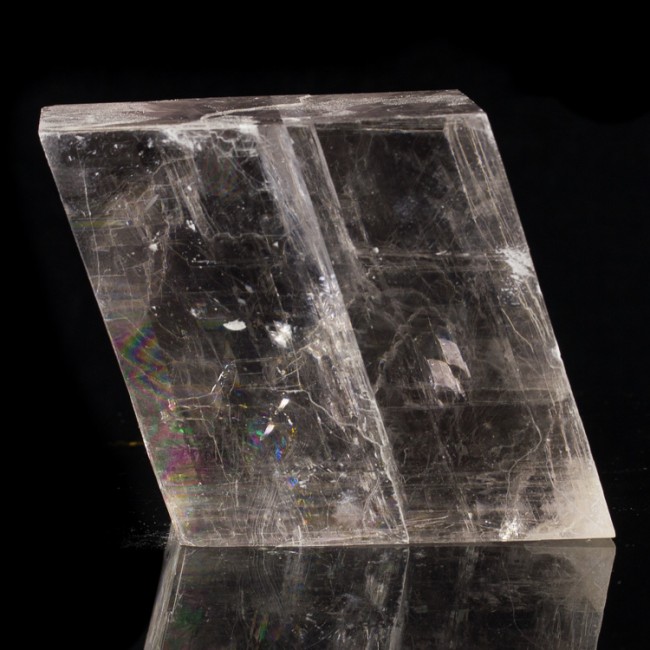 4.8" Rainbow Chalcopyrite from Missouri

4.8" Blue Magenta Purple Gold Iridescent CHALCOPYRITE Crystals Missouri $90 for sale
Here is a richly colorful specimen that features brilliant rainbow chalcopyrite crystals on a gray calcite matrix. The chalcopyrite glints and glitters with a mix of iridescent colors, including blue, purple, magenta and gold. The sparkling crystals are very vividly colored and make a very attractive display specimen. No damage.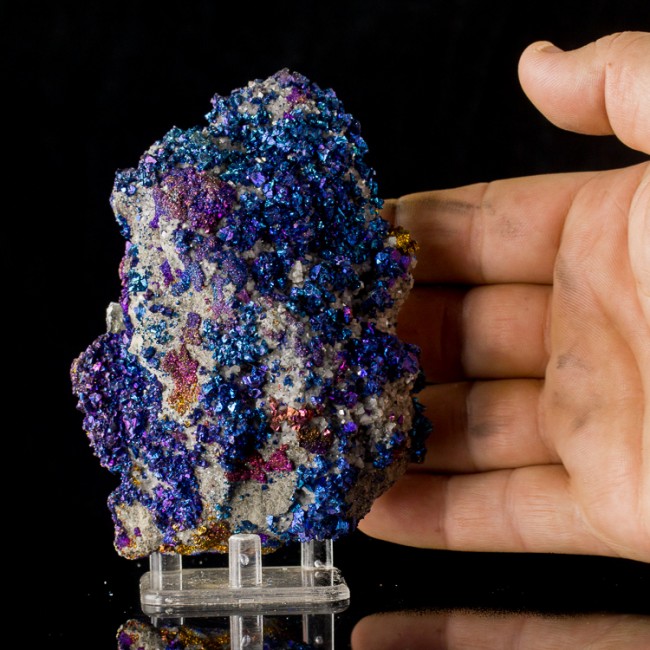 Click here to see more
of the new specimens from Tucson 2017
© Copyright 2017 Treasure Mountain Mining