By mid-day it was unbearably hot - well over over 100° F. Lunch today was at another of the self service buffet places, where you pay by weight. I had a fried banana, some cut up orange, a bit of watermelon, and churrasco beef. About half of the beef was too tough to chew, but the flavor was good. Then, when I went to pay for my meal with my credit card, it was turned down! The cashier tried several times, but no go. Oh #*&@ (expletive deleted)! I paid with cash and put off dealing with the snafu until later. Before I left home, I had taken the precaution of calling the credit card company and telling them I would be travelling in Brazil and using my credit cards, so they would not shut off the cards (they did anyway). In case of emergency, I carried a second credit card for just this kind of situation. Why they turned off the card after the phone call was a mystery – one which has still not been satisfactorily explained! When I got back to the hotel that evening, I tried to place a collect call to the credit card company, to the number on the back of the credit card, but this turned out to be impossible if you were calling from Brazil! So on to plan B: I sent an email to my wife at home, explained the emergency, and asked her to call the credit card company. I would have to wait until she replied the next morning to find that the problem had been rectified. This threw a blanket of worry over the rest of that day, to say the least.
The scene at Mineração Zé da Estrada in Taquaral

Shelves, buckets and boxes at Zé da Estrada loaded with crystals

Sawhorse tables covered with crystals at Ie Pedras do Brazil



The back room's eye-popping display of rose quartz crsytals, tourmaline in quartz, blue topaz, jacare quartz, and more

4.8" TOURMALINATED QUARTZ Green Needle Crystals in Clear Quartz

3.4" Natural Yellow CITRINE CATHEDRAL Terminated Quartz Crystal

2" Greenish Yellow Gemmy Terminated BRAZILIANITE CRYSTAL Floater

5.7" BLACK KYANITE Crystals in Curving Radiating Fan-Like Sprays

3.6" EOSPHORITE Sharp Gemmy HoneyBrown Terminated Crystals
And there was more. That afternoon, a big black cloud loomed on the horizon. Before I booked the trip, recalling a warning I had been given several years earlier by the late Brazilian mineral dealer Luiz Menezes, I had asked Pinto about shipping minerals back to the states. He had assured me in an email that it was "no problem," and it would be taken care of. That morning, over breakfast, Pinto announced that in fact it appeared there was might be a problem with shipping after all. He had learned that it would be complicated and potentially expensive, and that it involved complying with a mountain of governmental red tape, paying multiple taxes, obtaining special invoices, etc. It was sounding like it was going to be even more difficult than Luiz had forewarned. Still, Pinto kept saying, "Don't worry! Relax, it will all work out." That is something I don't do well. Pinto had told me early in the tour that he had a shipping company in Belo Horizonte take would take care of everything, but today he had found out more details of what the requirements were, and that we would have to use a different shipper than originally planned. He described his plan, the first step of which involved going to a mineral dealer in Diamantina (our next stop), and having her issue an official invoice for the quartz, which they would do as a "favor" (we still didn't know how much it was going to cost). There we would have to unpack everything, sort the different species into separate piles, and weigh each variety. Then we would have to pay the official government tax the dealer would owe on the invoiced quartz specimens (Pinto thought this would be 12 percent), pack it all up again, and drive the boxes of crystals to Belo Horizonte on Thursday morning. There we would bring them to the new export shipping company, where I would have to pay the tax on the official invoice for the other minerals, plus pay for preparing the paperwork, plus pay another tax for exporting the minerals. In addition, I was going to have to pay for the air freight. Needless to say, all this sounded incredibly confusing, not to mention expensive, and I was just hoping I would have enough money to buy a few new specimens and save enough cash for the paperwork, taxes and shipping. And, considering how much would have to be accomplished in just one afternoon in Belo, it seemed it might end up that I would have to spend that Friday sorting it all out. Plan B, if it couldn´t be arranged on Thursday, was to have Pinto take all the minerals back home with him to Ouro Preto, and ship them in October. I feared a total disaster! Still, I tried to "relax" and wait and see how it unfolded, and pay whatever had to be paid to ship my specimens back to the U.S. As you can imagine, I was feeling anxious and frustrated.
We left Araçuai early because the roads were said to be really bad, including a 42 km (30 miles) stretch of dirt road out of a total of 320 km. The first 20km were the worst - pot holes up to 6" deep scattered randomly over the road, so Pinto had to drive like he was doing the slalom, avoiding as many of the tire-busting pitfalls as possible. After several hours of skillful navigation, the worst section finally ended and we were on a paved road for another hour, thankfully with no potholes. Then we encountered the dirt road segment, which meant we could only drive about 30 miles an hour through plantations of eucalyptus trees which were planted to make charcoal for the iron smelters near Belo Horizonte. At last the bad road ended and we were on the newest, smoothest, best road we have been on in all of Brazil! We made good time and arrived in Diamantina, our destination that day, at 11:30 a.m.. This city of 45,000 is located northwest of Belo Horizonte on the Jequitinhonha River at an altitude of 3,800 feet. Diamantina's alluvial diamond deposits, which were discovered in 1725, provided most of the world's gem-diamonds for 150 years, before the South African discoveries.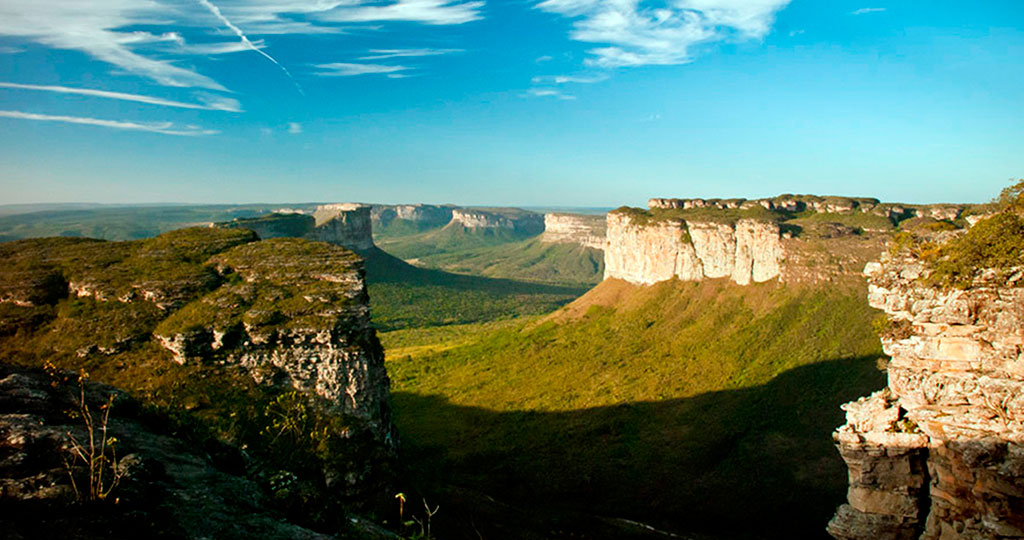 The Jequitinhonha river valley near Diamantina

Eucalyptus plantations line the road to Diamantina
In Diamantina we went straight to the Comércio de Cristals mineral shop to obtain the official invoice we needed for export. Pinto got on the phone to the export shipping people in Belo Horizonte, and they advised us to separate out the different minerals(kyanite, cleavelandite, eosphorite, tourmaline, muscovite, etc.) and weigh them, and they would do the invoice and other paperwork when we arrived there the next day. So we had the shop owner here do only the invoice for the quartz. To minimize complications, I separated out the smaller specimens of imperial topaz, tourmaline, brazilianite, etc., planning to carry home in my suitcase (no invoices or taxes required). Once everything was weighed, Pinto sent the export people the list of minerals with the weights and the prices. They replied that they would take care of the invoice as well as the packing and shipping for us the next day, when we brought the stones to Belo. Pinto repeated his usual refrain, telling me not to worry, that it would all work out fine. I repeated my usual line, which was, "I'm worried." Then we walked across the street to a self service place to get some lunch. My stomach was doing flip-flops, so I only ate some churrasco and had a coke for the caffeine to help overcome the altitude. After lunch, I repacked the specimens again, this time divided into separate boxes by species. The pieces were only minimally packed so they wouldn't touch each other and cause damage, until we could get them to the exporter. He was supppsedly going to repack everything for air shipping (I will believe it when it happens). One bright spot - the inventory tax turned out to be 6% not 12%. Still nervous about my remaining cash, I went through the Commércio de Cristals warehouse and picked out just seven pieces, including some laser quartz and amethyst flowers, all good stuff, but mainly as a "thank you" for their help with the paperwork.

Quartz crystal in the yard of a wholesale warehouse in Diamantina

How do you pick just one?

6" Red Orange Tabular TANGERINE QUARTZ Complete Flattened Crystals

7.8" Water Clear LASER QUARTZ Sharp Extra Long TessinHabit Crystal

About 3:30 we loaded the boxes back in the car and headed to the hotel, which was on the other side of town. Pinto has a friend who owns a restaurant in Diamantina, so we walked into town and ate dinner there.

Stone-paved streets in Diamantina

Diamantina's central square at night
I didn't sleep much that night, as the last couple of days had been exhausting, as I menatlly battled the combination of emotional stress and fear about what the future would hold. At this point, I was really looking forward to returning home, was homesick for home cooking and for cooler weather, and mainly was ready for a few days without worry and uncertainty!
*****************
Thursday, September 22, 2016
This was day 10 of the tour, the last day, with a long 4½ hour drive, then having to deal with the paperwork and arrange for the shipment to be sent to Massachusetts (I hoped!). After breakfast in Diamantina we drove to Belo Horizonte, arriving at the export house at 11:30 a.m. Three big burly guys came out to carry in the boxes of specimens, and we went up to the office. The paperwork took about an hour and a half, and in the end I paid $1100 for everything: the official invoice ($300), the export taxes ($150), and the air freight ($650). The specimens were scheduled to be flown to Hartford, Connecticut by American Airlines, supposedly to arrive in a couple of days. What a relief! In the end, Pinto had come through, and all my worrying accomplished nothing. AFter paying the bill, my supply of cash was down to $260, so I would be relying on credit cards for everything else. I checked into my hotel, which was right in downtown Belo across the street from the lovely municipal park, which I could see from my window on the 21st floor. This was by far the nicest room I had in Brazil, and the most spacious.
*****************
Friday, September 23, 2016
I started the day with a big breakfast at the hotel, an even more sumptuous version of the breakfast buffet that I ahd enjoyed at all the other hotels. I had arranged to spend the day with Luisa Menezes, Luiz Menezes' widow. She picked me up at the hotel and took me to her office, which is in a one story house in the central (downtown) area of Belo. As soon as I went in I recognized the piles of boxes, just as I had seen them in Tucson, all neatly labeled in Luiz´s handwriting. Luisa showed me around the house, where every room was filled with boxes of minerals. Out back was a yard with more piles of rocks, waiting to be cleaned and trimmed. We had a long discussion about her future plans for the business, which she had inherited from Luiz. Our next stop was Liberty Square, where all the old government buildings had been turned into museums. We visited the history museum before going to the mineral museum, which featured many specimens she and Luiz had provided.

The mineralogical museum in Belo Horizonte

Sunset from the Belvidere overlooking Belo
Next we went to the art museum next door, where we ate lunch before seeing an excellent Mondrian exhibit. The last stop on our tour was the Belvidere, an overlook that provided an incredible view of this city of 4 million people with the sun setting behind it. Belo Horizonte translates as "Beautiful Horizon", and the view from above the city shows how it earned that name. That night I had dinner with Luisa, three of her daughters and two of their husbands at an excellent Italian restaurant.
*****************
Saturday, September 24, 2016
This day featured a visit to Belo's Central market, then churrasco lunch in Pacacas, a suburb about 45 minutes' drive north of the city, with tropical forest, 75´ tall bamboo, monkeys, etc. Over lunch, Luisa mentioned that she had done business for many years with the mineral shipping people I had contracted with, and that they were very good at what they do and totally reliable. HUGE RELIEF! I was dropped off at the bus station to catch the shuttle to the airport for my 8 p.m. flight to Rio, where I was met by my transfer driver and driven the 40 minutes to my hotel on a corner between Ipanema Beach and Copacabana Beach.

All kinds of peppers for sale at the Central Market in Belo Horizonte

Fresh fruit at the market. In the back are watermelon tourmalines (Not!)
*****************
Sunday, September 25, 2016
I had booked a full-day tour of Rio for this day, little knowing that it would be pouring rain and dense fog almost the entire day. So, the trips to the top of Corcovado mountain to see the Christ the Redeemer statue and view of Rio was wasted, as was the cable car ride to the top of Pão de Açúcar (Sugarloaf) Mountain.

Christ-the-Redeemer Statue on a clear day..

...and how it looked on the day I visited

The harbor at Rio de Janeiro on a clear day...

...and how it looked when I was there
The best thing about this tour was lunch at a famous churrascaria, where the waiters strolled through the dining room carrying 2-foot-long sword-like spits spearign cuts of filet mignon, sirloin, rump steak, sausage, pork loin, chicken, lamb, etc., from which they sliced thin cuts onto your plate. Pinto had forewarned me to skip the salad bar and concentrate on the meat when eating at an all-you-can-eat churrascaria, so it was both an unforgettable and a stomach-filling experience! After lunch the rain let up a bit, and we visited the Rio cathedral, a 20th century building that holds over 20,000 people; a section of town with mid-19th century buildings, including the opera house; and a staircase with riotously colored tiles that went up about 300 steps, sort of a Spanish Steps deal but cute and quaint and brilliantly colored.

The sald bar at a churrascaria in Rio

All-you-can-eat meat carved right off the skewer

*****************
Monday, September 26, 2016
It wasn´t sunny, but it was bright and not raining, so I walked on Ipanema beach in the morning, then walked almost the length of Copacabana Beach on the way to a return visit to Sugarloaf. The weather held and this time there were some great views. Then I went to the geology museum, where unfortunately, the mineral exhibit was closed.

Ipanema Beach in Rio

Copacana Beach in Rio

To visit Sugarloaf mountain, you have to go by cablecar

The Christ the Redeemer statue stands on a mountain overlooking Rio
*****************
Tuesday, September 27, 2016
My wake up call was at 4:45 a.m., and the taxi driver took me to the airport for my 6+ hours flight to Bogota. After a layover I caught the 4-hour flight to Miami, arriving at 7:00 p.m.. I spent the night in Miami, and the next day I flew home to Hartford via Chicago, arriving at 10 p.m. after over 40 hours of travel time. This was not a trip for the faint of heart. It was soooooooo good to be home! Two days later I returned to the airport, where I unraveled the customs red tape and picked up my mineral specimens. To my delight, there was no damage!

This plastic shipping barrel holding my specimens made it home safely!
CONCLUSION
Travelling to Minas Gerais to visit the mines and mineral dealers is not just possible, it is easy to arrange thanks to the knowledge, contacts and resources of a man like Pedro Paul Pinto. I highly recommend the Ouro Preto Travel agency's 7- and 10-day tours to anyone who is interested in undertaking such an adventure. For information, detailed itinerary and pricing, check Pedro's website at http://ouropretotravel.com/mineral-tour/, or you can contact him at: opt@ouropretotravel.com.

Pedro Paulo Pinto visits a wholesale mineral dealer's warehouse in Diamantina
SIDEBAR 1:
Money Issues for Travel to Brazil
U.S. customs regulations require that travelers leaving the U.S. declare any amount over US$10,000. Though there are no exit controls when leaving the country, questions will certainly be asked if you are found carrying wads of money. The purpose of the declaration form is prevent criminal activity, so it is no big deal. So, if you are carrying US$10,000 or more (per person) to buy minerals, just declare it. You can download form FinCEN 105 from the U.S. Department of Treasury website8, or wait until you get to customs at the airport and ask for the form.
There are no limits on bringing money into Brazil. The Brazilian currency is the real (pronounced "hrey-al"); the plural is reís (pronounced "hrey-ice"), written R$. If you bring more than R$10,000 in cash, checks, traveler's check, currency or any combination thereof, you are required to declare it on a customs form that is handed out on flights into the country. Though I was not stopped or checked when I went through customs in Rio, and I have never heard of anybody being stopped, it is no big deal to declare the money; again, it is just a formality.
You can also wire an unlimited amount of money to a bank in Brazil. U.S. financial institutions will report to the U.S. Treasury any transaction above US$10,000 but there is nothing unusual about such a transfer. Neither Brazil nor the U.S. have restrictions on the amount you can send or receive.
When traveling in Brazil, visitors need to be aware of the dangers of pickpockets and theft, and caution is advisable. The vast majority of Brazilians are honest, hard-working people, but there are also poor people in Brazil, so cash and valuables such as cell phones and jewelry should be kept concealed as much as possible, especially in larger cities. The risk diminishes dramatically as a traveler goes into smaller towns and villages in the interior of Brazil9. I carried my passport, credit cards, and cash in a small bellypack-style money belt that was firmly strapped around my waist with the pack in front.
Changing money in Brazil is simple; just use your credit or debit card at an ATM machine. These can be found in most supermarkets, many pharmacies and all airports, as well as banks. Note that for security reasons, many bank ATMs stop dispensing cash after 8pm.
Main credit cards such as MasterCard and Visa are accepted at most shops, hotels and restaurants. It's a good idea to inform your credit-card issuer about your trip before you leave so that the card isn't stopped for uncharacteristic use. Note that many credit cards charge a foreign transaction fee of from 2% to 3%. There are cards available that do not charge a fee, so check with your bank before you go.
Outside of Rio and Sao Paulo, exchanging U.S. dollars for reais can be a time consuming and costly endeavor. Also, traveler's checks are almost impossible to use anywhere except the very largest cities, and even then, only at certain currency exchanges.
SIDEBAR 2
Health Issues for Travel to Brazil
Most Brazilian cities have treated water supplies, so you are unlikely to get sick from drinking the water (or eating vegtables and fruits that have been washed in it, or ice cubes made from it). In rural areas, and to err on the side of caution, it's probably best to drink only água mineral sem gás (mineral water without bubbles) or com gás (carbonated) which is available almost everywhere. Even in Rio de Janeiro, where the pipes are old and leaky, it's probably best to drink only água mineral.

Public health officials have reported that mosquitoes in Brazil are infected with Zika virus (and other tropical diseases) and are spreading it to people. So you may want to pack a can or bottle of your favorite insect repellent. It is also advised to cover exposed skin by wearing long-sleeved shirts and long pants and stay in places with air conditioning and window screens. Although only 35 cases of Zika had been reported in Minas Gerais as of the end of 2015,10 I timed my trip to coincide with the end of the rainy season, which in MG extends from March to September. Since it had not rained since March, I did not encounter any mosquitos and never used my can of Off!.

You should also be awaare that in the hinterlands of Minas Gerais, the nearest doctor or hospital may be hours away. And, public hospitals tend to be crowded and terrible. Most cities of at least 60,000 inhabitants have good private health care.11
SIDEBAR 3
Artisinal Mining by Garimpeiros
In the 20th century, if a mineral deposit in Brazil was found in an area where no exploration license had been granted, then garimpeiros (small-scale independent prospectors and miners) could mine the area using manual tools to extract the minerals.12 In 1992, J.R.Sauer wrote, "Every Brazilian has the right to prospect and mine gemstones - subject only to purchasing a license at less than US$1. The result is a thriving gemstone industry employing more than 1 million people." The bottom line was that all you needed in Brazil, in theory, was a few tools (hammer, chisel and shovel), all the obligatory paperwork and permits, some skill and a bit of luck!13

Since about 2000, however, the paperwork and permits part of that equation has changed. Primarily due to a huge influx of garimpeiros into the gold and diamond mining areas in the Amazon region, said to be as many as 700,000 prospectors, illegal mining has been under attack by the government. To control the devastating environmental impact of the mining on rainforests in the Amazon, and in response to pressure (and, presumably, financial incentives) from big mining companies, the Brazilian government has been pushing hard to evict the garimpeiros.13 They have done this by requiring costly exploration licenses, by imposing new, increasingly strict environmental constraints, as well as by requiring mining permits for gold and diamond mines and high-content gem placers. As a result, there has been a marked decline in production of all these minerals.14 As environmental problems increased, antipollution measures were enacted to eliminate the sources of pollutants and mitigate their effects on the environment.15 Starting in 1983, environmental licenses began to be required for all mining activities in Brazil. The 1988 Constitution, Article 225, stipulated that mine operators had to reclaim environmentally degraded areas. And, in 1990, resolution 010 dictated that all mining operations were required to have environmental licenses.15

For mineral collectors, these constraints have had several inadvertent consequences. Since garimpeiros almost universally operate without benefit of either mining permits or environmental licenses, and hence have to keep their operations covert, they typically withold specimen locality information to protect themselves from fines, arrests, and/or mine closings. Today, lLocalities given by dealers who buy from garimpeiros are typically either very generic (e.g., Minas Gerais); vague (e.g., a town name, such as Teofilo Antoni); or lacking entirely (e.g., Brazil). Another outcome of the restrictions on mining by garimpeirosthat that affects collectors is that exports of uncut gemstones have declined dramatically since 1990, despite the removal of some export barriers.16

Nevertheless, the lure of artisanal mining is clear:


"It's a bit like going to a casino", one miner confesses as he explain how garimpeiros will return to the mines time and time again in the hope of finding a rich vein. Their main problem lies with uncertainty about the future of the mine itself - and the power the big mining companies have. "A big company arrives and doors open for them," prospector Jose de Alencar says. "They can get their activities regularized overnight. It seems as if there is one law for the big companies and another for us."17


The success of the typical garimpo mining operations relies on eliminating costs. This is necessitated by the absence of savings or capital for investment by the miners, as well as the need to keep their activities hidden from government officials. Necessity being the mother of invention, they survive by finding low- or no-cost practical solutions to supply all their needs. For example, explosives are made by filling plastic bottles with fertilizer, and adding a cap and fuse.7

Michael Brandl has this to say about the conditions under which garimpeiros work:


The garimpeiros – exclusively men – live under very rustic conditions without their families in simple huts and wooden sheds. They are forced to work at the mines because they belong to a low socio-economic class without other perspectives. Everybody hopes to find the "master load" helping them to escape poverty. Whenever there is the time and opportunity to do so, the men are working at their shafts, alone or in small groups of three miners max. They stay at the mining area for a certain time period, and after digging their lot for selling to the distributers they leave to spend time with their families.... Only a lucky finder is able to stay away from the mines after a season, most of the garimpeiros return whenever the money is spent and the life costs force them back into the desert.18


Brandl also provides a good explanation of how the garimpo system works:


Every garimpeiro asks the land owner – the Don – for permission to dig a shaft. After the permission is granted, he is free to decide where to set his "Claim" and dig a hole. Some of the observed shafts are fairly close to each other, however there are bigger mining clusters run by kinship groups. During the initial stage, small groups of miners work together in order to get through the considerably hard sandstone of the upper eological layers at Cabacaco, however when the shaft gets deeper and accordingly narrower only one person conducts mining. At the stage a shaft reaches the layer in which the rock crystal occurs, every garimpeiro is operator of his individual mine. The miners keep the yield of their activities in their huts and sheds, and the specimens are typically placed on tables for display. They present their most impressive rock crystals with obvious pride. However, it is impossible to purchase selected pieces, because the ware is sold en gros to merchants who contract the garimpeiros with an adhesive system [a type of legally binding contract agreement in which one side has all the bargaining power and uses it to write the contract primarily to his or her advantage], sealing the merchandise and preventing the best pieces from being obtained by "treasure hunters".18
FOOTNOTES
1. http://www.gia.edu/gia-news-research/belmont-mine-emeralds-journey-mine-to-market The Belmont Mine and an Emerald's Journey from Mine to Market, Andrew Lucas, D.Pay, S.McClure, M.Ribeiro, T.Hsu, P.Padua. May 22, 2015 Referenced October, 2016
2. http://www.gia.edu/gia-news-research-cruzeiro-tourmaline-mine-expedition. Expedition to the Cruzeiro Tourmaline Mine in Minas Gerais, Brazil. Andrew Lucas, Duncan Pay, Tao Hsu, Shane McClure, and P.Padua. March 27, 2015 Referenced October, 2016
3. http://www.gia.edu/gia-news-research/how-to-travel-brazil-gemstones-edition. Referenced October, 2016
4. Gem Pegmatites of Brazil: Exploration, Occurrence and Aquamarine Deposits. Keith Proctor. Summer 1984.
5. http://www.mindat.org/loc-21133.html. Referenced October, 2016
6. http://www.mindat.org/loc-42760.html. Referenced October, 2016
7. http://www.safehaven.com/article/2583/mineral-specimen-collecting-part-2-brazil. Mineral Specimen Collecting - Part 2 – Brazil. Alan Leishman. February, 2005. Referenced October, 2016
8. https://www.fincen.gov/sites/default/files/shared/fin105_cmir.pdfd. Referenced October, 2016
9. http://www.gia.edu/gia-news-research/how-to-travel-brazil-gemstones-edition. How to Travel Brazil: Gemstones Edition. Robert Weldon. October, 2015. Referenced October, 2016
10. http://g1.globo.com/minas-gerais/noticia/2015/12/saude-em-mg-apura-relacao-do-zika-virus-em-35-casos-de-microcefalia.html. Saúde em MG apura relação do zika vírus em 35 casos de microcefalia. Referenced October, 2016
11. http://wikitravel.org/en/Brazil. Referenced October, 2016
12. http://www.whaton.uwaterloo.ca/waton/f0104.html. Gemstone Deposits of Minas Gerais, Brazil, by Bob Linnen. Referenced October, 2016
13. http://www.safehaven.com/article/2583/mineral-specimen-collecting-part-2-brazil. Referenced October, 2016
14. http://www.nationsencyclopedia.com/Americas/Brazil-MINING.html. Referenced October, 2016
15. http://www.mining.com/gold-mining-in-brazils-amazon-artisanal-miners-vs-mining-companies-31967/. Referenced October, 2016
16. http://minerals.er.usgs.gov/minerals/pubs/country/1994/9504094.pdf. The Mineral Industry of Brazil, by Alfredo C. Gurmendi August, 1995 USGS Publication 9504094. Referenced October, 2016
17. http://www.bbc.com/news/world-latin-america-25445824. Referenced October, 2016
18. http://www.academia.edu/8952251/Contemporary_Rock_Crystal_Mining_in_Minas_Gerais_Brazil. Michael Brandl, Gerard Trnka Contemporary Rock Crystal Mining in Minas Gerais, Brazil – an Ethno-Archaeological Case Study, Archaeopress, 2014. 124