SPECIAL ACQUISITIONS
Exclusive Purchases from A.E.Seaman Museum

A private showing of minerals from the Charles Noll collection,
via Marquette University and the A.E.Seaman Museum
This year we were fortunate to be invited to a private showing of specimens at the home of Marcus Origlieri, who is a research associate at the University of Arizona's mineral lab. There we were introduced to Chris Stefano, the newly appointed curator at the A.E.Seaman Museum. Chris was offering specimens from the Charles M. Noll collection. Noll was a graduate of Marquette University, to whom he left his collection. Marquette does not have a geology department, so they turned the collection over to the Seaman Museum, which handled the de-aquisition sale of some 250 specimens which were duplicates for them. Here are some of the highlights of what we selected:
Sulfur Crystals on Aragonite - Sicily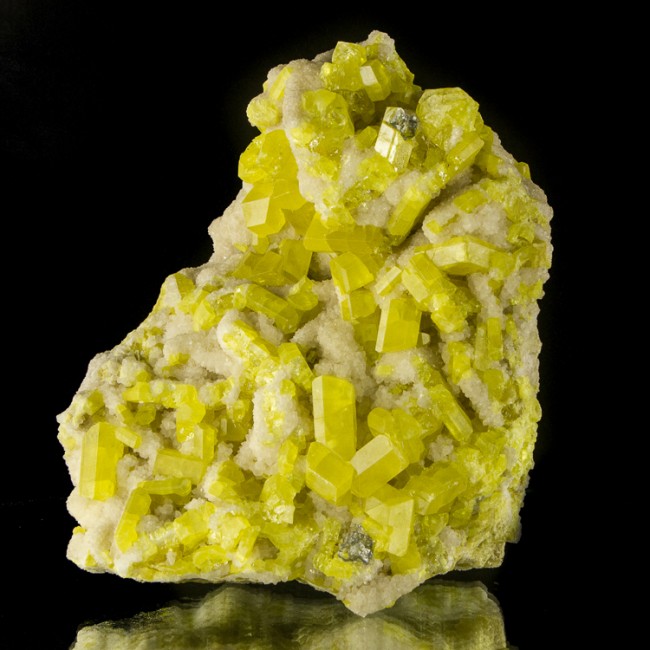 6.5" Butter Yellow Sulfur Crystals to .8" on Aragonite - La Grasta Mine, Sicily for sale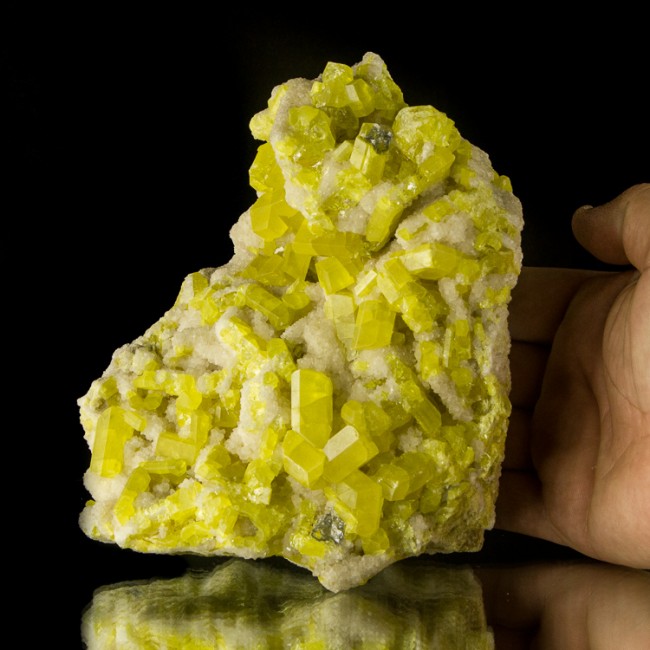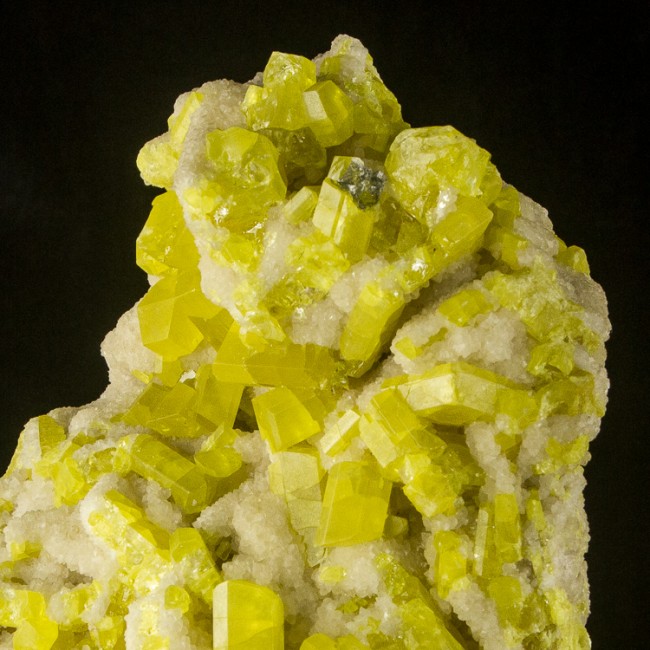 Some of the most desirable sulfur specimens are associated with sharply contrasting white aragonite, as this one from the La Grasta Mine demonstrates very clearly. This mine operated from the 1880s to the mid-1990s, so this is an old piece. It features sharp yellow sulfur crystals set on and in shining white aragonite crystals. The sulfur crystals are up to .8" long, and the piece has great coverage on both sides, with dozens of elongated crystals. There is one area (about 1" square) with a few damaged crystals, but it hardly detracts form the exquisite crystallization on the whole rest of the specimen. This piece has some old labels, including an old handwritten one that looks like it was apart of a museum display, then a Charles M. Noll label, and a Marquette University label. I acquired it from the A.E.Seaman Mineral Museum in a de-acquisition sale.
Endlichite (Arseno Vanadanite) from Mexico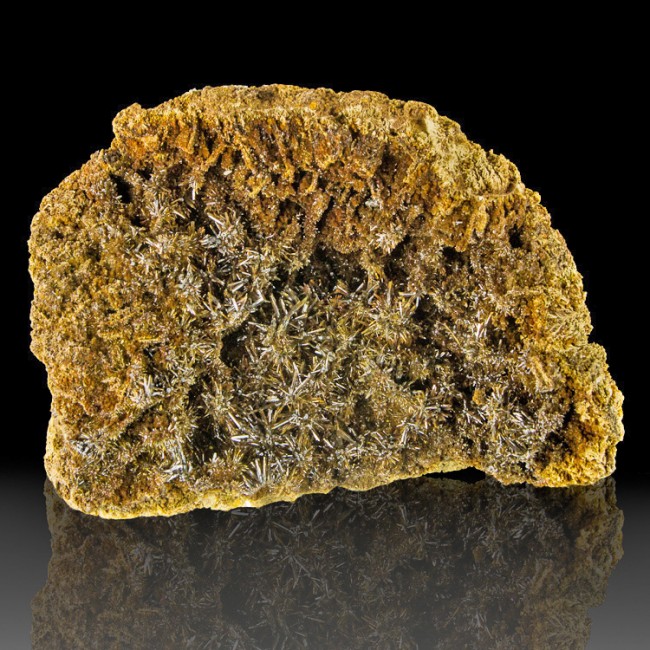 7.2" Brown Needle-Like ENDLICHITE Crystals Mexico ex-A.E.Seaman Museum for sale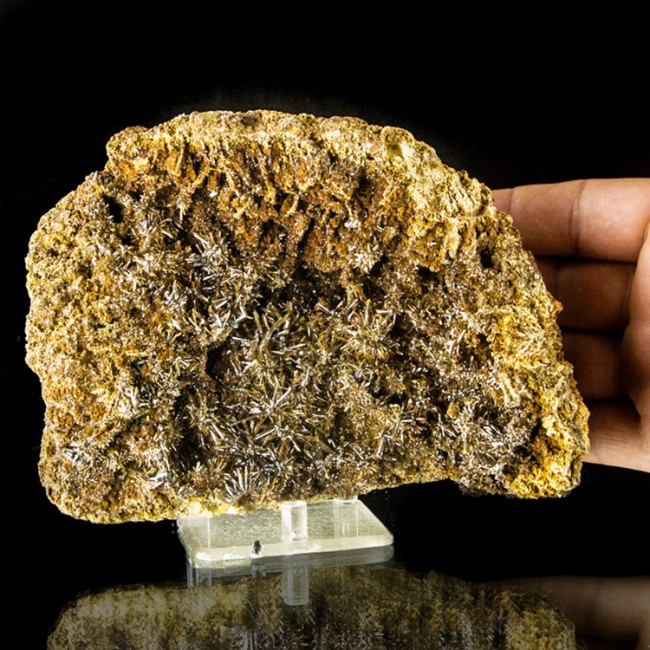 On this extremely rich specimen there are many elongated, brown endlichite crystals that have formed in diverging, spray-like formations inside a large vug. (Endlichite is now called arsenatian vanadinite.) The crystals are actually gemmy, and are formed as tapering, elongated prisms that are highly lustrous. The matrix on this old classic is also endlichite, in a spongy mass. It comes from the Erupcion Mine in the famous Los Lamentos District of Mexico. The piece comes with some old labels, including a Charles M. Noll label from the 1970s, and a Marquette University label. I acquired it from the A.E.Seaman Mineral Museum in a de-acquisition sale.
Mimetite from San Pedro Corallitos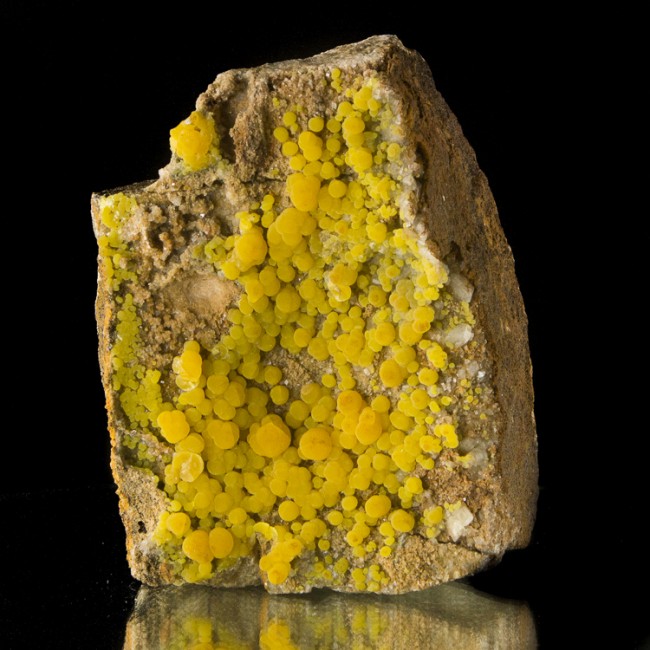 6.2" Yellow MIMETITE Ball Crystal San Pedro Corralitos Ex-Seaman Museum for sale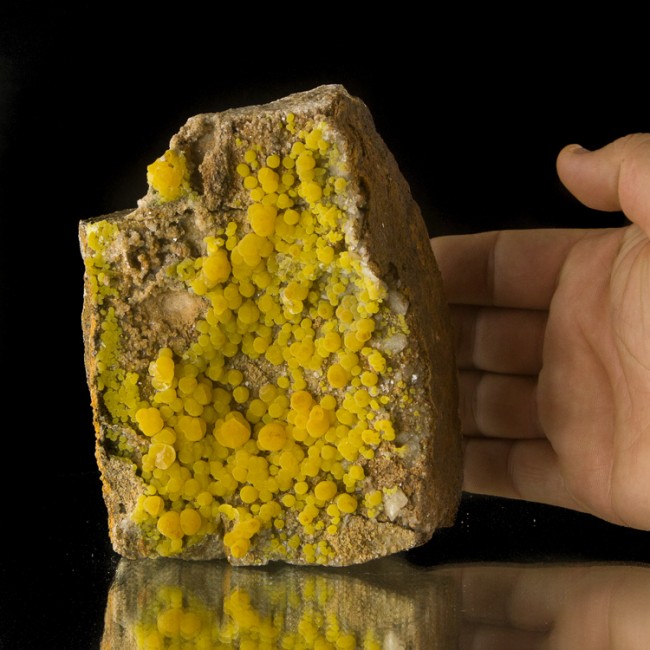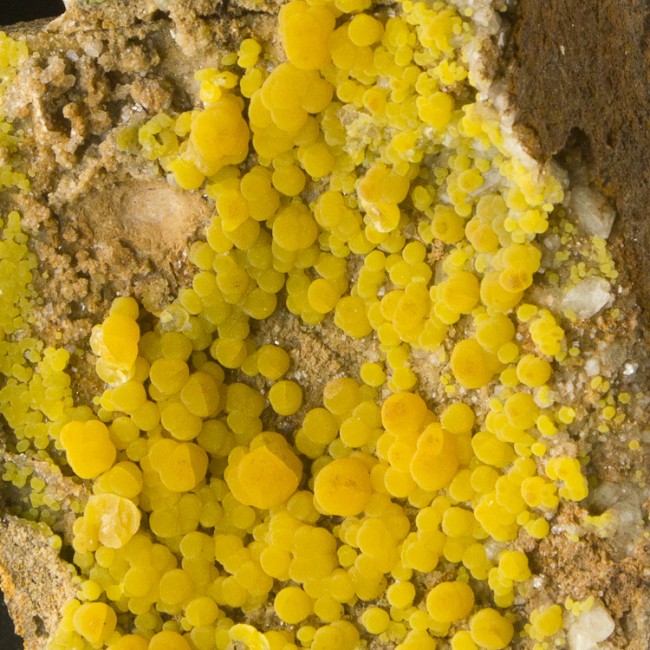 Mimetite from San Pedro Corralitos has become the most desirable locality for this lovely species, and, as often happens, the most expensive (if you can even find any). This specimen comes from the A.E.Seaman Mineral Museum, by way of the Marquette University collection, to which it was left by Charles Noll (there are multiple old labels). It features sparkling, bright yellow-gold botryoidal balls of crystals, with a silky luster that is quite enchanting. The mimetite crystals are up to 11 mm in diameter, and nearly cover the brown limonitic matrix. There are 3 small spheres which are cleaved, but otherwise the piece is in perfect condition. This is a classic, one-of-a-kind piece.
OTHER NEW FINDS
5.6" Citrine Japan Law Twin from Zambia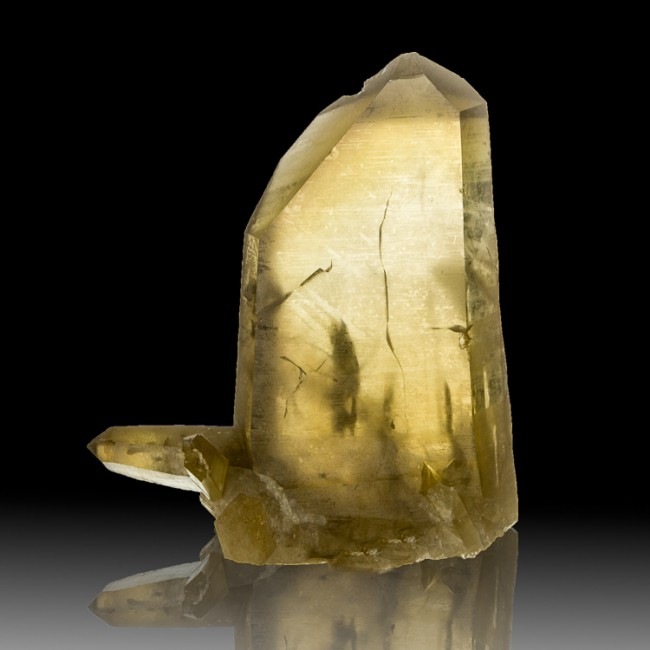 5.6" Sharp Gemmy Golden CITRINE QUARTZ Japan Law Twin Crystal Zambia for sale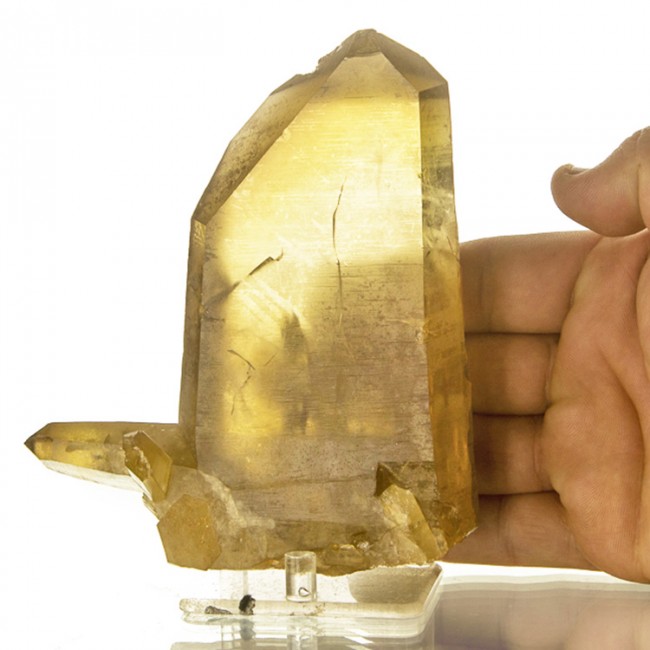 A citrine quartz Japan-law twin? Surprisingly, yes! There were almost unheard of until the recent find in Zambia. This one is an attractive Japan-law twin citrine quartz crystal featuring rabbit ear crystals joining at 89º degrees. The crystals are colored a deep, rich golden yellow, and are gemmy and nicely translucent (this is due to a light frosting on the back side of the crystals; the insides are transparent). The terminations are both in the chisel-tip style, and the specimen is remarkably damage free, save for some very small chips on one termination (they look like they are the result of pocket collapse, rather than collecting damage). This is a superb, highly aesthetic example of this rare and highly sought-after type of quartz crystal, which I acquired direct form the mine owner, Peter Beckwith.
5.5" Stibnite Crystal Cluster from Japan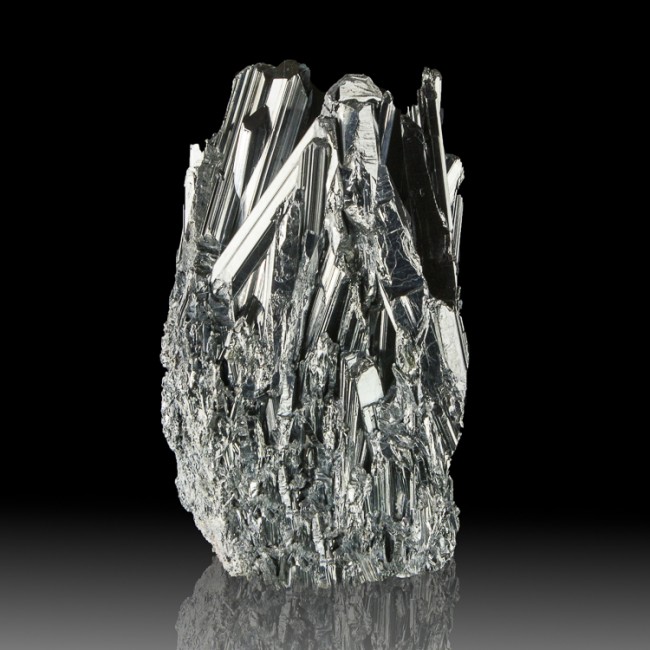 5.5" Classic Shiny Silver STIBNITE Crystals No Damage Ichinokawa Japan for sale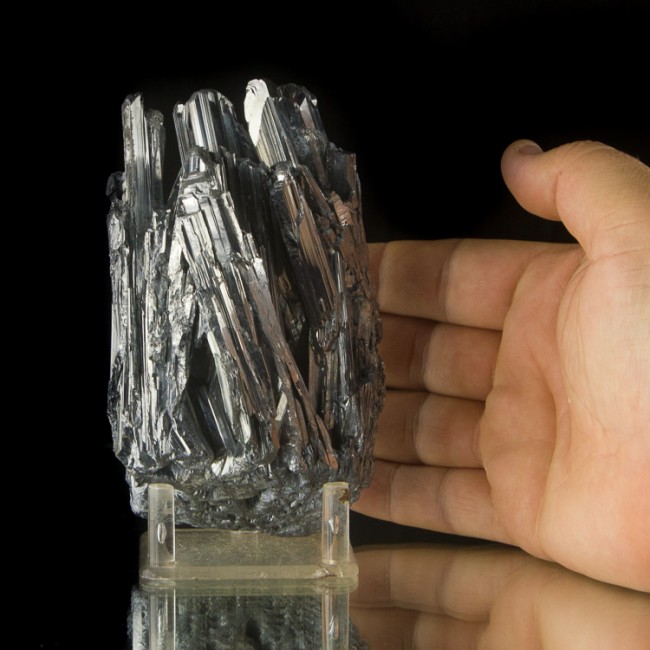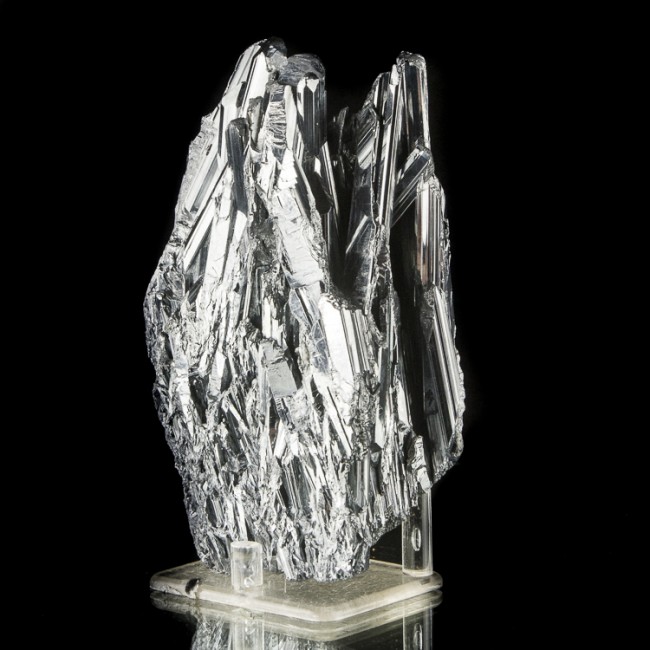 Here is a classic cluster of stibnite crystals from the Ichinokawa mine, the Japanese locality that has set the standard for this species for over a century. The best specimens were found in the late 1800s. On this specimen the bright, metallic silver crystals are clustered tightly together, and the crystals are all terminated, with no damaged terminations! Large specimens with undamaged crystals like this are almost never available, as the mine closed in the 1950s, and people who h. There are several old labels with the piece, including a Helen and Raul Madrid Collection label, an unnamed label, and a label from the late Harvey Gordon with a price tag of $1750.

4.6" Liddicoatite Tourmaline Polished Slice from Madagascar

4.6"235ct Polished Slice LIDDICOATITE TOURMALINE+Color Triangles Madagascar for sale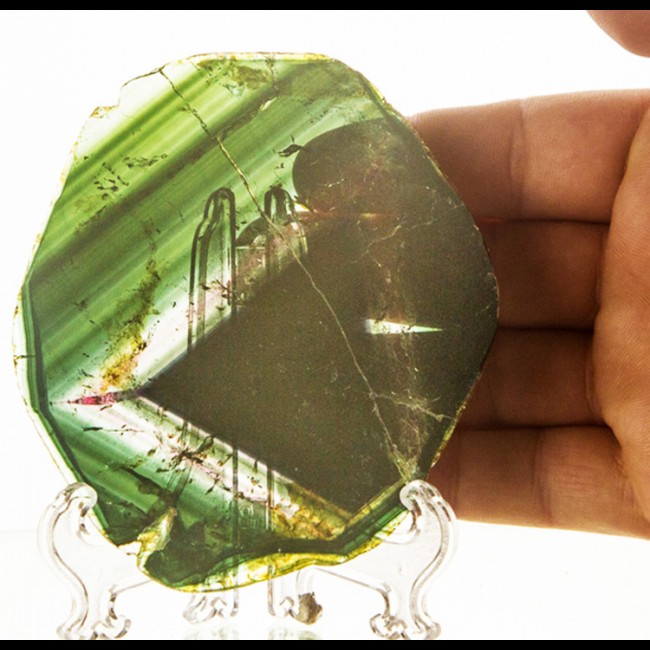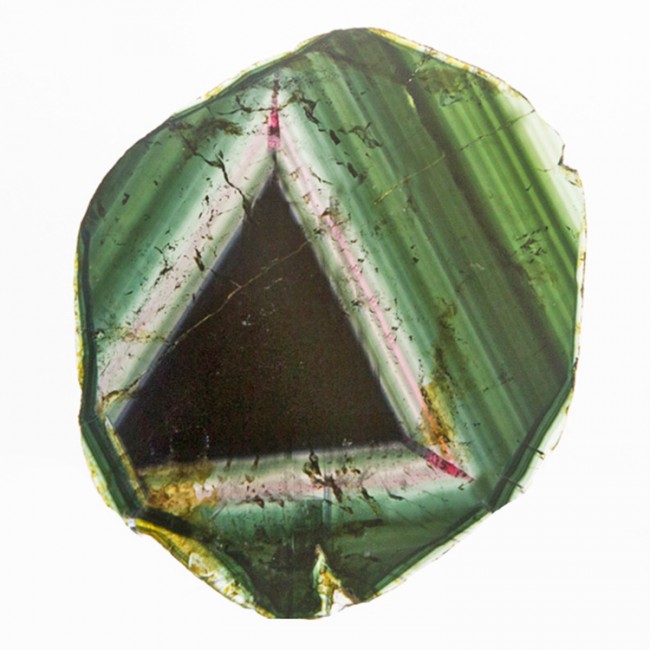 This is a beautiful, gem-clear slice from a complete crystal. It has been polished on both sides, and shows off colorful internal triangles in shades of magenta, blue, blue-green, blue-gray and clear. The intricate triangular patterns are the result of color zoning (not phantoms) which occurred while the crystal was growing.
5.5" Cobaltoan Calcite from D.R.Congo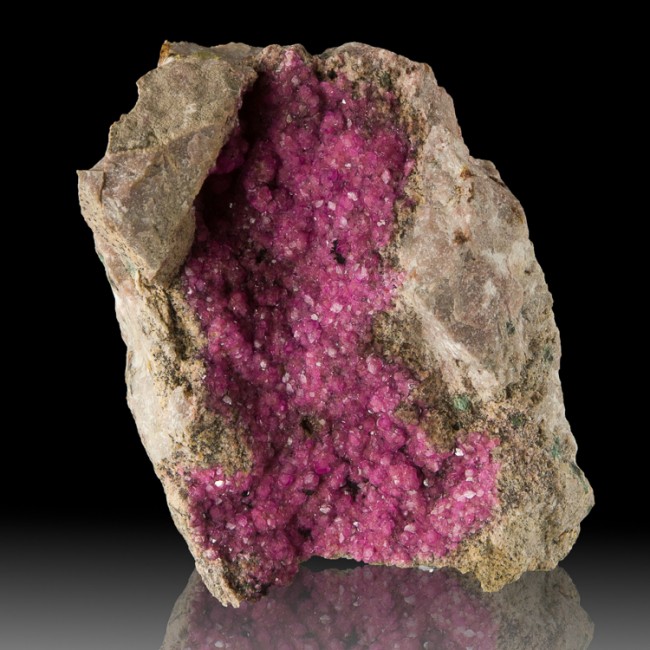 5.5" Sizzling Neon Pink COBALTOAN CALCITE Sharp Sparkly Crystals Congo for sale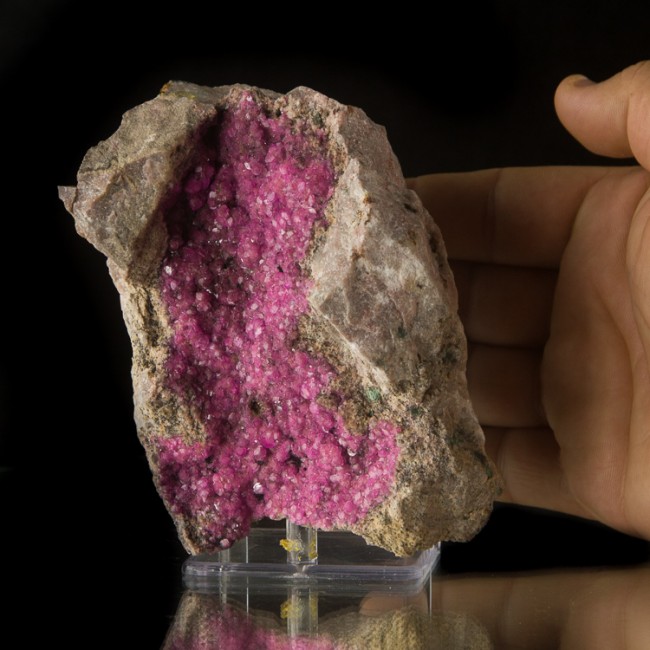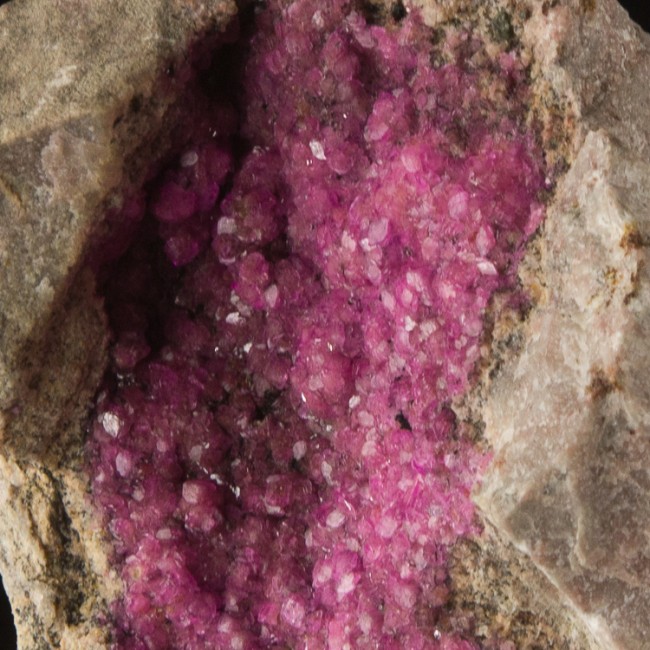 This sparkly specimen of museum quality cobaltoan calcite from the Congo is covered with crystals that twinkle like bright stars as they catch and reflect the light. The color is a richly saturated magenta pink, a hot neon pink that is really eye catching, and the crystals completely line the inside of a large vug. There are a few spots of black heterogenite, but they are rather small and unnoticeable. No damage.
10" Barite with Crystals to 4.4" from the Meikle Mine, Nevada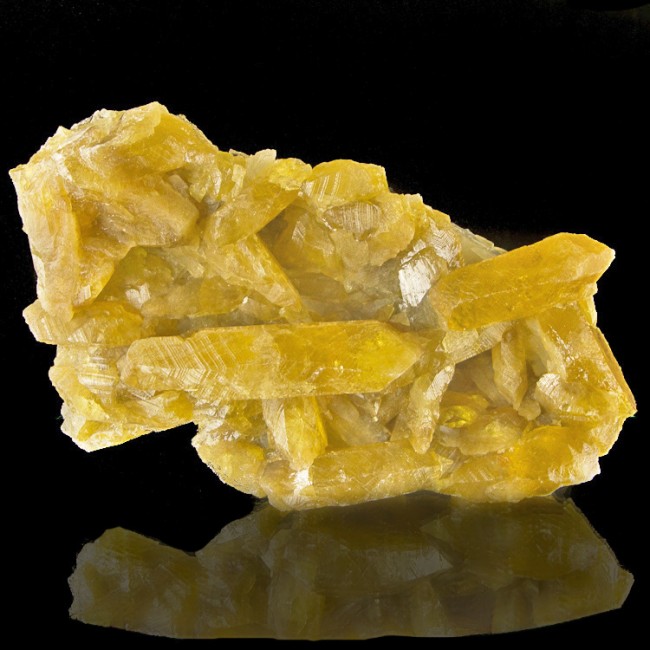 10" Honey Golden BARITE CRYSTALS to 4.4" Fine Classic Meikle Mine Nevada for sale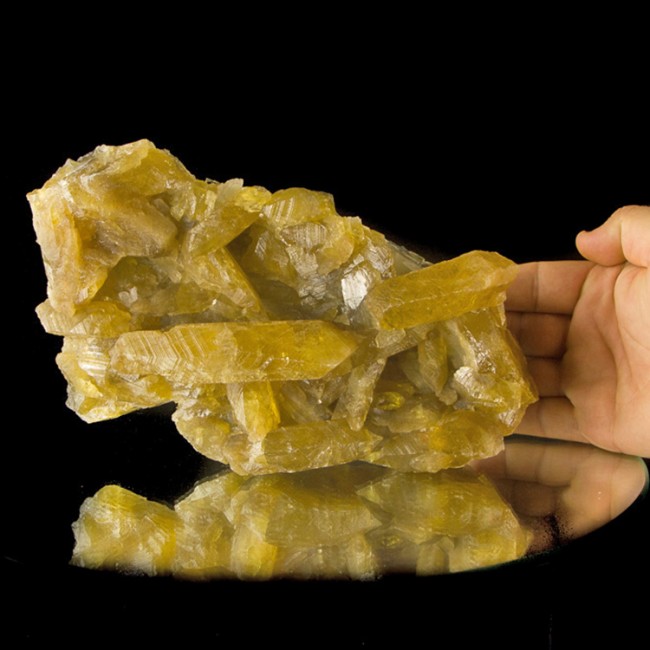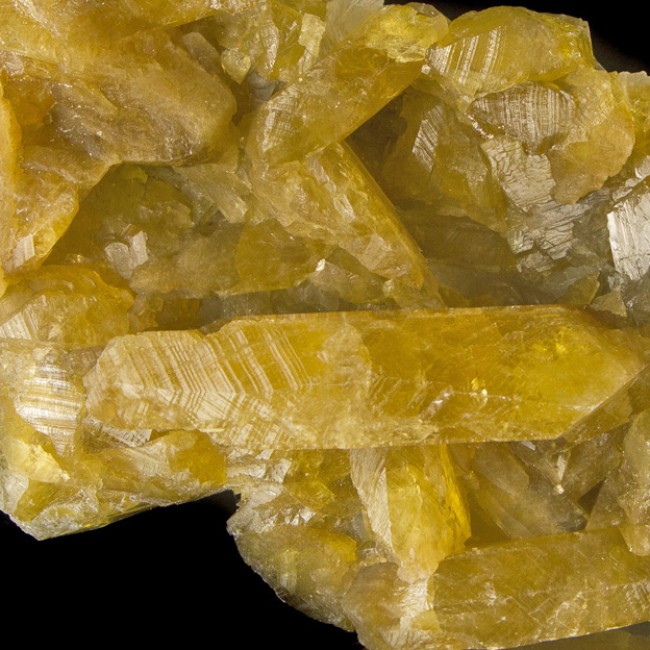 This museum size & quality cluster of glassy golden yellow tabular barite crystals is spectacular - an excellent example of the world-class barite from the Meikle Mine in Nevada. The barite crystals are enormous - up to 4.4" - and they are sharp and fairly gemmy. The lustrous, brilliantly reflective crystals and crisply formed edges and joins will make this an outstanding specimen, and there is no damage.
3.5" Dioptase with Shattuckite from D.R.Congo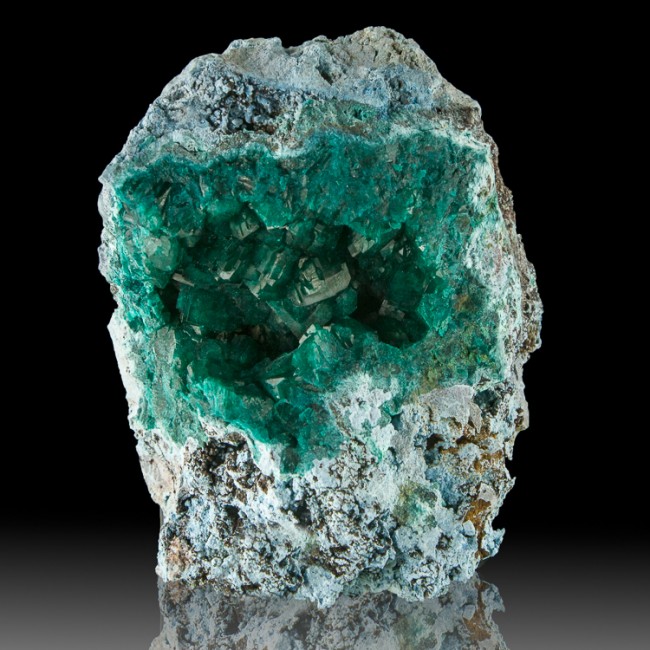 3.5" Wet Look Gem Green DIOPTASE Crystals with Turquoise Shattuckite Congo for sale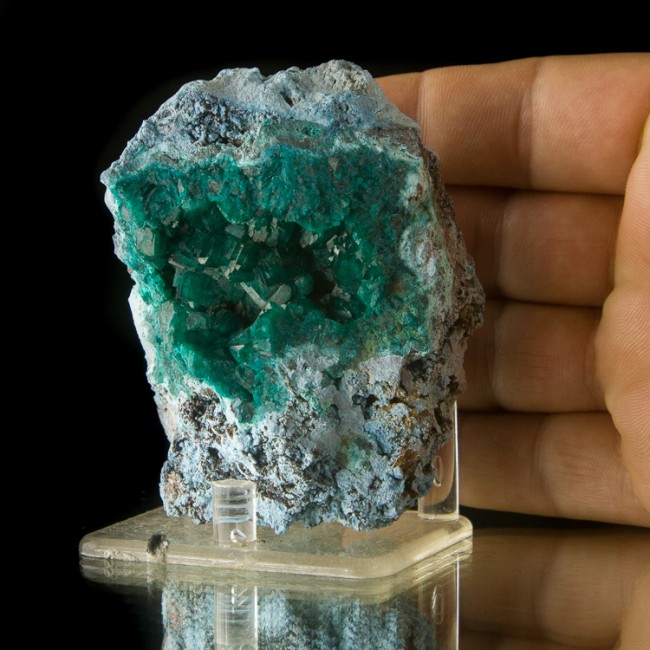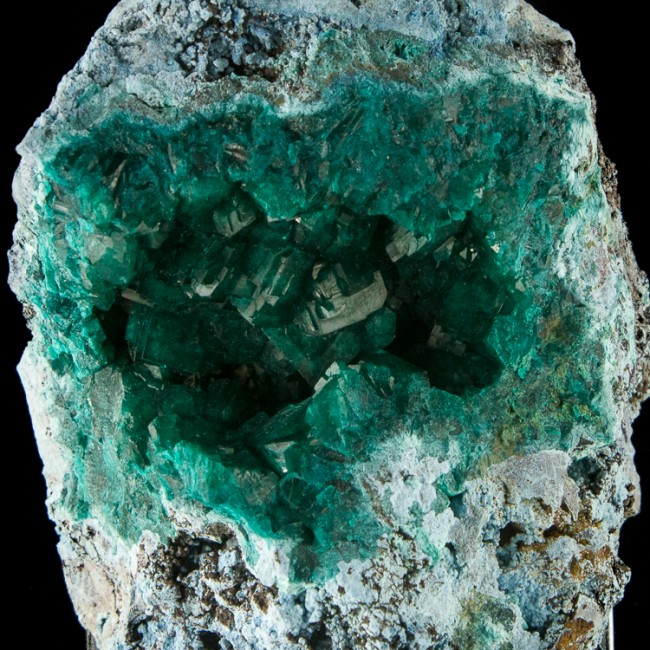 The fine dioptase crystals on this specimen line a vug in a bright baby blue shattuckite matrix. The contrast is fantastic, and gives the specimen a visual appeal that can't be beat. The dioptase crystals are very sharply formed, and are colored a saturated shade of green that I find really appealing. Light glints off the lustrous crystal faces, giving the piece a nice flashy quality. The largest crystal is about .4" long, and all of the dioptase has crystallized in an unusual almost cubic habit. The shattuckite is crystalline, and has formed as tiny botryoidal balls where it grew in the open vug. No damage.
4.3" Extra-Large Selenite Crystal Ball "Mace" from Winnipeg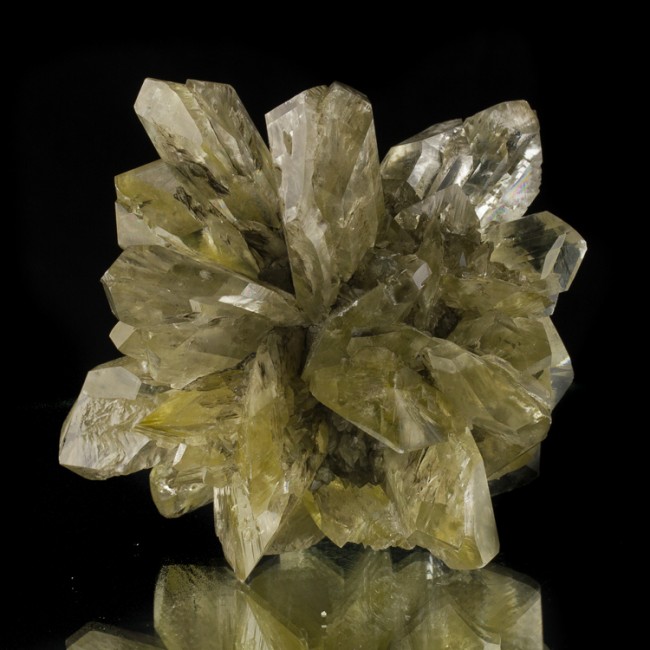 4.3" JUMBO SELENITE "MACE" Crystal Ball Pale Golden Crystals Winnipeg for sale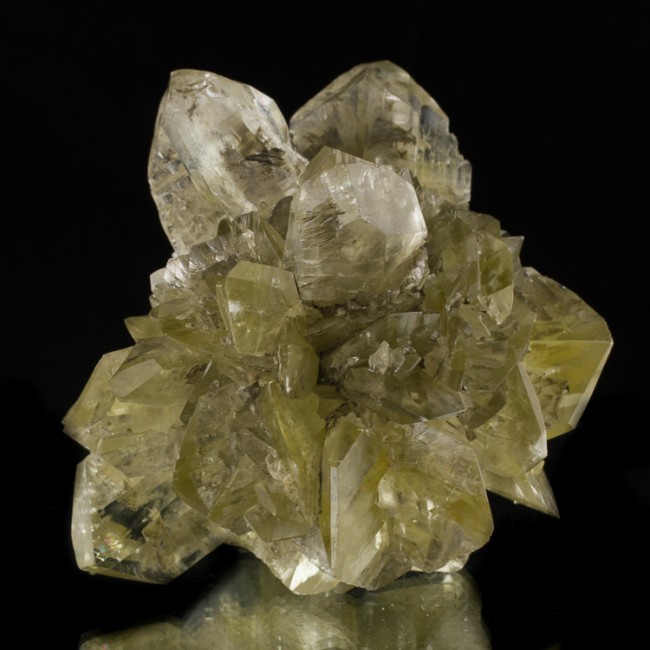 This outstanding specimen of selenite features large, sharp, gemmy crystal blades on all sides. It is about the largest one I have ever seen. The crystals are colored a delicate, very pale yellow color in regular light, but the specimen fluoresces a brilliant blue-white under short-wave ultraviolet light. The selenite is very sharply formed, and the dramatic, spiky formation which resembles a medieval mace make this a very eye-catching display specimen.

8.9" Chocolate Calcite with Dogtooth Crystals from Mexico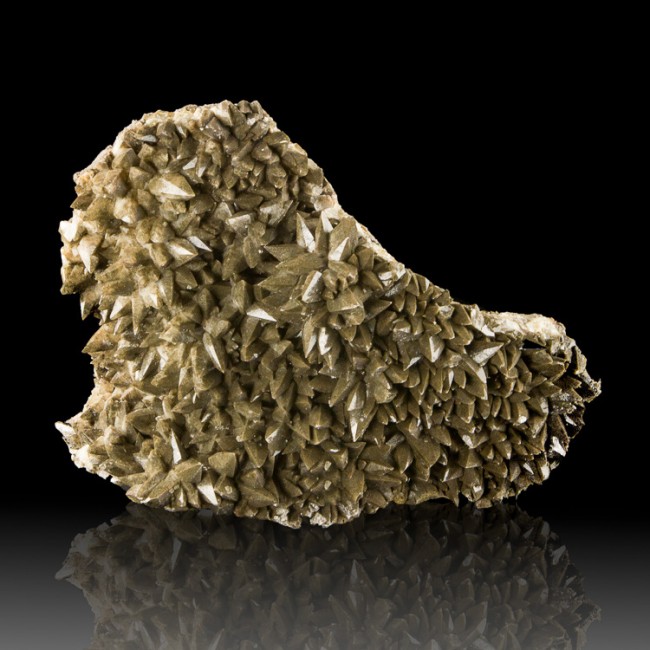 8.9" Prickly Spiky Sharp CHOCOLATE CALCITE Shiny Dogtooth Crystals Mexico for sale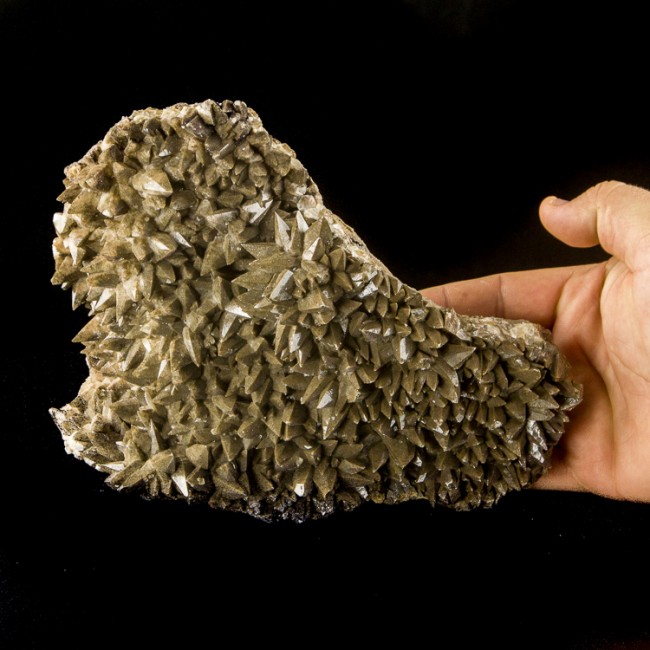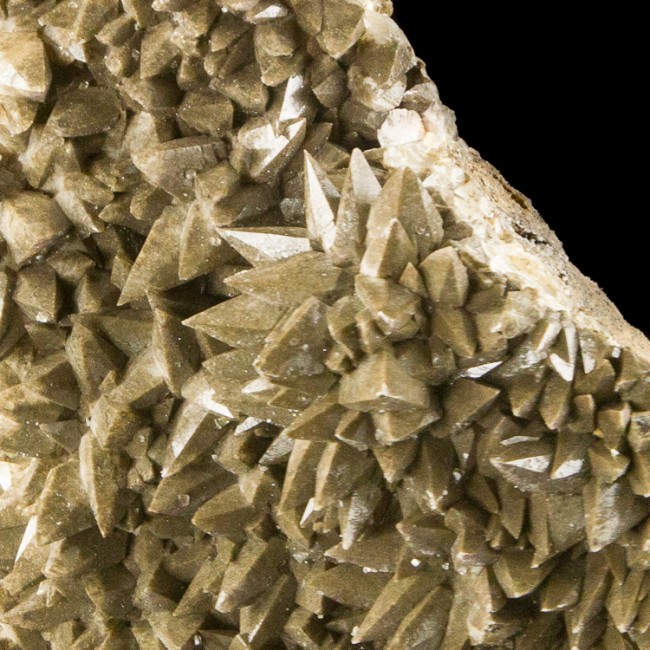 Here is a fine specimen of chocolate calcite from Mexico, featuring sharply terminated rhombohedral ("dogtooth") calcite crystals in a rich dark brown color. The crystals are very sharply terminated and have a flashy, glossy luster. The matrix is completely covered with crystals that taper steeply to very sharp points. A few of the points have minor bruises, but the vast majority are pristine.


2.2" Ajoite Pseudo Malachite/Azurite from D.R.Congo - NEW!

23.6" Neon Aqua-Blue AJOITE CRYSTALS Pseudo Malachite/Azurite D.R.Congo for sale


Here is a superb and brightly colorful specimen from the new find of ajoite at the Luputo Mine in the D.R.Congo. The crystals, which are small needles, are complete and undamaged on this brightly colorful piece. They have grown as encrustation pseudomorphs over and around complete crystals of azurite which have been replaced molecule-by-molecule by malachite. In a few sparse spots there are malachite crystals which have grown on top of the ajoite, making this a triple pseudomorph. The backstory is that this material has been around for several years, but was believed to be chrysocolla or shattuckite. Then, in early 2015, Dr. Hexiong Yang of the University of Arizona analyzed it and confirmed that it is in fact ajoite which has overgrown pseudomorphs of malachite after azurite. I first heard this story in Tucson in 2016 from Pu Tzu, who runs the website, The- Vug.com. Further confirmation came from John Betts, Brian Kosnar, and other reputable dealers who finally overcame my initial skepticism.


8" Bladed Cleavelandite Crystals from Brazil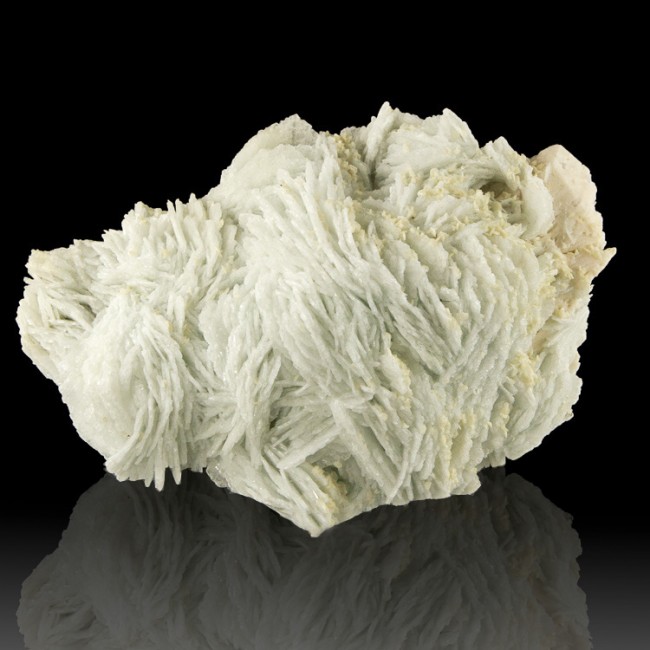 8" Gemmy Pale Blue & White CLEAVELANDITE Excellent Bladed Crystals Brazil for sale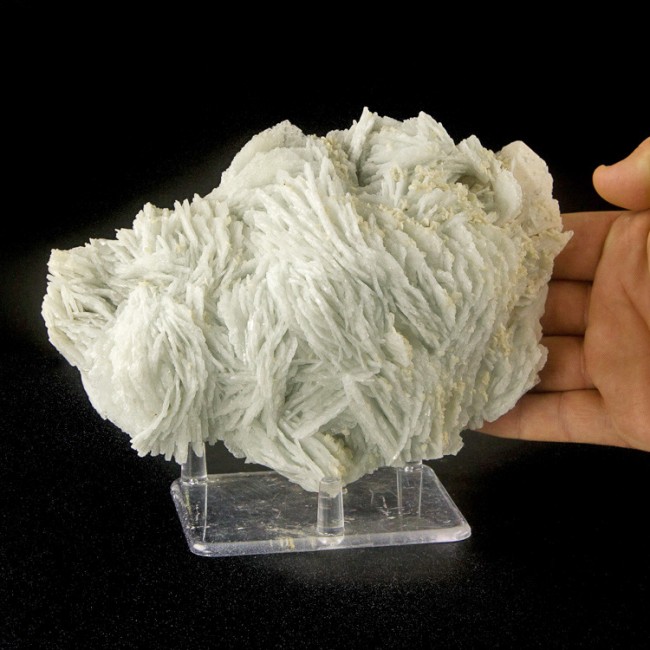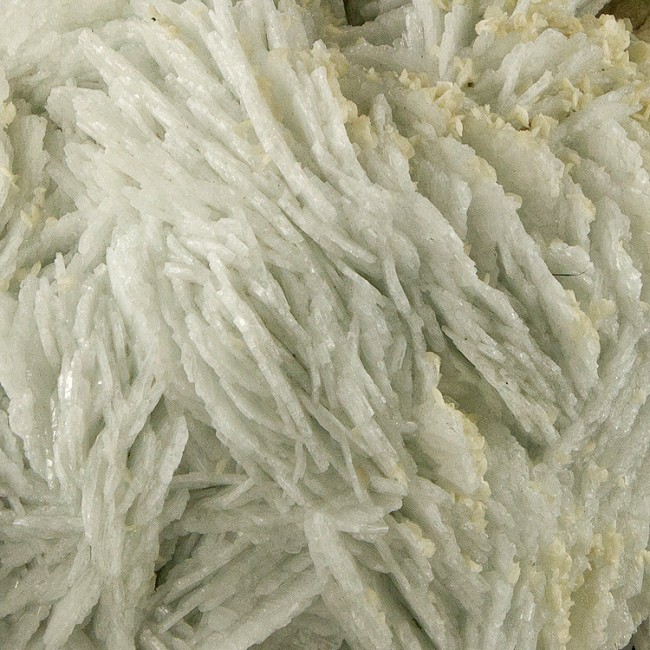 This is undoubtedly the finest cleavelandite specimen I have ever seen or owned. The undamaged crystals are partially gemmy, and are colored a pale sky blue color that is really memorable. The crystals formed as swirling rosettes of wide, flat individual blades, and they are large and well-formed for the species. Cleavelandite is a variety of albite which only grows in open pockets. .
3.8" Rare Classic Paravauxite from Bolivia (ex-Smithsonian)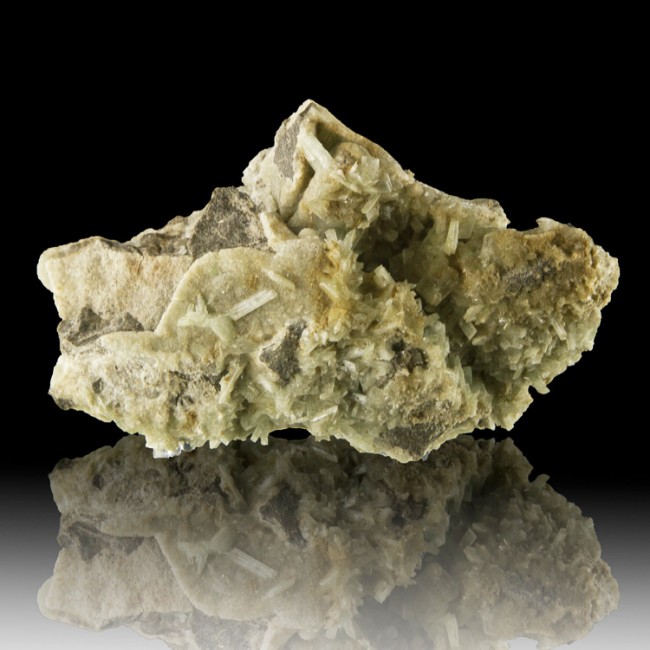 3.8" Rare Classic PARAVAUXITE Light Green Gemmy Crystals pre-1967 Bolivia for sale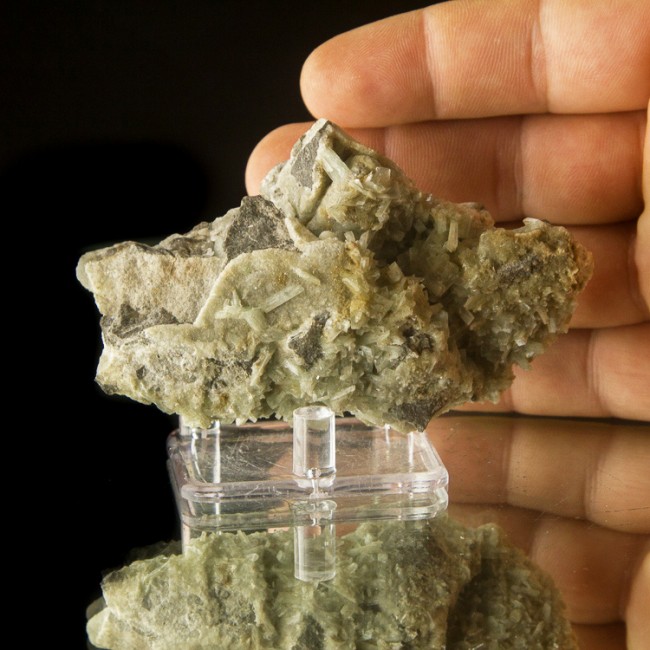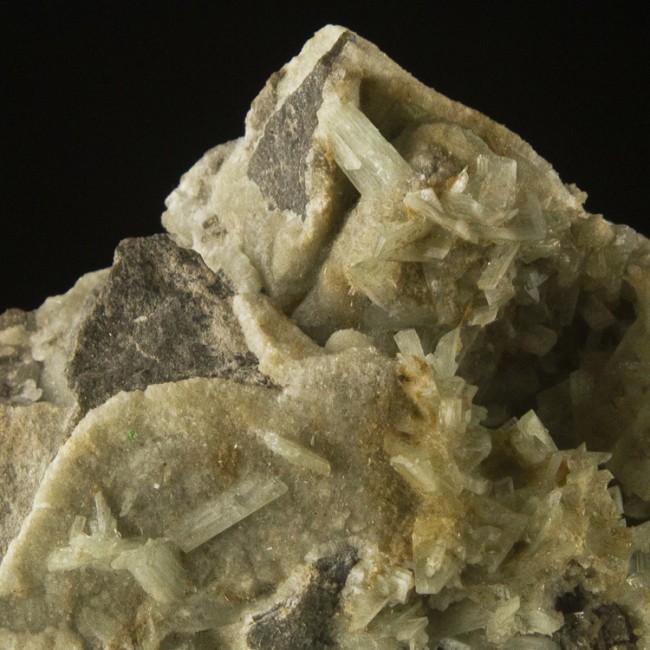 Hundreds of superb, terminated paravauxite crystals cover almost the entire matrix on this old classic specimen, which dates to before 1967. The crystals, which are up to 8mm, are transparent and gemmy, and are colored a light green color with a high luster. Matrix specimens of paravauxite are really rare, and this one is an outstanding piece from the type locality. There are old labels with this piece, one from Crystal Classics and the other (handwritten) stating that it was acquired in 1967 from John White, curator of the Smithsonian, so it is probably from there. There is a copy of an old Smithsonian label, too.


7.9" Candle-Like Malachite Stalactites from D.R.Congo

7.9" Vivid Green MALACHITE STALACTITES Pristine Candle-Like Columns Congo for sale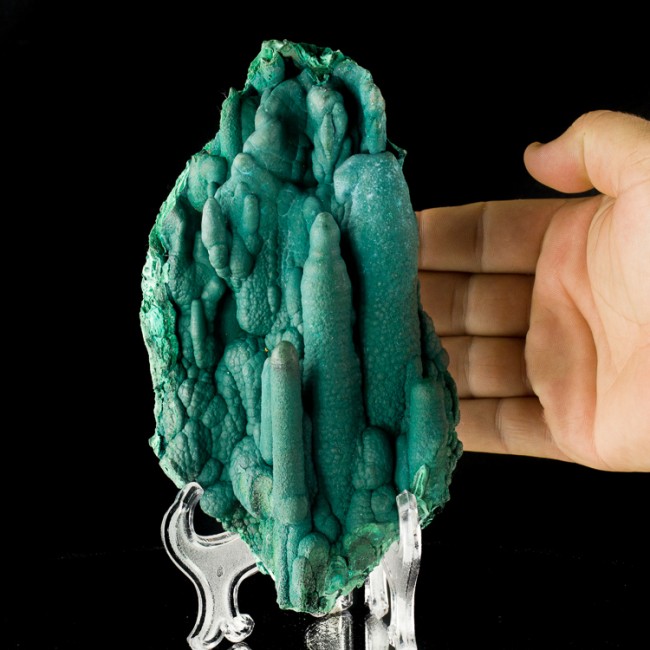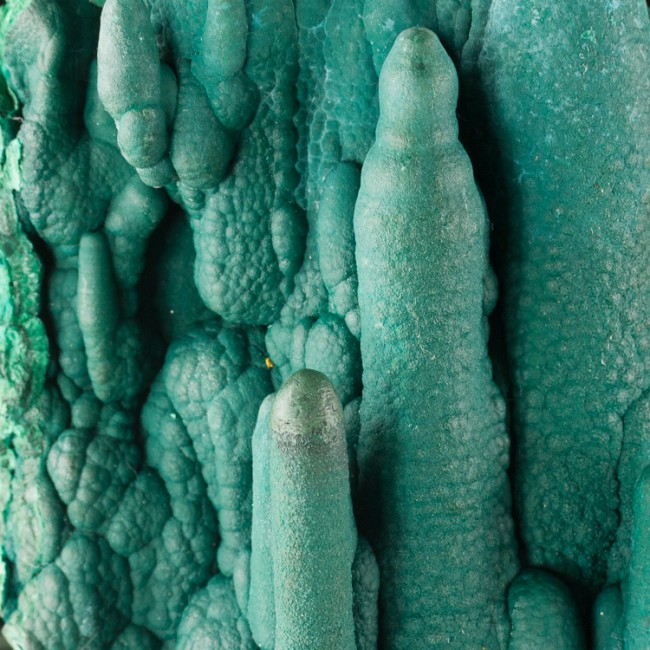 Here is a beautiful and aesthetic cluster of dozens of malachite stalactites that are the size and shape of thick candles, and which completely cover the front of this large specimen. The stalactites, which reach up to 4" in length, are covered with small hemispheres of slightly rounded botryoidal growths, with smooth rounded tips. The color is an intense, super-saturated dark green, which is particularly rich. This is the finest malachite stalactite specimen I have ever owned, a personal favorite for both display aesthetics and superb quality.


3" Spray of Amethyst Crystals from Guerrero, Mexico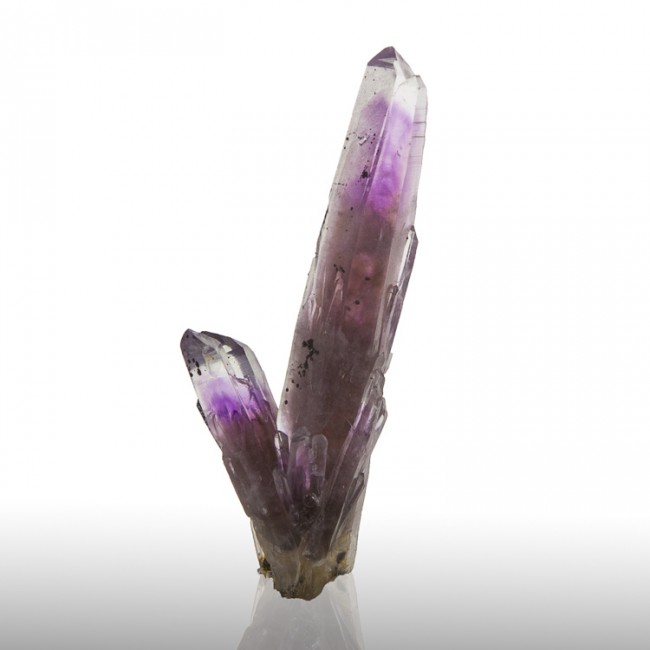 3" Dramatic Spray of Purple Phantom AMETHYST Crystals Guerrero Mexico for sale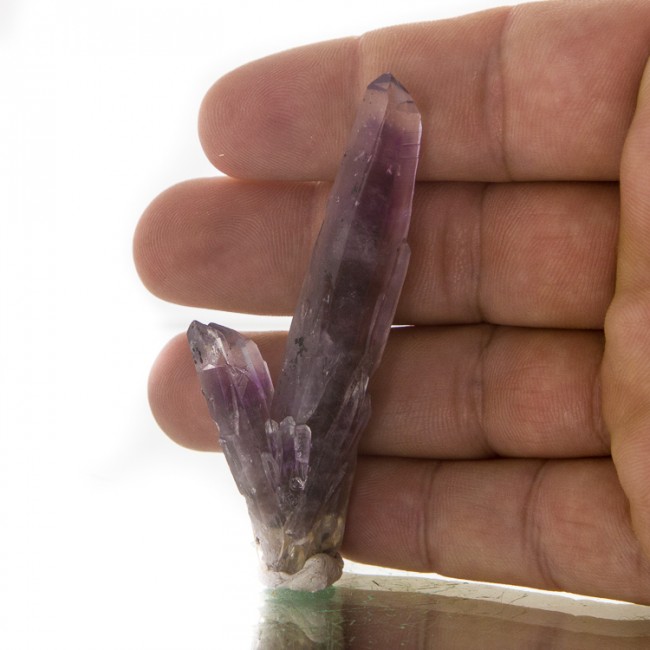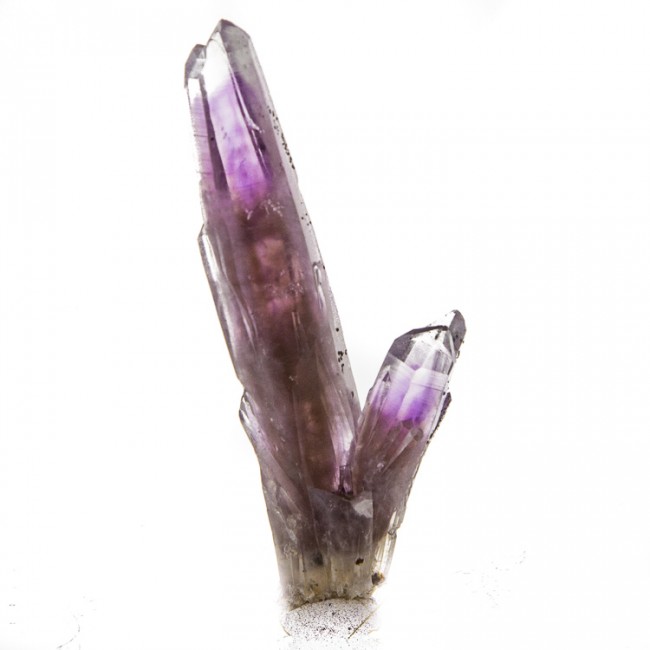 Here is a radiating spray of gemmy, intensely purple, shiny, transparent amethyst. There are sharp phantoms in almost all the crystals, and the color is quite rich except at the terminations where it grades to colorless. These crystals are really gemmy, so they look pale in the photos because the light runs through and can't capture the lush, grape-juice color they have in person. As is typical of the material from this famed locality, the crystals are sharply tapered and very nicely terminated. There are no missing crystals, and no damage to this highly aesthetic, very choice Guerrero amethyst.
4.2" Rainbow-Colored Fluorite Polished Wand from China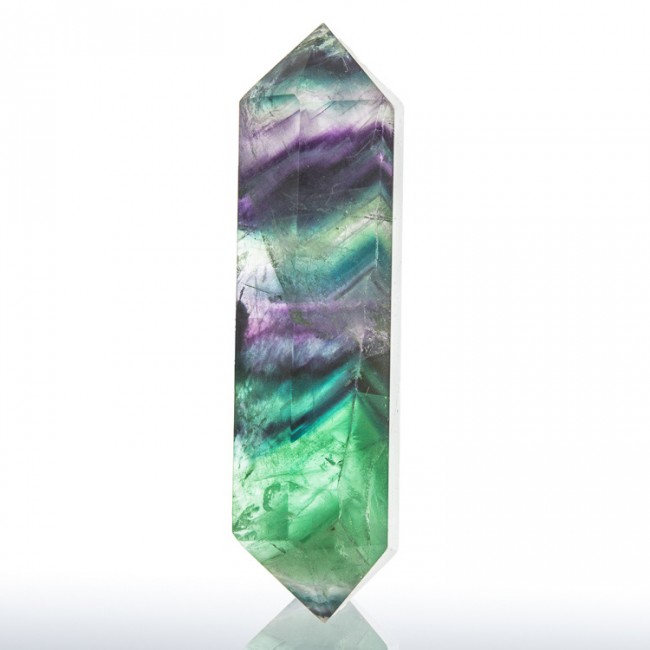 4.2" Vivid Rainbow Colors Polished FLUORITE Double Terminated Wand China for sale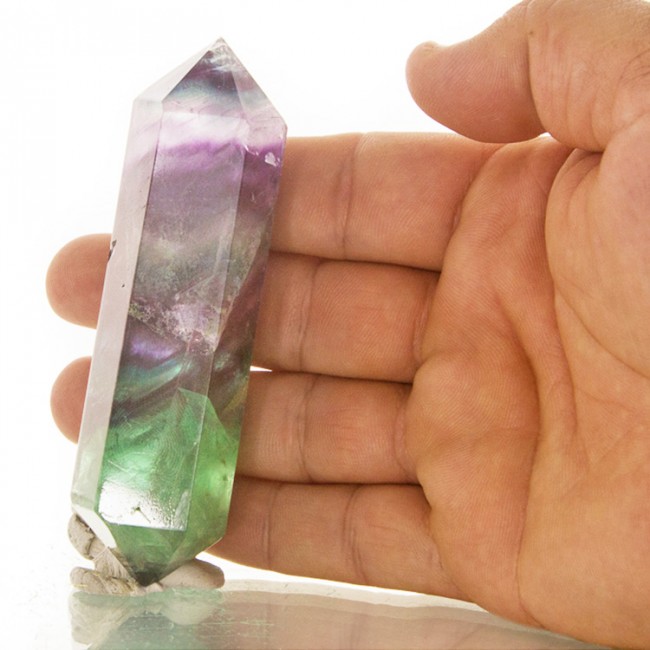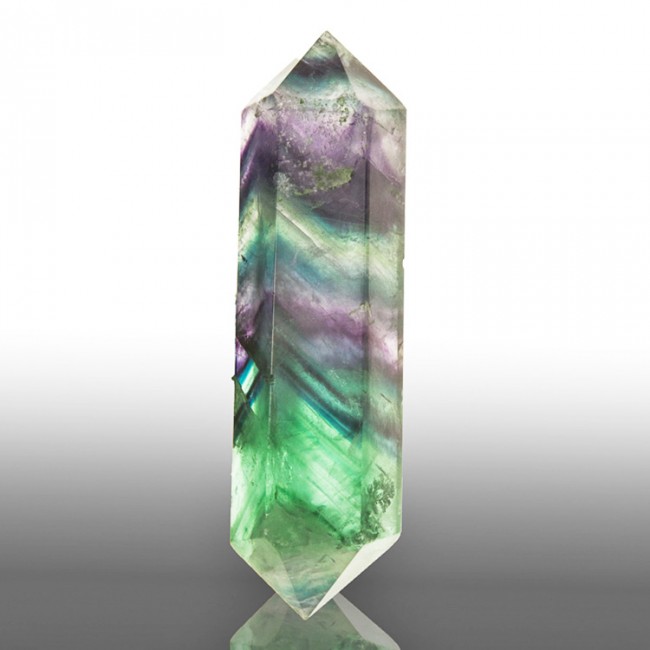 This double-terminated polished fluorite wand features banded phantom layers in vivid rainbow colors, including vivid shades of purple, green, blue-green and clear. Each layer represents a different stage of deposition, and the colors are especially clear when the piece is backlit. Its colorful bands and bright, polished luster make this a highly aesthetic display specimen that fits nicely in the hand. I don't usually go for shaped and polished specimens, but I couldn't help but fall in love with the intensely saturated rainbow colors on this one.


5.6" Peppermint-Stick Pink Cobaltoan Calcite from Morocco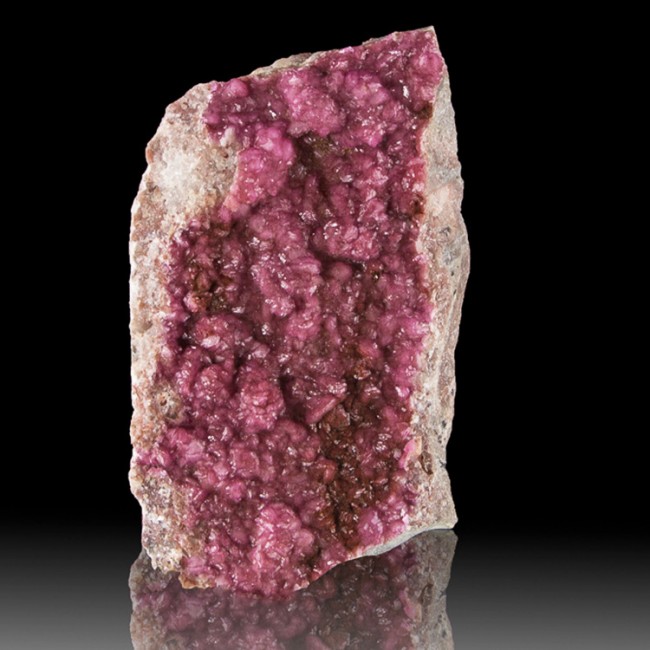 5.6" Peppermint Stick Pink COBALTOAN CALCITE Wet-Look Crystals Morocco for sale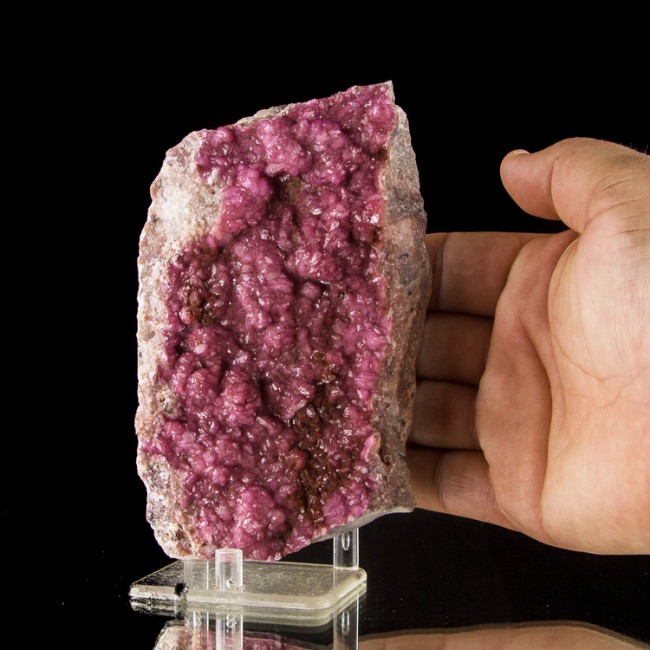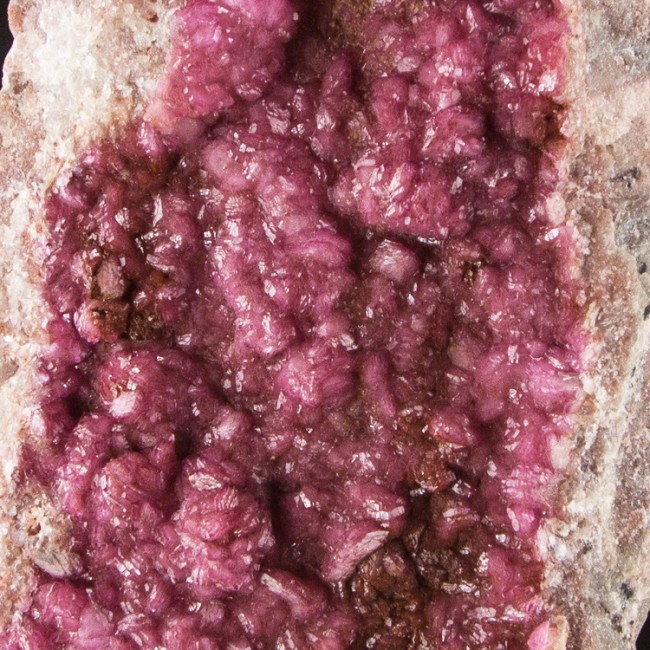 You will not believe the bright magenta pink color of these cobaltoan calcite crystals. The sharply formed crystals are very gemmy, and highly lustrous. The smooth crystal planes are so smooth that they look wet, and shine brightly in the light. The coverage is excellent, and there is no damage, so the aesthetics are fantastic. The piece has been sawn so it stands upright on its own.


7" Brilliantly Colorful Turquoise Chrysocolla from D.R.Congo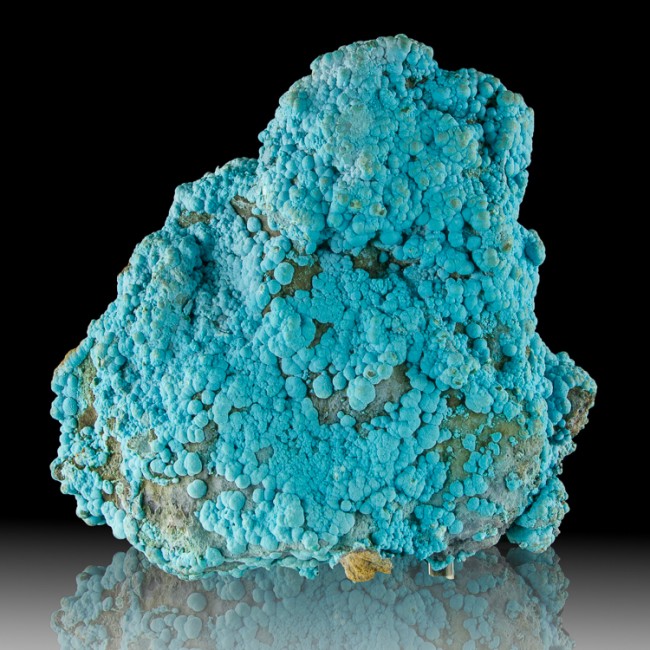 7" Bubbly Botryoidal Mounds of Baby Blue CHRYSOCOLLA on Matrix Congo for sale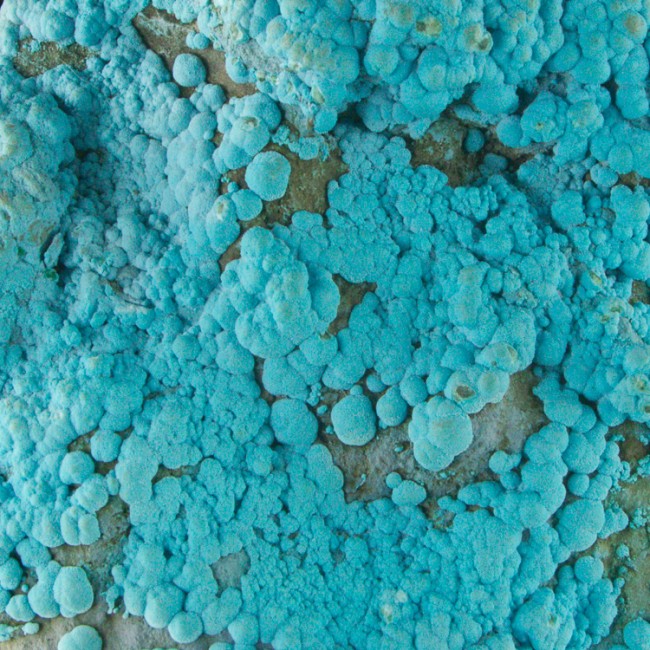 Here is a beautifully-formed specimen of botryoidal bubble chrysocolla, which almost completely covers the dark gray matrix. It has a very bright turquoise blue color that is quite stunning and very pleasing to the eye - much brighter than the usual color for chrysocolla The mounds are almost entirely free of damage, and there are no distracting patches of missing or broken crystals. This is a visually appealing specimen that is very display worthy.


8.7" Exceptional Sapphire Blue Kyanite Crystals from Brazil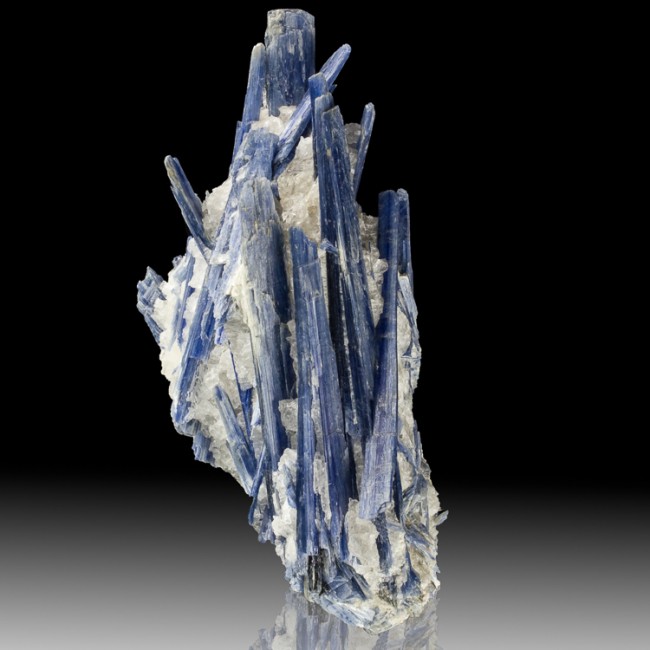 8.7" Vivid Sapphire Blue Bladed KYANITE Crystals in Milky Quartz Brazil for sale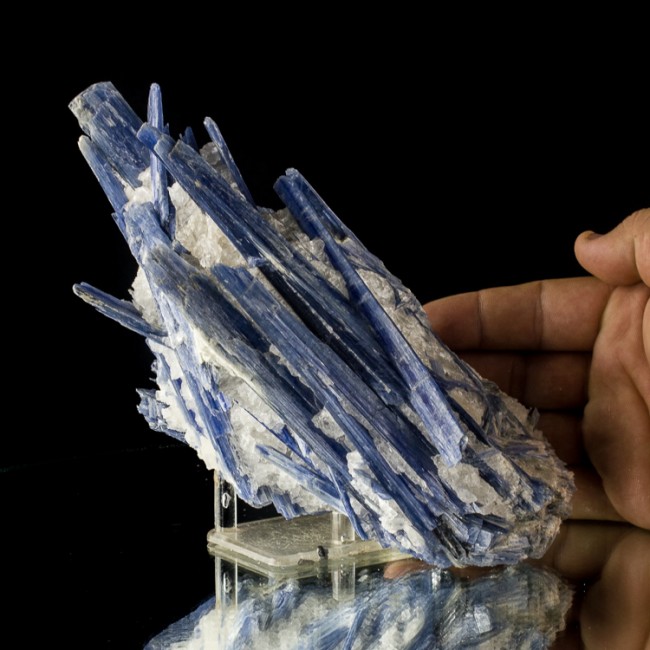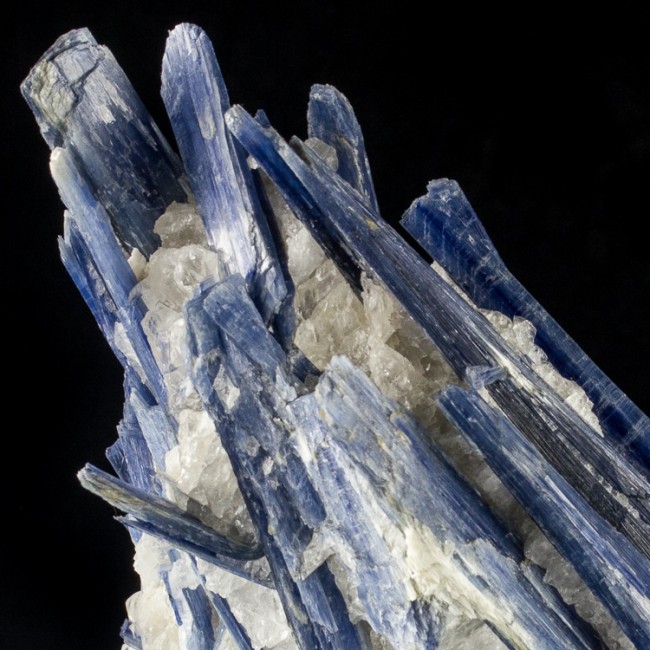 The crystals on this kyanite specimen are a beautiful sapphire blue color that captivated me when I saw a bunch of kyanite on display in Tucson. In the bright sunshine, the color was the most eye-appealing blue I have ever seen in kyanite, and I immediately set about selecting the best the dealer had set out, then unwrapped the rest of his specimens (still in a 55-gallon drum) so I would get first pick. The blue contrasts nicely with the interspersed white quartz. The shape is highly aesthetic and especially appealing, with blue blades sticking out in many directions. This is my favorite piece from this haul, with superb sculptural form and high visual appeal.
3.7" Lime Green Pyromorphite from a New Find in Morocco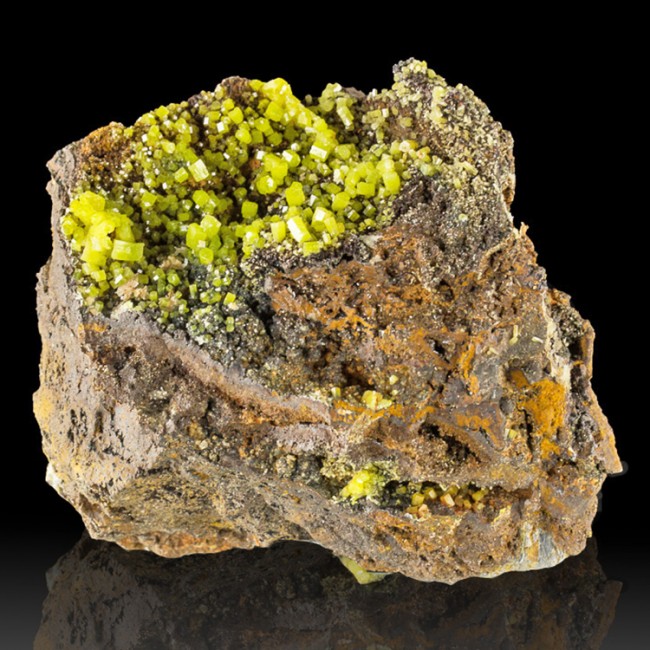 3.7" Lime Green PYROMORPHITE Sharp Terminated Crystals New 2016 Morocco for sale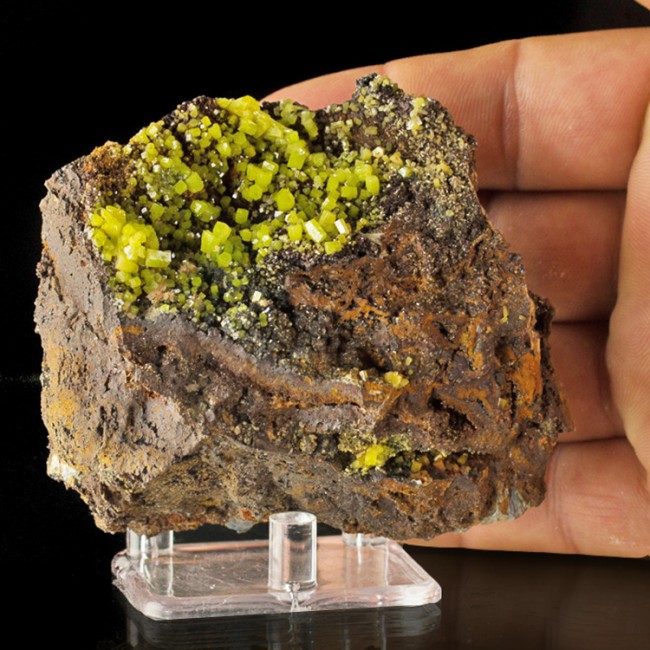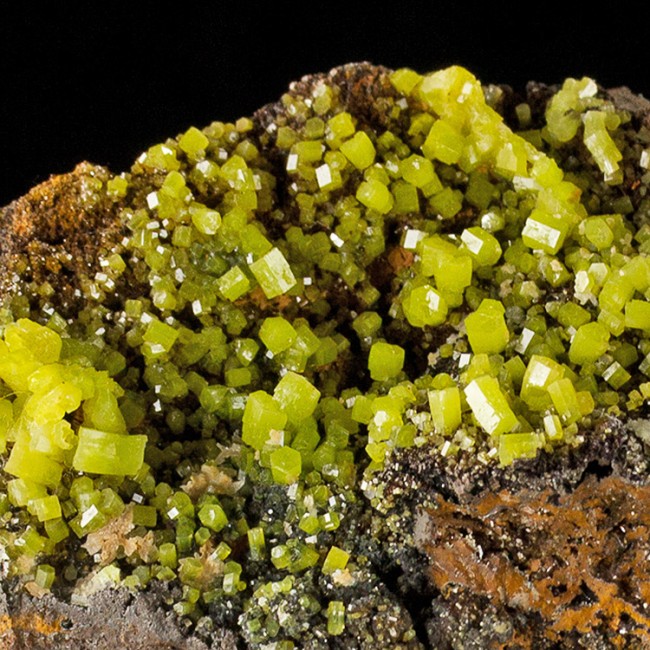 Here is pyromorphite from a new find in July, 2015 in Morocco's Khenifra province. The crystals are very well formed as sharp hexagonal prisms with pinacoid faces. They have glossy, wet-look luster, and range in size from 2-5mm. The color is a very bright green, much less yellow than found on most samples. I found this piece in Tucson in 2016, on the table of one of only 2 Moroccan dealers who had this material available. This was the best specimen I saw anywhere at the show.


2.1" Pyritized Ammonite Fossil (Both Halves) from Germany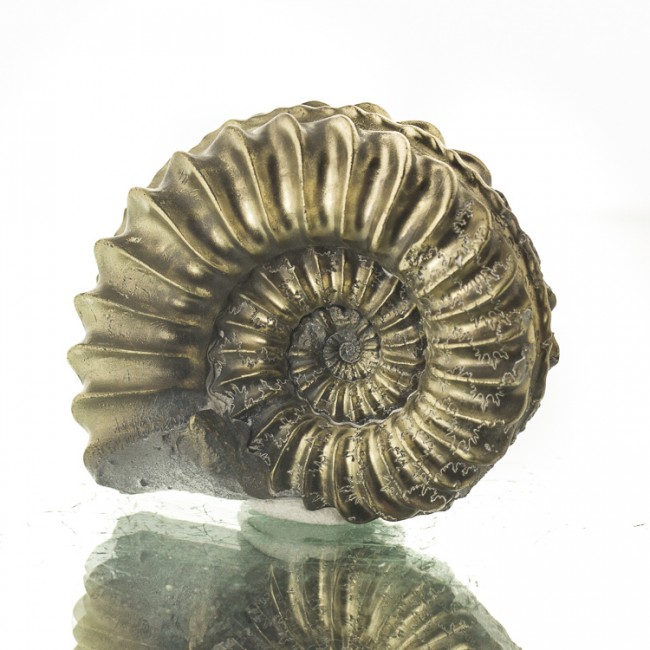 2.1" Shiny Golden PYRITE AMMONITE Fossil Both Halves in Matrix Germany for sale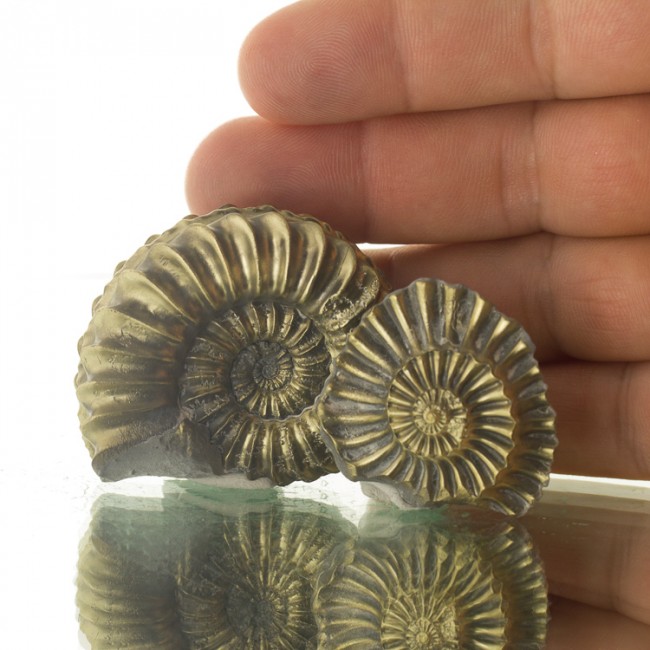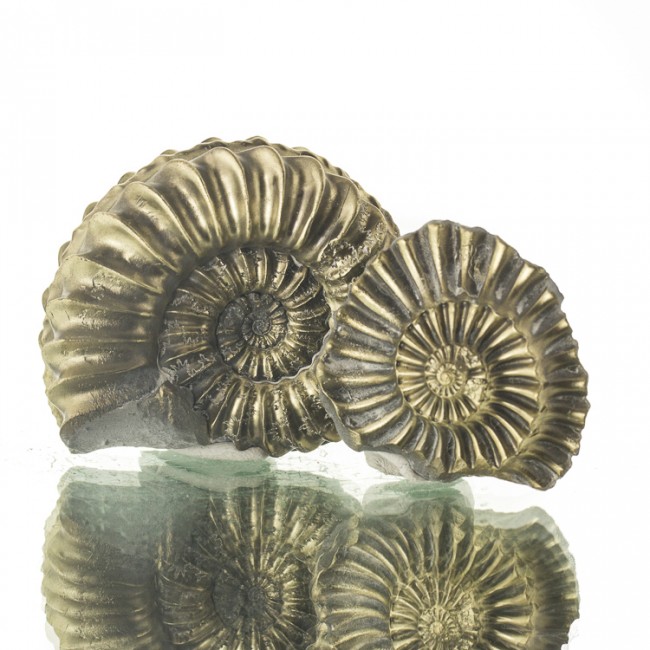 In Bavaria there is a locality which produces amazing ammonite fossils which have altered to pyrite. This specimen includes both positive and negative halves of a naturally cast pyritized fossil ammonite, Pleuroceras spinatum. The fossil is a shiny, brassy gold color, showing lots of details of the tightly spiraling shell. This one is large for the locality, and highly detailed right down to the smallest coil. The shell is set on matrix, which covers the back of the complete fossil. Fossils become pyritized when they are embedded in marine sediments which supply the sulfur and iron needed to form pyrite. This is an undamaged Jurassic fossil (200 MYO).


2.4" Amazonite & Smoky Quartz Combo from Smoky Hawk Claim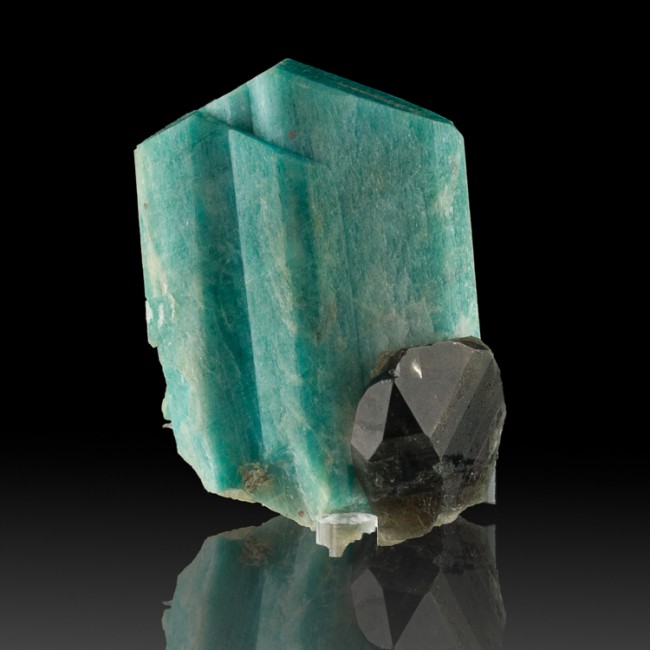 2.4" Vivid Turquoise AMAZONITE with SMOKY QUARTZ Crystal Smoky Hawk Claim CO for sale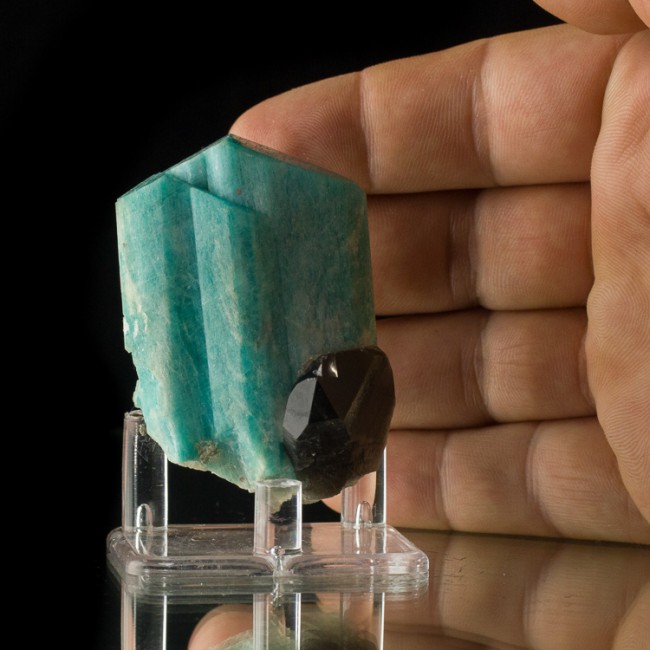 Here is a vividly colored robin's egg blue amazonite crystal from the Smoky Hawk Claim that has a sharply terminated smoky quartz crystal growing out of one side. One of the smokies is attached like a sidecar to the larger smoky, and it is doubly terminated. The amazonite crystal is complete and sharply formed, with smooth sides and outstanding color, and it is nicely twinned as well. The smoky quartz crystal is nearly black, providing outstanding contrast, and it is pristine and damage free.


2.9" 1410ct Gem Clear Natural Blue Topaz from Brazil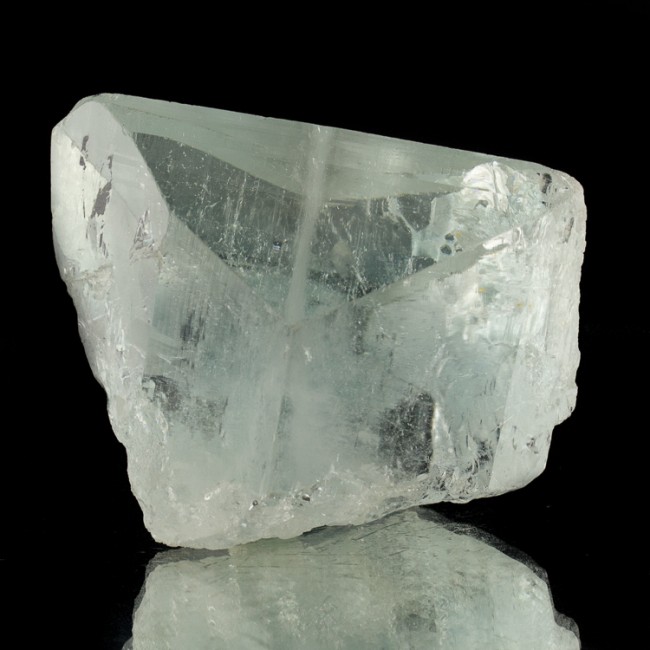 2.9" Water Clear Gem BLUE TOPAZ Extra-Sharp Terminated Crystal 1410ct Brazil for sale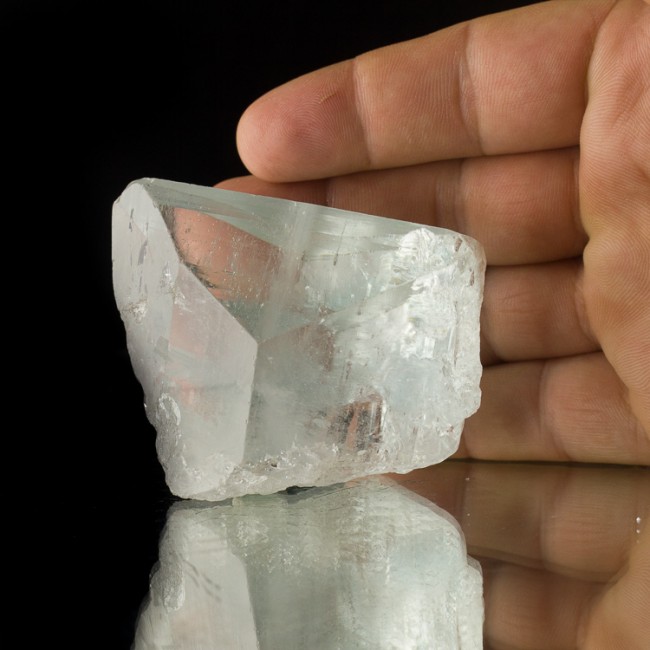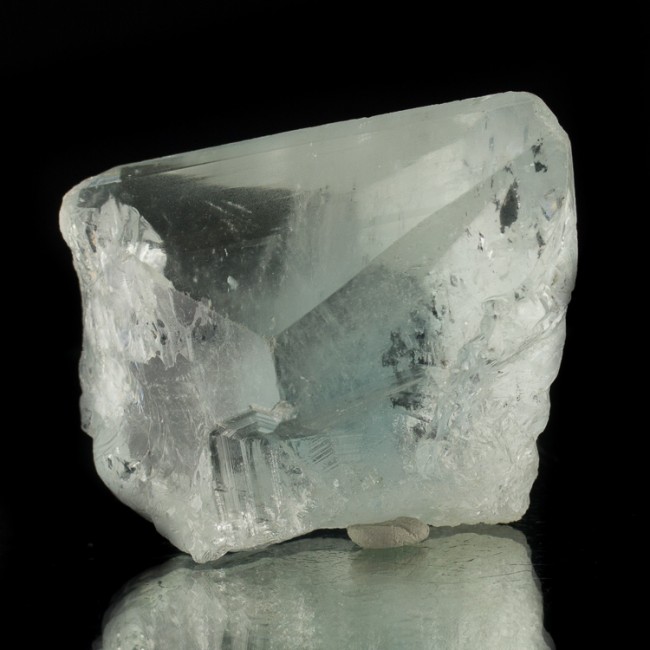 Untreated, natural blue topaz crystals like this one from Brazil are rare, and make great specimens. This one has an excellent termination, and is water clear. The crystal faces are smooth, lustrous, and transparent, and the interior is water clear with some clean gem areas. There are two small bruises on the outside corners of the termination, but they are not visible from the front.


1.8" 255ct Vivid Green Tsavorite Garnet Crystal from Tanzania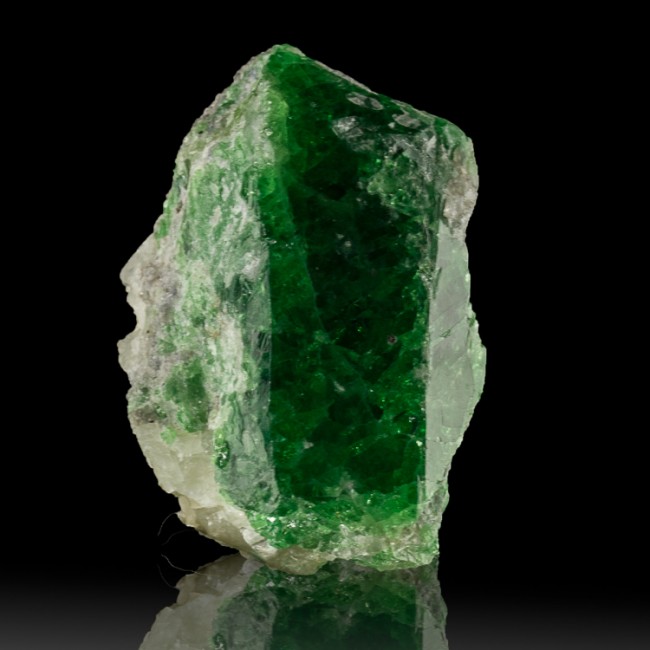 1.8" 255ct Colorful Grass Green TSAVORITE GARNET Gemmy Crystal Tanzania for sale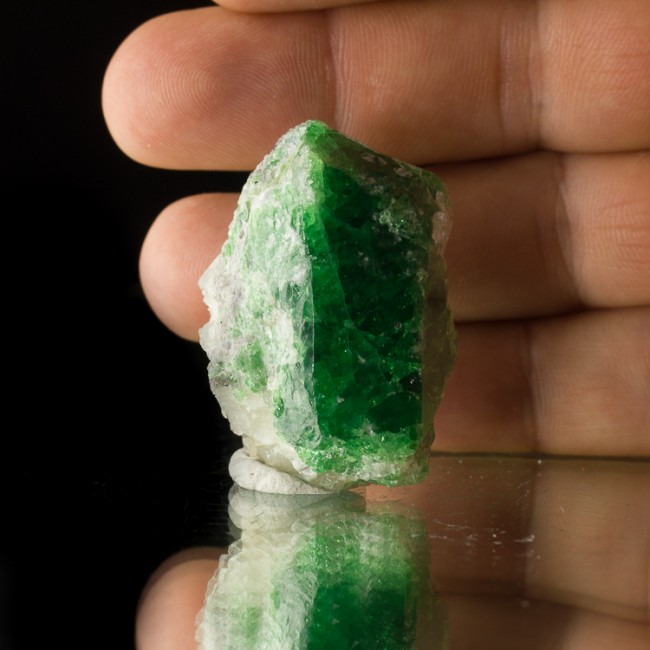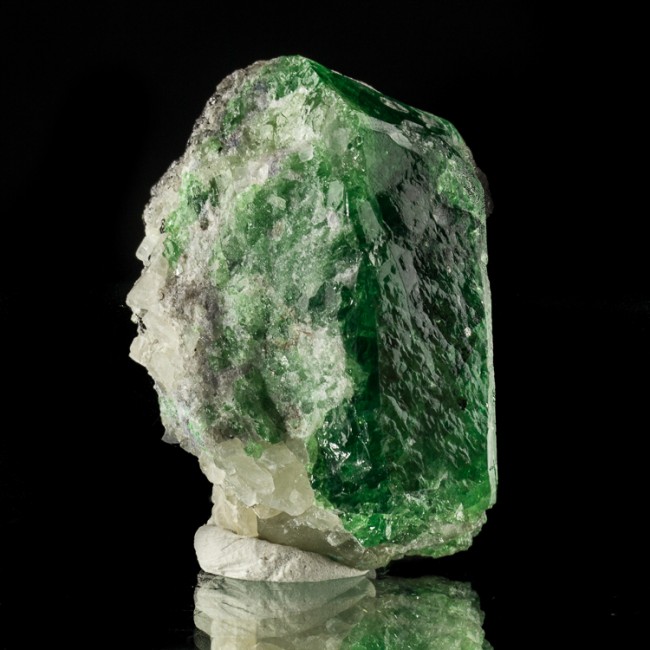 Here is a display-worthy tsavorite crystal from Tanzania. The crystal is well formed, very shiny, and somewhat gemmy, with a few small portions that are translucent. The color is an exuberant grass green, and the crystal has smooth, highly reflective faces and fairly sharp edges, in a dodecahedral crystal habit.
Click here to see more
of the new specimens from Tucson 2016
© Copyright 2016 Treasure Mountain Mining