This is big business for Tucson, with an estimated 5 million visitors spending an estimated $120 million on just hotel stays and restaurants (and who knows how many million on rocks!). There are over 40 shows, set up around town in everything from giant halls to entire hotels with dealers in every room, to gigantic exhibit tents bigger than a football field, and down to single 12' x 12' tents for individual dealers. Almost all the shows are free and open to the public. And at the end, there is a "grand finale": the Tucson Gem & Mineral Society's "main show" held in the Tucson Civic Center from Thursday through Sunday of the second weekend in February. This year's theme was "Shades of Blue", and it featured dozens of world-class exhibits with blue minerals and gem crystals galore.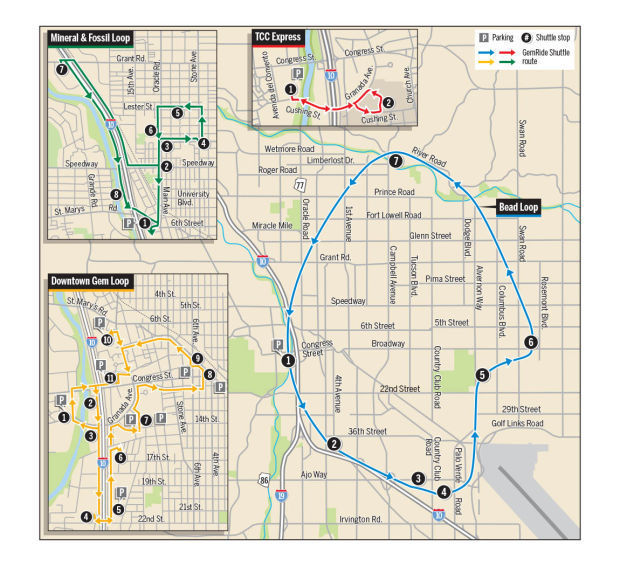 Maps showing shuttle routes to the major shows
Though vendors usually stay in the same place every year to make it easier for buyers to find them again, they do move around, or simply don't come back. That means there is always a bit of hit-or-miss, and with new shows popping up every year, there are new dealers to be discovered around every corner. There are other changes, too, not always for the better. For example, at the Tucson City Center Hotel (TCCH), a new owner had applied austerity measures which made the grounds look, frankly, shabby. Here are before and after photos of the grounds:

2015 view of the grounds at TCCH

TCCH in 2016 (if you don't water the grass in Tucson, it turns to hay)
We heard from a bunch of the 200+ dealers set up there about problems, including horror stories galore: overflowing sewage, no heat, no electricity, etc. Yet the TCCH is still the premiere place to go for minerals, so I guess the dealers just have to put up with it.
Another noteworthy event this year was the announcement by Cal Graeber and Jesse Fisher that UK Mining Ventures that 2015 was their last year of mining at the Rogerley Mine in England. Lucky Jeanne and me that we went to visit and do some underground mining back in June! These kind gentlemen have had a 15 year run, and produced thousands of top quality fluorite specimens, and I congratulate them not only for the material they produced, but for the class act way they went about it. Well done! Here is a picture of the crowd that formed in front of their room at the TCCH for their grand opening this year.

The line outside the room at UK Ventures
Photo courtesy John Veevaert

Let the feeding frenzy begin
Photo courtesy John Veevaert
Luckily, I was near the front of the line, and got in without being trampled (that's me in the green ball cap). I bought 8 flats of the new material from 2015, which will have to last a while, since it will probably be the last I will see.
Also new in 2016 was the opening of a new venue at the Elk's Club Lodge, a 3-day show that ran from 1/31 to 2/2. Exhibitors included Cal Graeber, Leonard Himes, Unique Minerals, Well Arranged Molecules, IC Minerals, Geocrazy Minerals, Don Olson, Ronna's Treasures and Trinity Mineral Co. A couple of these folks had set up at the Tucson Fixtures Co. Show, but moved here instead. B&L Minerals and Dan Weinrich kept the old show location going, but attracted a much smaller crowd. Here's a photo of the line for this show's grand opening, plus a shot of buyers perusing the flats of specimens inside:

A line formed outside the new Elks Club show on Oracle

Inside, buyers maneuvered to inspect Don Olson's specimens
Every year it seems buyers bemoan the fact that there have been no new finds, and there is no new material to be had. In fact, we heard that from many dealers about this year's show. But I don't buy it. No, there were no blockbuster new finds that blew everyone away (there rarely are). Nevertheless, we managed to turn up some a few new finds from new localities, and some noteworthy new finds from localities already well known. I will showcase these in the next newsletter, coming out next week: My 25 Best New Finds from Tucson 2016.
---
There were several things that I noticed at the Tucson show that tell me that those of us in the mineral business are in for a rough year. First, there were noticeably fewer people in town for the shows. A quick way to judge this was in the ease in finding places to park close to the shows. Unlike previous years, not once did we have to park in a remote parking lot and catch a shuttle. Even at shows like the Rapa River Inn and Pueblo Inn where parking has typically been near-impossible, we were able to park within a hundred feet or less of where we were going - a cause of major celebration in past years, but routine this year. The same was true everywhere parking is limited, including TCCH, Howard Johnson's, Clarion and Pueblo.
Then there is the evidence of how long it took to get seated and fed when eating out. Most of the big hotel shows along the freeway have food stands, and during the lunch time peak, you might have to wait 15-20 minutes to get to the front of the line. This year the lines were only 3-4 people deep, with at times of under 5 minutes (or not at all). And when you went out to dinner at any of the most popular spots, including the Silver Saddle Steak House, Daisy May's, Seafood Chihuahua, and others, you rarely had to wait at all. I am not complaining! This was a welcome change, but it is more evidence of fewer buyers in town.
Next, people were spending less money on mineral specimens. Dealer after dealer greeted us like long-lost cousins when we took out our check book. And these same folks told us there were a lot fewer customers, and that those who did come into their rooms were often just tire-kickers, who would most often just look around and leave empty handed. John Veevart said that he thinks a lot of the big buyers were on the sidelines, "keeping their powder dry," holding onto their money. We did see a few feeding frenzies, like at Top Gem, UK Mining, and the Elks Club, but these were shows for the wholesale market, and they were the only shows where buyers were going crazy. And even at these events, the commotion was much shorter-lived than in previous years. More evidence that buyers were hanging onto their money this time around. And who can blame buyers from holding onto their money, what with the stock market tanking in fall of 2015? Yes, gas prices have fallen to record lows (we saw gas for $1.47 while in Tucson), but for the collector who spends an average of hundreds or even thousands of dollars on mineral specimens, this has little impact on their wallet.
More evidence of change: the Moroccan dealers. Every year the number of dealers from Morocco has grown, and new venues ("tent villages") sprang up along the Main Street mineral corridor to accommodate them. This year there was an entire new village set up there, but the odd thing was that the new one was all but empty, and the older one was only half full. We were told on good authority that a third of the Moroccan dealers at these shows would not be back next year - a 180º reversal in that trend.
You get the picture, I think, and perhaps a little shrinkage is to be expected, given that we have experienced unbridled growth for so long. Of course, if the buyers return and there are fewer sellers, then that will likely cause further price inflation - something no one wants, I'm sure!
There is another unfortunate flip side to this snapshot of the mineral world. The shrinking worldwide economy has had a significant impact on mining, which of course impacts the supply of mineral specimens. Yes, the price of a barrel of oil fell from over $100 a barrel to almost $30. But that didn't help the mines that got caught in the commodity price squeeze. For example, the Elmwood Mine, which produced spectacular orange calcite, sphalerite, and barite specimens, closed again in late 2015, when the price of zinc plummeted from $1.10/LB in May to $.67/LB at the end of the year. The price for copper during the same period fell from $2.90/LB to $1.98/LB. And the same was true for lead, tin, and the other base metals. The impact? No more mining because it is no longer profitable, which means no more mineral specimens from the closed mines.
---
When I think of going to Tucson in late January I usually think of blue skies, palm trees, warm temperatures in the low 70s, and wearing shorts and short-sleeve shirts for several weeks. But Tucson 2016 surprised us: it was a cooler than usual, with temperatures in the 50s and 60s to start, then warming up to only the low 70s. I've learned not to expect much sympathy from my fellow New Englanders who were enduring the January & February cold weather (even if it was record warm weather for much of our travels). I still got my fix of palm trees, blue skies, and the chance to wear shorts and T-shirts, so I am not complaining!
This year we arrived on January 23 and stayed until February 13, and it was every bit as hectic and overwhelming as in past years, as we were speeding from show to show, and from dealer to dealer (there are reportedly 5,000 in Tucson) in search of the best specimens as well as the new arrivals. Every purchase means looking through lots of extraneous material - some are too good and therefore too expensive, many are good but still too expensive, while others are simply not good enough. After picking out some pieces worthy of consideration comes the haggling, trying to get the lowest possible price. If an agreement is reached, then Jeanne writes the check while the seller writes an invoice and wraps all the new purchases so we can carry them to our car and cart them away to our storage locker.
To give you an idea of what our "vacation" is like, we do this every day from 10:00 AM to 6 PM, for 18 or 19 of the 21 days we are in Tucson. Hardly a vacation, but who can complain about spending all day "working" to pick out fine mineral specimens? Not I! Most people who come to Tucson for the first time are almost universally so overwhelmed that even the hardiest are burned out after just 2 or 3 days. And those who make it past that point have usually blown their budget long before they made it to every one of the 45 venues.
More than ever we found time to reconnect with many old friends, some of them dealers we have been buying from since 2001. There are many wonderful restaurants in Tucson, so we always could find a good spot to enjoy a delicious dinner. In fact, I think we ate out with others most every night! That has become a big part of our experience there, and a part we really look forward to. I hope you will go to the 2017 Tucson Show - it is an experience you will never forget. Maybe I will see you then. I plan to be there!
---
PHOTOS FROM THE SHOW

22nd Street Show

Quartz City Mine's display at the 22nd Street Show

Tangerine topaz from Rich Frettard's Agnus Dei Claim in Colorado, as seen on the
Prospectors on the Weather Channel

A cut stone from Rich's find, the largest cut topaz from North America; 1,345 carats

A new find of ajoite from the Congo (formerly thought to be chrysocolla)

Amanda Adkins of the Prospectors

Buy the whole table full of amethyst spheres for $15,000

Fossil ammolite from Canada, over a foot in diameter

More fossil ammolite

Arkansas quartz from the McEarl Claim

Tailgating in the parking lot outside a show

Looking over boxes of azurite concretions from New Mexico

A pretty blue specimen

A Japanese team practices in the U.S. for the first time in 20 years at the
Electric Park ball field

A case full of gem clear blue topaz crystals to 5"

Dwayne Hall of the Prospectors talks rocks with a customer

Whole briskets barbecue over charcoal at the Main Show

A new find of green fluorite from China; nice, but priced triple what it
was worth because it was new (I'll wait and buy some next year)

That's me with a giant shiva lingam from India, where they have been
sacred in Hindu culture for thousands of years.

How many do you want?

"Hey, get your cow skulls right here!"

"Do you want that with or without crystals, sir?"

Jewel Tunnel was still set up in the TCCH ballroom, but Rock Currier was sadly missed

One of the new gold specimens from Brazil, selling for $1,000 a gram
(that's over $28,000 an ounce, or $448,000 a pound!)

Dick Homes with a box of fluorite specimens he picked out from the Mineral Search show.

Dick again, holding an aqua crystal in matrix from Brazil

There were more to pick from, and rhodonite, too

These mysterious parcels showed up in the courtyard of the Tucson City Center Hotel

Did you guess they were full of dinosaurs?

The kids loved playing on them, of course

And then there were the real dinosaur skeletons from China

A magnificent specimen of barite on calcite from Elk's Creek, SD

Can you guess what Bruce Wood was selling?

At the Main Show, a pair of California gold dealers arrange their nuggets

Krystal Dorris Velasco with my wife, Jeanne

Joe Dorris with daughter Krystal, two more of the stars of Prospectors

Jeanne shows off a large plate of Moroccan trilobites

Cranberry-colored tourmaline from the famed find in the 1970s at Brazil's Jonas Mine

Kabongo had a new, much larger tent at the Electric Park show

A display of spectacular, sapphire blue kyanite in quartz from Brazil

More kyanite from the same find

Tables made up of pieces of flashing iridescent labradorite

A phenomenal display of liddicoatite tourmaline from Madagascar

Overview of the main hall at the Main Show

A man and his dog enjoy the show

Eric with his Congolese brother, Max Mpuyi

Mike New writes up a customer's order at the Top Gem show

Inside the Minerama tent at the TCCH show

Jeanne waits for a fresh batch of mini donuts

A table full of Moroccan geodes, died royal purple

Orthoceras fossils at a Moroccan dealer's display

A $5-figure pink fluorite crystal from Pakistan

Plumbogummite pseudos after pyromorphite from China

Prehnite from Mali

Eric picks out a winner!

Purple saguaro cactus with javelinas

A 6" sphere of rainbow obsidian

A fine specimen of crocoite from the Red Lead Mine ($75.000)

Another crocoite from the Red Lead (just $50,000)

Polished slices of rhodonite stalactites from Argentina

Eric holds a chunk of gem rose quartz, priced at over $1,000!

A very colorful but less expensive alternative

A case full of the new finds from the Rowley Mine

One of the new Rowley pieces, with red mimetite balls

An outstanding specimen of rutile epitatic on hematite

A view of Mt. Lemon from Sabino Canyon

Saguaro cactus in Sabino Canyon

They are everywhere!

Schorl tourmaline selling for $50 a kilo

A private showing we went to of minerals de-aquisitioned from the A.E.Seaman Museum

A full jaw of megalodon fossil shark teeth

Soda anyone?

One of the new finds of smoky quartz on amazonite from the Smoky Hawk Claim in Colorado

Sunset over A Mountain west of Tucson

...and then it got better

...and better

...and then amazing!

Sweet Home Mine rhodochrosite ($55,000)

The line forms outside the top Gem warehouse for the grand opening

And the feeding frenzy begins

Speaking of a feeding frenzy, who could pass up the free lunch?

A mariachi band serenaded the buyers

A quiet moment at Top Gem, after the crowd had gone

Across the way, the Oracle Show featured another 8 wholesale dealers

A display of tourmaline crystals from Brazil

Now there is a trilobite!
Mineral water for sale: just pour a glass of water and add minerals!
($5 per bottle)

Watermelon tourmaline slices

A display of Yukon gold from the 19th century, recovered from a shipwreck off the Alaskan coast



We kept all of our purchases in a storage locker until we were ready to load our truck

Loading the truck to transfer our purchases across town to the freight terminal

Securing the load

Jeanne, Dick and I load the freight truck to ship our purchases back home

The truck arrives in Massachusetts!

Everything made it safely

The last pile of boxes
© Copyright 2016 Treasure Mountain Mining