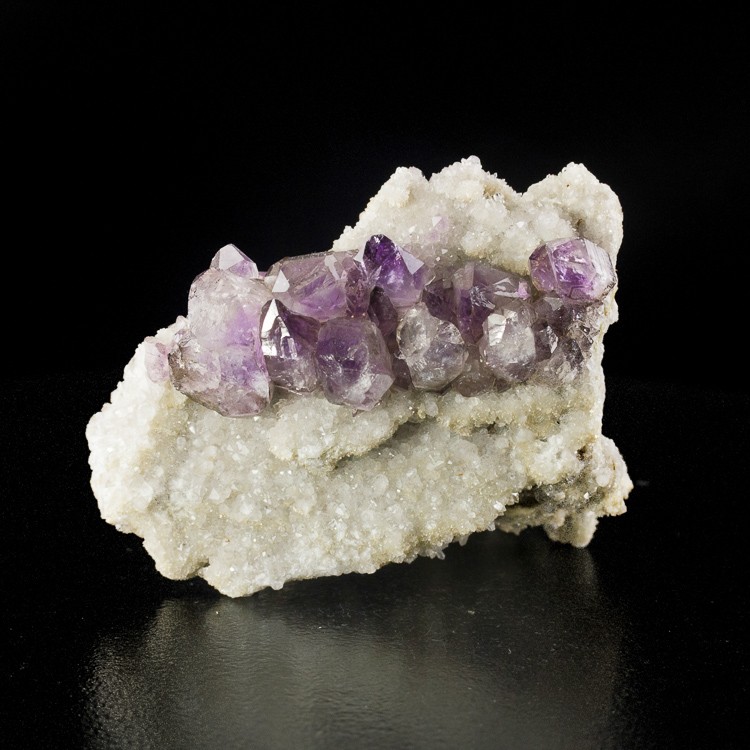 4.4" Connecticut Amethyst Crystals to 1" on Druzy Matrix Closed Locality for sale
Most of the material from the find was single crystals, many having complex forms, but there were also plenty of sceptered crystals, double-terminated crystals, phantom crystals, faden crystals, gem rough, and a handful of matrix specimens. The color ranges from pale lavender to the richest, darkest royal purple imaginable, which is strongest near the tips. The violet purple is far richer and has the best color intensity of any amethyst I have ever seen from Connecticut, including the best from the Rte 11 road cuts in Salem in 1972. And, the amethyst is quite gemmy, to boot! The matrix pieces are set on a vuggy quartz matrix that is covered with clear and white druzy quartz crystals, to about 3mm.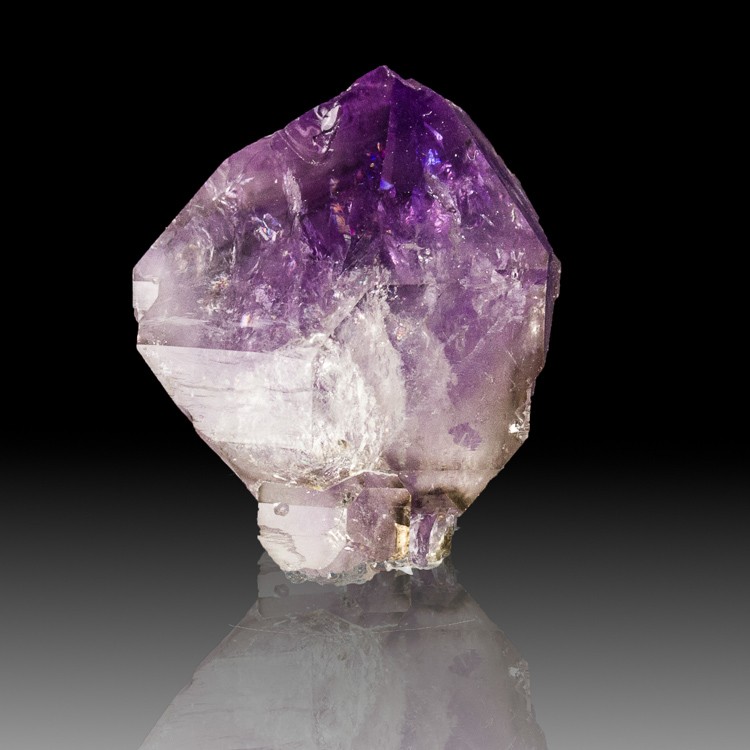 1.3" Sceptered Gem Purple PHANTOM AMETHYST Crystal New Find Connecticut for sale
Pete Richards wrote this about the new amethyst:
Based on my viewing of these images, my best guess is that this is faden amethyst. You can find many images and descriptions of faden crystals and their growth process on the web, I am sure. I have never seen faden amethyst, but faden quartz in general is quite common in certain environments - specifically alpine vein environments. Hence the importance of knowing whether this kind of environment is found in Windham County. If these are faden crystals, the distortion of habit due to the faden growth process is not as extreme as it often is elsewhere, but this seems the easiest way to explain the "stacked" crystal structure. Gwindels have a very characteristic twisted morphology, with the twist being around the long axis of the elongated crystal. These do not appear to have such a twist. In any case, I don't think these crystals are twinned. Twinning does not typically produce stacked or crystallographically inappropriate elongated crystals without some part of the aggregate having a distinctly different orientation from another part. This is a simplification to be sure, but I think it is an appropriate distinction in your case. Neither faden crystals nor gwindels are twins, but rather they are systematically distorted single crystals.
The following photos courtesy of Minerals.net


Jason Baskin and cousin Kyle Baskin show off their Connecticut Amethyst
© Copyright 2015 Treasure Mountain Mining